You'll remember how on the way to Costa da Caparica, we used the ferry–bus combo, which was pretty long. I will say, however, that that way is useful if you're coming from downtown Lisbon. However, if you're staying further north (like we were), your best option by far is the 161. It reminded me of New York's X1 bus – express route, nice coach buses, and an amazing bridge crossing.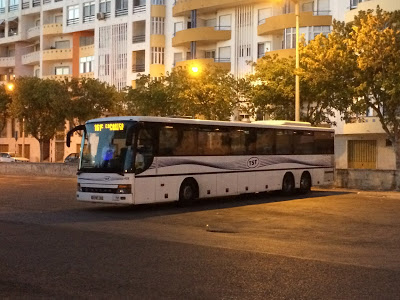 The bus waiting at the Costa da Caparica bus station.
As I mentioned, the 161 used coach buses for its route. They had plush seats and were generally quite comfortable. Anyway, we left the bus terminal and headed up Av. Dr. Aresta Branco, going by apartments and businesses.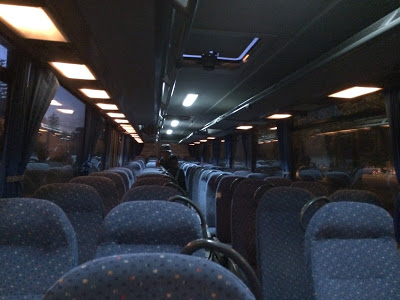 Swanky!
We then turned onto R. Horacio da Silva Louro, picking up a bunch of people at a stop in front of an apartment building. This street merged into route A38, which climbed into the hills and left the city behind. Soon it became a full highway, with exits and everything. It was rural, running mostly through fields.
Eventually we reached a cloverleaf interchange and curved north onto the IP7. Soon after that, we came to a toll plaza, using some form of E-ZPass to get through. From there, we passed Lisbon's version of Christ the Redeemer, then went up onto the 25 de Abril Bridge. And let me tell you, even though it was dark, the view of Lisbon was incredible.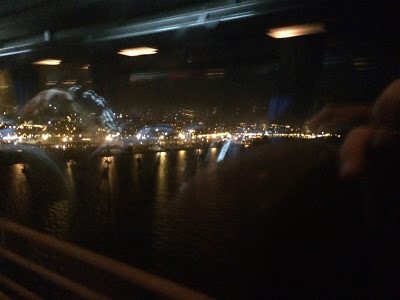 Of course, it was nighttime, so the pictures were terrible.
Here's another one.
After crossing the Tagus River and soaring over Lisbon for a bit, we took the first exit and curved around to Ac. Ceuta. There was a stop at the Alcantara suburban station, then we continued up the mostly leafy street. We sped down this road for a while without much in the way of scenery, then it became Av. Calouste Gulbenkian and we went under an old aqueduct.
This street was highway-esque until it became Av. Berna. Now it was a local street lined with apartments and businesses. We passed the park containing the Museu Calouste Gulbenkian, then later on we had a stop at the Campo Pequeno Metro station. We went by a cool circular building and a huge bank, then around a rotary. This was Areeiro Station, with a simple shelter for the bus stop. The trip had only taken about 45 minutes, and it was amazing. If you're staying in the northern part of Lisbon and you want to go to the beach, the 161 is a must.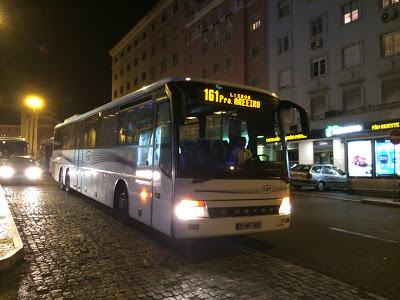 The bus in nighttime Lisbon.