The ferry is the touristy way of getting from Staten Island to Manhattan, but what do commuters do? Well, actually, a lot of commuters take the ferry, too. But other commuters use the network of express buses between the two boroughs. One of those buses is the X1, which runs from the Eltingville Transit Center in Staten Island to midtown Manhattan via the longest bridge and the longest underwater tunnel in America. It was quite a ride.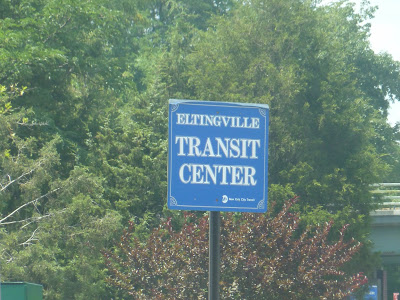 That's kind of a small sign…
The Eltingville Transit Center is a fully-fledged bus station. It's served by seven local routes and nine express routes, with a waiting room and a 242-space parking lot. Best of all, the lot's freeeeeeeeeeeee! Man, freeness seems to be a common thing on Staten Island.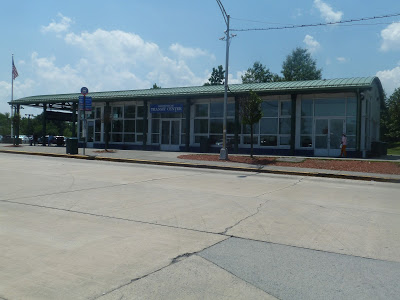 The outside.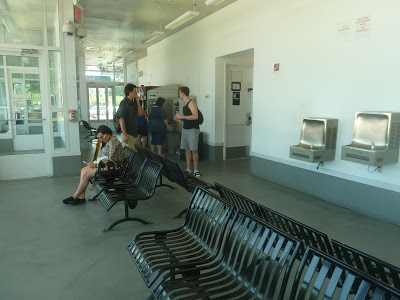 Nice place!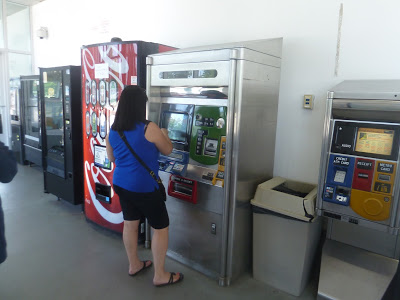 Fare machines and vending machines! What more could you ask for?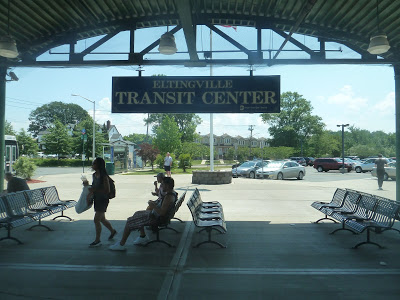 An outdoor waiting area.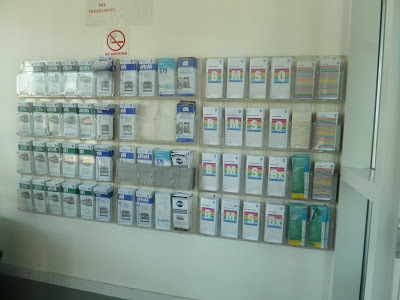 So…many…maps!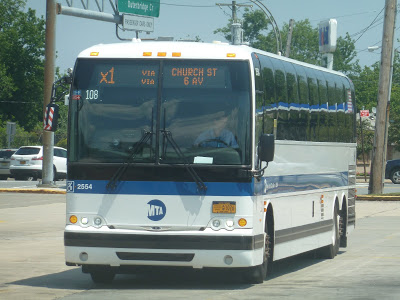 That's a nice bus. The two "vias" are weird, though.
The X1 runs every 20 minutes on Sundays, which is great, especially since it's an express bus. But since it's an express bus, it also has beefed-up fares – $6.50, to be exact. Now that said, a trip from Manhattan to Staten Island by car would cost $24.00 in tolls alone, so the bus does offer a significant discount. It's also really, really nice inside.
I'm blue, da ba dee da ba die…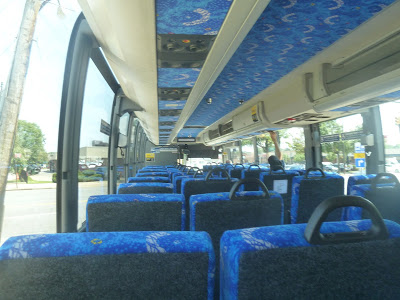 Looking toward the front.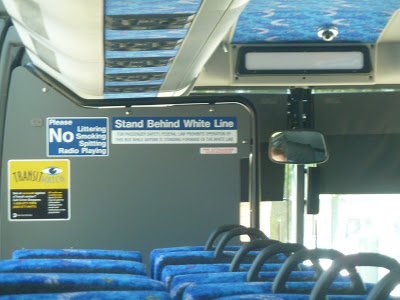 Some signs up front.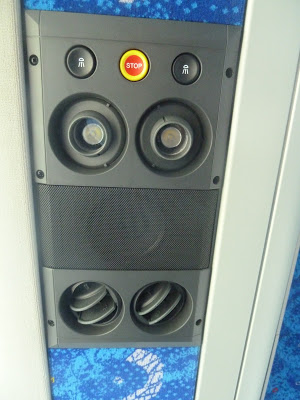 The stop request button is above where you sit! That's amazing!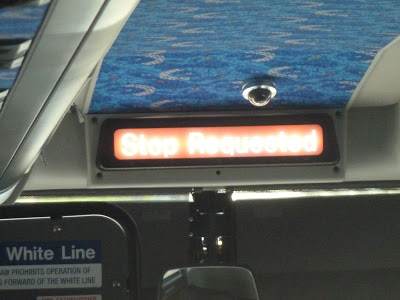 The stop requested sign up front.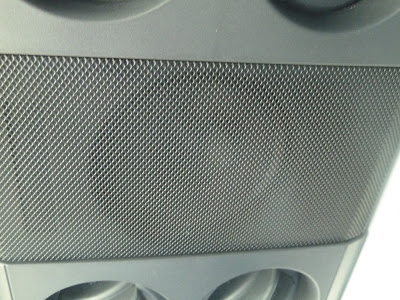 Occasionally random automatic announcements would come on. Nothing stop-related, just…random announcements.
We headed down Richmond Ave, going by a mall and a few businesses. It got residential soon after, with somewhat dense houses. We passed a school, then the road did an s-curve. At Eltingville Station, there were businesses lining the road, which continued for a little while. It soon got residential again, though, and we turned onto Hylan Boulevard.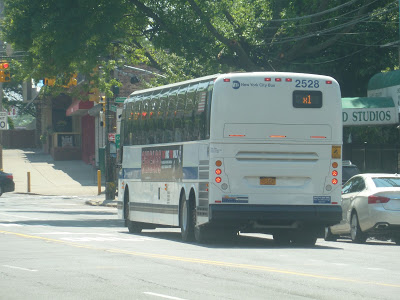 A different X1 in Eltingville.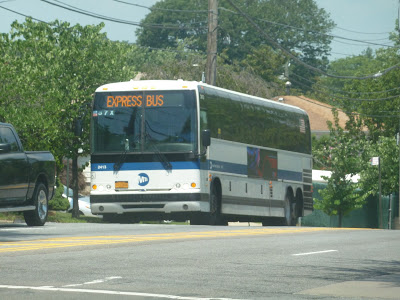 And a different different X1 in Eltingville.
Hylan Boulevard was a big wide street lined with businesses. It was kind of reminiscent of Revere – and I'm talking about the pitty part near the Northgate Shopping Center. At one point, the driver stopped the bus so she could go into a convenience store to get a drink. It was weird when she just left without telling anyone where she was going, but soon she came back and we were off. It did turn to houses eventually, but the wide road ruined the quiet feel.
For a while the right side of the road was occupied by a massive park, then the road did an s-curve . We passed a housing development, then a huge mall. That was it – from there, the road was lined with pitty businesses. Now granted, it was easy to see the residential areas on side streets, but for us, the main surroundings consisted of these businesses. A park broke it up for a block, but it went back to retail very quickly.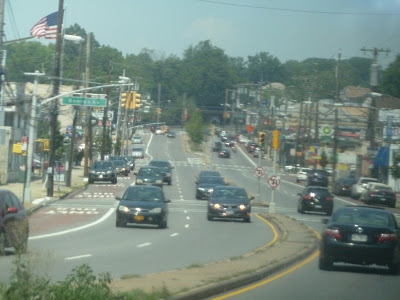 Ech…
I'm gonna be honest, it was like this for the rest of our time on Hylan Boulevard. But finally, we turned onto Steuben Street, which was leafy and residential. We then turned onto Narrows Road South, bypassing an on-ramp to I-278 in favor of a few more local stops. But soon we merged onto the highway, immediately going onto the Verrazano Narrows Bridge. There was no traffic, so we were going quite fast – this meant it was harder to get a picture of the amazing view, and I didn't get any good ones. Nonetheless…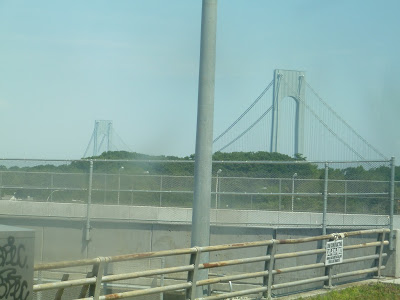 A view of the bridge.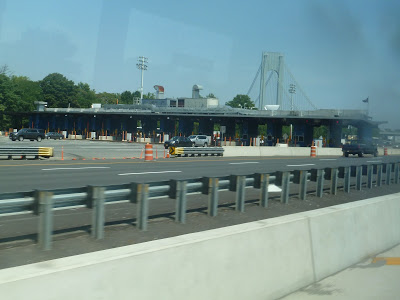 A toll on the other side.
Look! It's…um…some buildings!
We entered Brooklyn and the highway came down to ground level, with lots of apartments in view. Eventually it went elevated again, going by some apartment towers and curving around northward. We went by more apartments, and even got a view of Manhattan. The buildings on the left got very industrial, but the right remained residential, with a few businesses.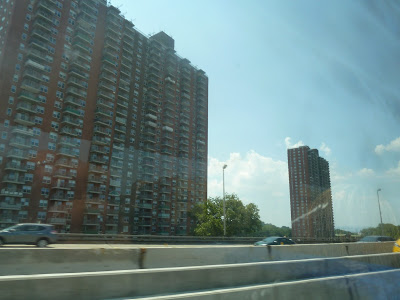 Some tall apartment buildings.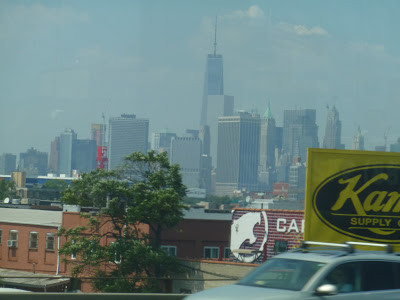 Nice view!
The highway curved more westward and we crossed over the Gowanus Canal. Here we got a great view of the elevated F line, but I couldn't get any pictures from the bus. After going over some more industrial buildings, we suddenly dropped back to ground level, went through a toll, and entered the Brooklyn Battery Tunnel.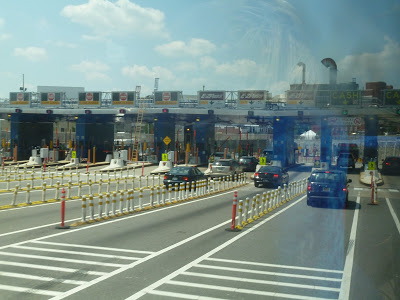 The toll.
Hmm…kinda dark in here.
When we popped out of the tunnel in Manhattan, there was a definite increase in average building height. Yes, this was the Financial District, and we were surrounded by skyscrapers. Heading up Trinity Place, we went by the World Trade Center PATH station under construction, which looked both ridiculous and awesome at the same time. We also passed right by the Freedom Tower, which looks very very tall from up close.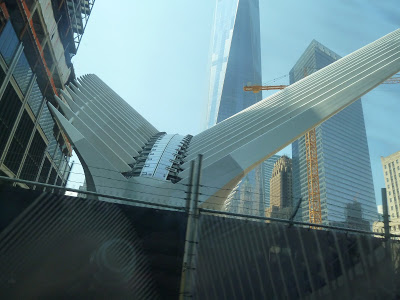 The PATH entrance.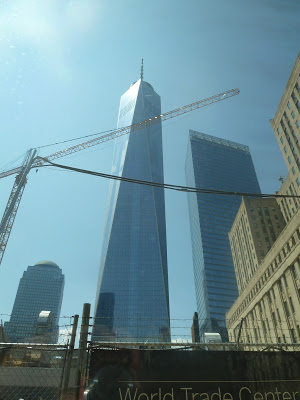 Wow…
Trinity Place became Church Street, and the buildings got shorter. Soon we merged onto 6th Ave, going by a square. The architecture was more modern around here, but it got older-looking as we moved into Soho. By this point, the buildings were only about 3-5 stories high.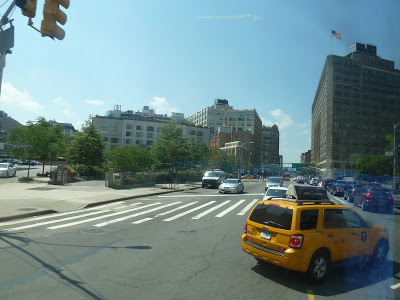 Crossing Canal Street.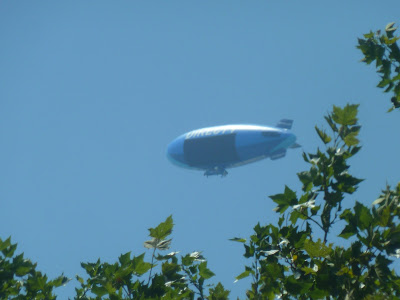 A blimp!
Eventually, the Manhattan street-numbering system began, and the buildings started to get taller. We crossed over 14th Street, then got a fleeting view of the Flatiron looking down 23rd Street. The surrounding buildings were getting very tall by this point as we were entering Midtown. We crossed over Broadway at 34th Street, getting a quick view of the Empire State Building.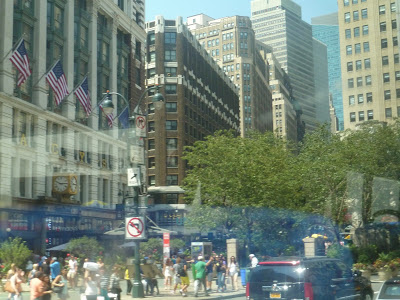 Going past Broadway.
We passed Bryant Park, which looked like a nice urban greenspace, then went by a few modern glass skyscrapers. Going by Rockefeller Center, we soon reached Central Park South. Here, we took a left, and the driver let us off right by the park. What an awesome ride.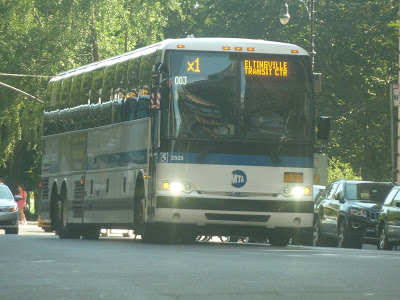 This X1 went by while we were waiting for the M20. Ughghghghghg…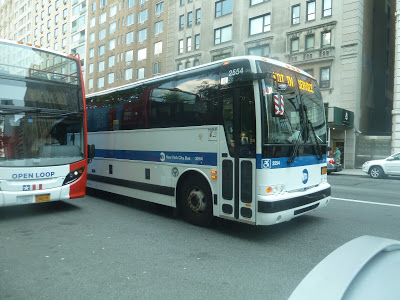 Finally, the bus we took! Except it says "not in service". Curses!