Okay, so it turns out there's a faster bus from Cacilhas to Costa da Caparica, but we ended up on the slow one. That made things more interesting, though, since we got to see a bunch of local neighborhoods. Of course, maps on the TST website are pretty much nonexistent, the only one being this horrible comic sans network map. So I'll be relying on the Google Maps one to figure out the crazy route of the local 124 bus.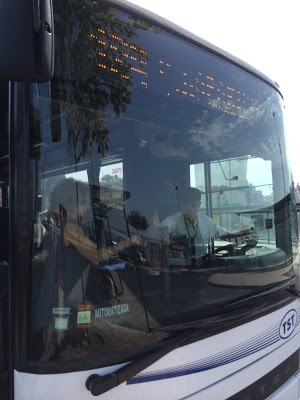 By this point, I was having to take pictures with my mom's iPhone, which explains this atrocity.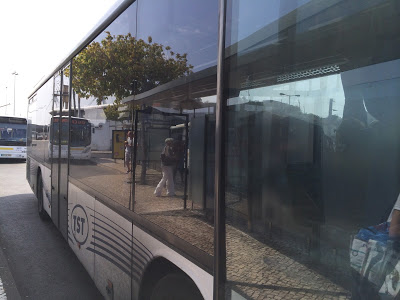 And this one.
Cacilhas had a large bus station with many different berths. One of those berths was for the Metro – yes, there was a light rail metro system down here. I was very mad that I didn't get to take it, but it doesn't go anywhere to which tourists would want to go.
On the 124, we left the bus station and headed down Av. Alianca Povo MFA, which paralleled the Tagus River. We were following the Metro, which along with us, turned onto Av. 25 de Abril de 1975. This street was very urban, with tall apartment buildings and a few businesses lining the road.
There was a nice Metro station at Gil Vicente as we continued to follow it, the street now called Av. Dom Afonso Henriques. We went around a rotary while the Metro plowed right through, and now the street was called Av. Dom Nuno Alvares Pereira. We continued down here for a while, the street still lined with modern apartments.
After another rotary at Almada, we left the Metro by turning onto R. Dom Joao de Castro. Along here the tall apartments from before shrunk into two-story ones. We then crossed over the IP7 highway, which becomes the 25 de Abril Bridge into Lisbon. This was also where we left the city for good.
There was a rotary, then we headed down R. 3 Vales, going through some fields. There was another urban section after, with tall apartments once again. The street curved south, leaving the buildings behind. We had a stop at the Formega Metro station, but after following the line for a bit, we turned off once again.
We squeezed down the narrow R. Trabalhadores Rurais, going past tight businesses with apartments on top. The street then curved back up and we rejoined the Metro for a bit, only to leave it for the last time, going by a university (and some marshland). We crossed over the A38 highway, then headed down R. do Areeiro, which was quite narrow.
Turning onto the N10 road, we entered a town, with smaller apartments alongside the street. The road got narrow when we got to a downtown area, squeezing through some tight businesses. It got slightly wider when the surroundings got more residential, with individual houses.
There was a view of the ocean and the buildings of Costa da Caparica at a rotary, which meant we were getting close. We turned onto the A38 highway, running down the rural hillside. Once we reached Costa da Caparica, though, it was instantly urban. We turned onto R, Vitimas da Guerra Colonial, running by lots of businesses. Soon after that, we pulled into the Costa da Caparica bus station, dropping off all the remaining passengers.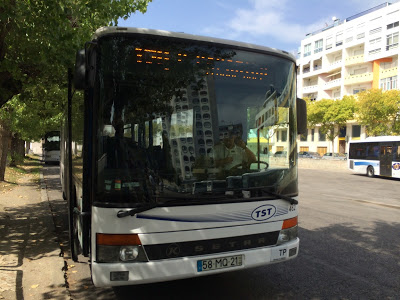 Aw man, that destination board is garbled…
So, is the ferry+124 combo worth it? Not if you're looking for speed. The 124 takes 40 minutes to get from Cacilhas to Costa da Caparica, and every time there was a sign for the latter, we'd go in the opposite direction. That said, it is quite scenic and you get to see a lot of local areas, but those looking for speed would prefer the 20-minute 135 bus. However, there is a faster way of getting to the beach from Lisbon, which we'll be looking at in the next and final Portugal post.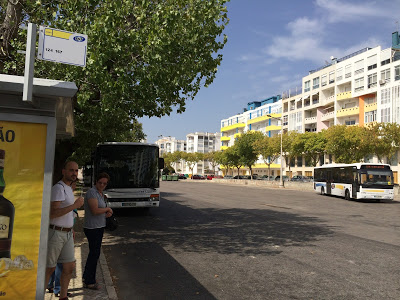 The bus terminal didn't have much – just some shelters.