Okay, 10/10 time is over! The 131 is a weekdays-only local route that serves quite a large portion of Melrose. It's kind of a "scenic alternative" to the 136/137, at least as far as Franklin Square. It operates as a loop, taking the "scenic route" in the peak direction and running with the 136/137 in the other. Of course, I took the former because…what would be the fun in the latter?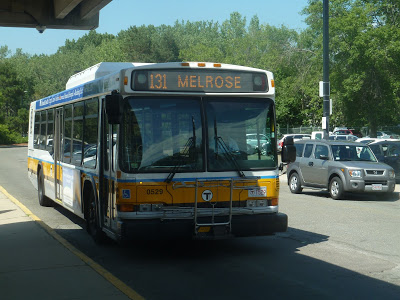 The bus at Oak Grove.
Unfortunately, due to a timing issue, I had to get the bus from Oak Grove instead of Malden Center. It's not too much of a detriment, though, because A) The route terminates at Oak Grove much of the time anyway, B) It follows the 136/137's route from Malden to Oak Grove, and C) There was only one person who had gotten on before. Thus, we left the Oak Grove busway, heading up Banks Place.
We soon turned onto Main Street, passing some fields and then entering a residential area. These became businesses once we reached Wyoming Ave and, a few blocks to the west, Wyoming Hill Station. After that, we turned onto Grove Street, beginning the unique section of the 131.
This part of the ride was fun, since it consisted of mostly residential side streets. It was also delightfully twisty. After Grove Street, we turned onto 6th Street for a block, then onto Laurel Street. From there, we turned onto Waverly Ave, then Upham Street, heading back the way we came. Soon enough, we reached downtown Melrose and Main Street, two blocks from where we originally left it.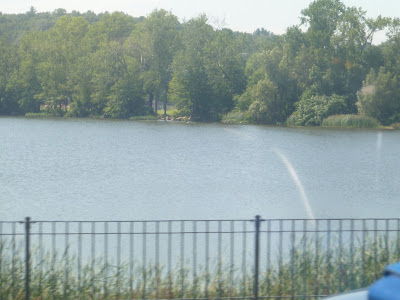 Nice view, especially since the picture was taken from the other side of the bus.
Heading up Main Street, we passed a hospital and a pond, then it became a mix of houses and businesses. After going by a shopping plaza, we turned onto Franklin Street. This part was also a unique section, and it was residential. Once we reached the Melrose Highlands Commuter Rail station, however, there was a bit of retail.
From there, it turned back to houses. Soon we turned onto Walton Park, then Orris Street, then Warren Street. The last stop of the route was right next to a little park, but the bus didn't spend too long laying over. It left soon after I got off, heading back to Oak Grove via the "boring" Main Street route.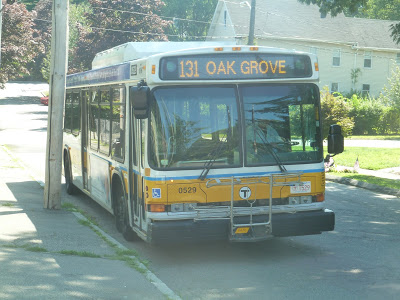 What a pleasant terminus.
Route: 131 (Melrose Highlands – Malden Center Station via Oak Grove Station)
Ridership: My afternoon trip had about 20 riders, most of whom came from Oak Grove. There was only one other person who continued past the East Side of Melrose. This route does seem to get very busy during rush hour, as I've seen some very crowded 131 buses. Overall, the route only gets about 670 riders per weekday.
Pros: The 131 serves a very large part of Melrose. The 136/137 go right up through the town, but the 131 deviates to cover all the little neighborhoods, which is great. It's mainly meant for East Side riders.
Cons: Well, we'll start with the obvious – the schedule. This route runs weekdays-only, running every 20 minutes rush hour (which is actually good) and every hour during the day. In regards to the way the 131 runs in a loop, I think that makes sense, at least during rush hour. But could it be shown on the map, please? The schedule card makes it look like the route goes via the East Side all the time.
Nearby and Noteworthy: The route's solo portions are mostly residential. You'll see much more business-wise along the 136/137.
Final Verdict: 4/10
It seems like the 131 is designed to be a commuter bus, but I don't think it should. It serves mostly residential areas, so why shouldn't it run on weekends? East Side residents have to do things aside from commuting, you know. Another, easier fix to the 131 would be displaying its route on its map. Please, just show that it sometimes goes via Main Street, and we're golden.
Latest MBTA News: Service Updates