What's the fastest, most direct way of getting from Wakefield Station back to Boston? Taking the Commuter Rail? Well, yeah, that's an option. Or you could take the 137 up to Reading, wait an hour, and then get the 136 back to Malden Center! Hey, it works.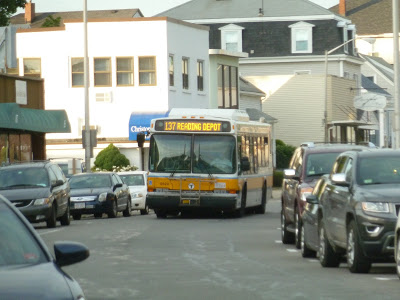 The bus cruising down Albion Street in Wakefield.
I got on the 137 one stop after it splits away from the 136 in Wakefield. We turned onto North Ave, which closely followed the Commuter Rail tracks. Passing some businesses, we came close to Lake Quannapowitt, then it got residential. After that, we went by an office park and a few car dealerships.
Going under I-95, North Ave became Walkers Brook Drive. We passed some big malls, then it got residential when we turned onto Washington Street. We then turned onto Main Street, the main drag of Reading. It didn't seem as happening as Wakefield was, however. At the town common, we turned onto Woburn Street, which was a residential neighborhood. We then turned onto High Street at the Reading Commuter Rail station, where there was a small business strip.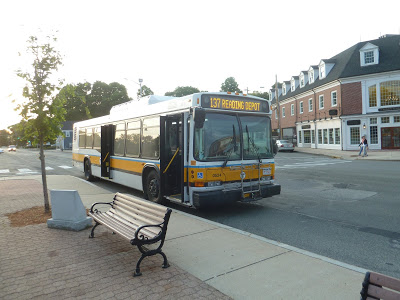 The bus in Reading.
Now it was time for the hour-long wait. The 136 I was getting was the 8:38 one, which is actually the second-to-last inbound 136/137 trip. Night had fallen by the time the bus arrived, and it was about 10 minutes late. We left Reading Depot with a mostly empty bus, and went back the way we came.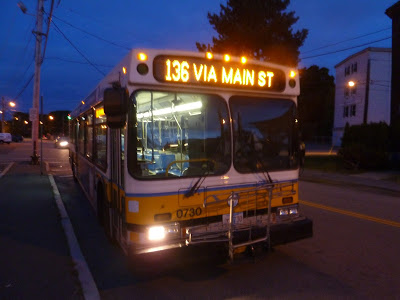 It's so much darker…and blurrier…
We avoided the main drag this time, splitting away from the 137 by turning onto Salem Street. It was residential for a bit, then at the interchange with I-95, there were a few businesses. The street became Lowell Street, and it was once again residential. At the intersection with Vernon Street, there was a bit of retail – we turned onto Vernon Street.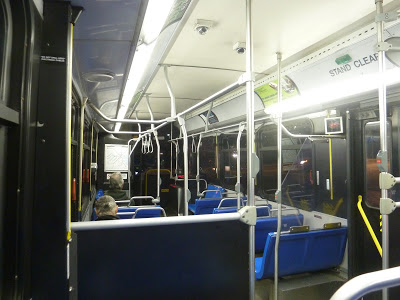 The night bus…
We turned onto Cordis Street, then Pleasant Street, going through local residential neighborhoods. After that, we made our way onto Main Street, heading through downtown Wakefield. The 137 joined us at Richardson Ave, and the two routes stay together the whole rest of the way down to Malden Center. The businesses went on for a while, then eventually thinned out into houses.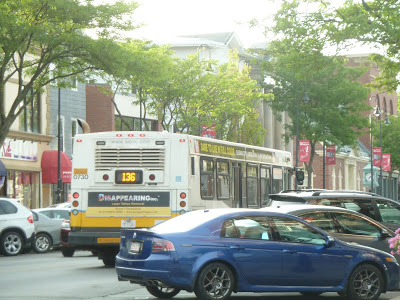 Obviously not the bus I was taking. This is in downtown Wakefield.
Main Street came right up to the Commuter Rail tracks soon after. Eventually we reached Greenwood Square, where there were some businesses and a Commuter Rail station. From there, it turned to mostly houses with the occasional business block. We entered Melrose, and went past some shopping plazas in Franklin Square.
After going by a hospital and a pond, we came into downtown Melrose, where there were closely-spaced businesses. The retail continued all the way to Wyoming Hill Station, when it went back to houses. There were a few sports fields at Banks Place, which we turned onto. We then went all the way down to
Oak Grove Station
and dropped a few people off. From there, we went
all
the way back up Banks Place to Main Street, and then continued the way we were going.
We passed a few housing developments and businesses. It became mostly houses after that, with a few businesses here and there. Soon, however, we came into Malden Center, and all its tall-ish buildings. We turned onto Centre Street, dropping a few folks off at the elusive Super Stop & Shop, and soon after pulled into the
Malden Center
busway.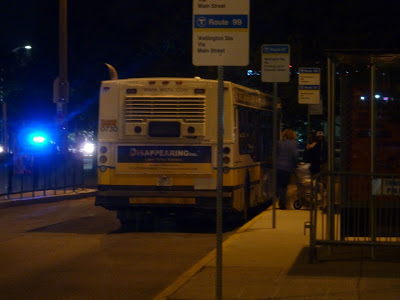 Night has pretty much fallen entirely by this point. Looks like there are a few people waiting to get the last 137 of the day.
Routes: 136/137 (Reading Depot – Malden Center Station via Wakefield, Melrose, and Oak Grove Station)
Ridership: I didn't count it for my 137 ride from Wakefield, since that was near the end of the route. On my night ride back on the 136, though, there were actually about 30 people who rode! That really surprised me – most of them fed on slowly, with the downtown areas being key stops along the route. I was expecting most people to get off at Oak Grove, but actually many stayed on until Malden. In terms of overall ridership, the two routes combined get about 2,300 riders per weekday, almost 1,000 per Saturday, and a measly 287 per Sunday.
Pros: These routes serve as a local (and cheaper) alternative to the Commuter Rail. And actually, the buses are scheduled to take only slightly longer than the train, I guess because the latter has so many stops along this portion. But, I mean, the 136/137 is a bus, meaning it might be a little later than the schedule suggests. Speaking of schedules, the weekday one for these routes is pretty good – it's about every 15-20 minutes rush hour (the two routes aren't well coordinated during that time) and every 35 minutes during the day. They run every hour at night, but I understand that – my bus was never too crowded at any one time on the night trip, so the ridership doesn't seem to be overwhelming.
Cons: But every 50 minutes on Saturday isn't very good, and that jumps to every 90 minutes on Sundays. That's just one bus running back and forth across the massive route, as the 136 toward Reading and as the 137 back to Malden. I also don't like the routing around Oak Grove – why do buses have to come in on such a long stretch on Banks Place? It adds a lot of extra time for people who are continuing to/coming from Malden.
Nearby and Noteworthy: This route goes through a lot of hoppin' downtown areas of small, New England towns. Having been to two of these – Reading and Wakefield – I would most definitely recommend the latter, with its many restaurants and shops in a very walkable area.
Final Verdict: 7/10
These routes certainly do serve a lot, and they're much cheaper than the Commuter Rail – however, they're also slower. The 136/137 also has a pretty bad weekend schedule, although I did some math, and it looks like they don't get very high ridership per trip on either Saturdays or Sundays. That said, I wonder if they would get more if they ran more often. In addition, there's the Oak Grove issue – instead of Banks Place, wouldn't it be much shorter and easier for the route to use Winter Street, to the south of Oak Grove? It seems like that would save a lot of time.
The MBTA is cutting back on late-night service starting the weekend of June 27. See the full list of cutbacks
here
.