The 106…what can be said about the 106? Well, it's a strange route that works in mysterious ways. It also has many variations – the one we'll be talking about today is the longest, the Franklin Square version that only runs weekday middays. Okay, that's all I have to say. Uh…let's…let's get rollin'!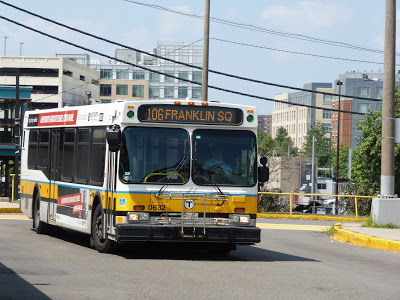 The bus at Wellington.
Leaving Wellington, we went onto Revere Beach Parkway and crossed over the Malden River. On the other side, we made our way around a rotary, then another. This led us onto Main Street, which was lined with a mix of houses and businesses.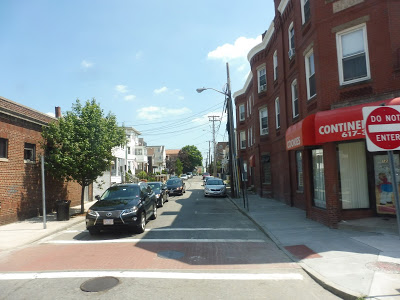 Looking down a side street.
Gosh, Main Street was basically that for a while: houses and businesses, with the occasional industrial building. There were occasional patches of just houses or just businesses, but the general mold was never broken along here. Soon after going after a small park and an apartment building, we came into the Malden Center area, turning onto Centre Street.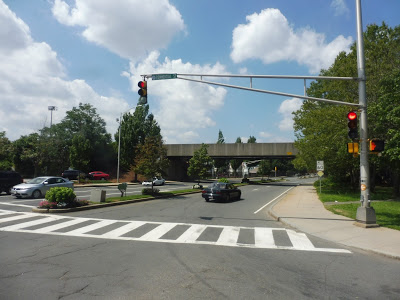 Looking at the Orange Line tracks in Malden Center.
Centre Street had office buildings on one side and a Super Stop and Shop (with a huge parking lot) on the other. Soon we reached the Orange Line station, looped around the busway, and headed back the way we came. We turned back onto Main Street, continuing north and passing many businesses that lined the street.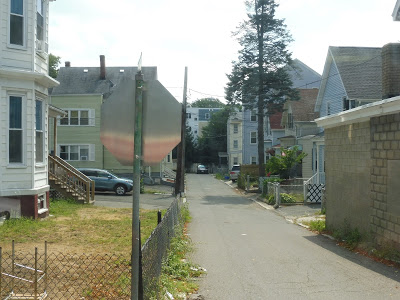 A dead-end street.
We merged onto Salem Street, going by the Malden High School and entering a residential area. However, there was still the occasional bout of retail at certain intersections. We passed an elementary school, and after going by an apartment building, turned onto Lebanon Street, entering our independent section.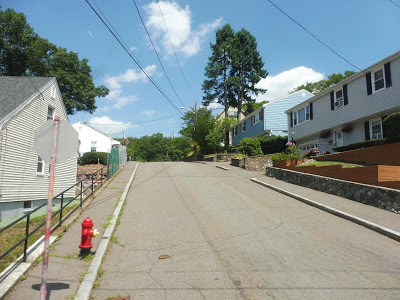 A hilly side street.
Lebanon Street quickly became residential as it curved north. There was a gas station when we turned onto Sylvan Street, and further down the road we passed a school. We turned onto Forest Street after that, and then made a left on Lebanon Street – most trips would take a right to loop back around, but this was a Franklin Square trip, so we kept going.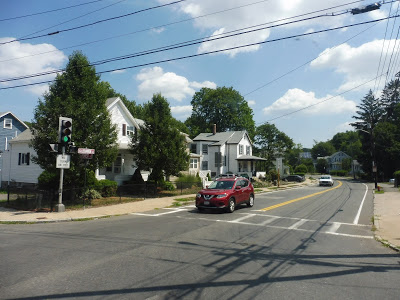 Turning onto Lebanon Street.
Along Lebanon Street, there were houses on one side and a cemetery on the other. Eventually, we turned onto Park Street, then the tiny Linwood Ave. It was one of those streets where cars have to pull over to let the bus through. We proceeded along here, passing houses on both sides.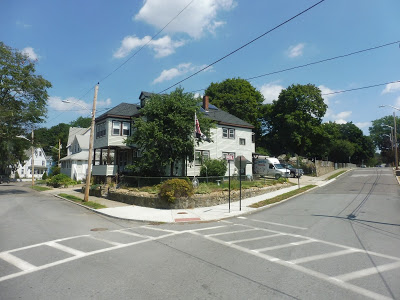 A street corner.
We then turned onto the mercifully wider Grove Street, then again onto Main Street, joining the 131 and 136/137. There was lots of retail along here, as we were in downtown Melrose. (Melrose Center? Melrose Square?) We came up alongside a pond, with a hospital on the other side, then merged onto Green Street. Passing through a residential area, we looped back around onto Main Street, reaching our final stop at Franklin Square.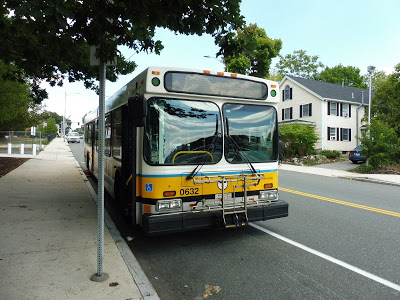 The bus laying over.
Route: 106 (Lebanon Street, Malden or Franklin Square – Wellington Station via Main Street)
Ridership: This route gets good ridership, with 3,136 riders per weekday, 1,629 per Saturday, and 1,123 per Sunday (with the 106 almost cracking the top 30 bus routes on the latter). However, most of those riders are centered around the Wellington to Malden section (shared with the 99), and the Malden to Lebanon Loop section. My outbound trip saw no other riders past the loop, and only two coming back. However, the rest of the ride from Lebanon to Wellington had a good amount of people.
Pros: It's weird – most of the 106 is shared with other routes, and yet it still…works. It essentially serves two functions (linking Everett to the Orange Line, and connecting the Lebanon Loop area to Malden Center), and performs them both well. It also has pretty good headways, running every 20 minutes at rush hour, every 30-50 minutes during the day, every half hour on Saturdays, and every hour nights and Sundays.
Cons: Well…"pretty" good headways. The route could probably stand to run more often on Sundays, all things considered. However, it has some other, more easily fixable problems. Number one is the fact that it has a layover at Lebanon Loop. This presents a problem for people who might be heading to Forest or Sylvan Streets, as they have to stay on the bus for a while and wait for it to start up again. Number two, does the route really need to go all the way to Franklin Square? I think they could honestly just cut it back to Lebanon Loop, and it wouldn't inconvenience many people at all and allow the route to run more often. And if it does keep going to Franklin Square, does it really have to go via Linwood Ave? That's such a tiny road, and the bus could just as easily stay on the wider Lebanon Street and still get to the same place.
Nearby and Noteworthy: There's not much of note along the mostly residential independent section, but the 106 serves its fair share of businesses along its shared sections.
Final Verdict: 6/10
The 106 is a route that many people rely on, and it generally does a decent job of fulfilling its needs – it just has a lot of simple problems that could be easily fixed. I really think it could be cut back from Franklin Square middays, although the rush hour trips from Malden to that general area should stay. Other than that, it would be great if the loop layover could be eliminated with just a longer one at Wellington, but that could make the bus late going inbound.
UPDATE 9/1/19: Woah, I didn't even realize I predicted the downfall of Franklin Square service way back in 2016! Yes, all service ends at Lebanon Loop now, simplifying the service. The schedule is still pretty garbage, though.
Latest MBTA News: Service Updates