Okay, so even if I made fun of the angry driver of the 8, he did help us out a lot. If he hadn't dropped us off back at JFK/UMASS, we wouldn't have been able to catch the 41 to Jamaica Plain Center. I still don't understand the driver's "book writing" analogy, though…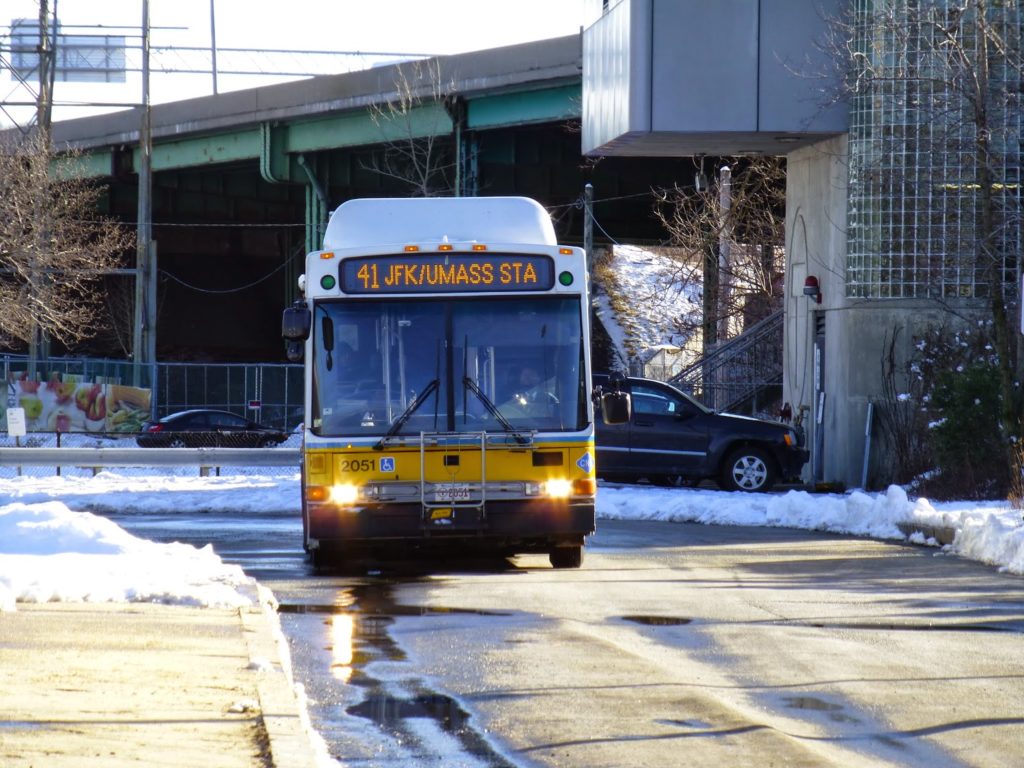 Looking at the bus straight on.
Leaving JFK's busway, we made our way up to Columbia Road, which went over the Red Line tracks. There were a few gas stations and a church at the intersection with Dorchester Ave, then a short residential stretch. At the intersection with Mass Ave, there were some more businesses, which turned back to houses as we followed Columbia Road to the left.
Soon after we reached Uphams Corner, where the first proper businesses came up, lining the road as we turned onto Dudley Street. We were running with the 15 now as we passed Uphams Corner Station. After that, the road became lined with apartments with a few businesses scattered here and there.
This continued until we reached Dudley Square, then continued down Malcolm X Boulevard. We passed one of a few schools on that street, then unexpectedly made a sharp uphill turn onto Roxbury Street. Going by a middle school, Roxbury Street became Centre Street, which had a mix of houses and apartments – these phased into just houses.
Centre Street merged into the very wide Columbus Ave, from which we entered the Jackson Square busway. We continued down Centre Street from there, passing an apartment complex and then closely-spaced triple-decker houses. As we approached South Huntington Ave, these turned to retail buildings, and we were soon joined by the 39.
There was yet another school, but Centre Street mostly consisted of apartments. The businesses got denser and denser as we got closer to JP Center – eventually they lined the road. The last stop of the route is at Centre and Eliot Streets, right next to the Soldier's Monument. However, we accidentally got off one stop earlier, at 775 Centre Street! That's seven seconds of the route that we missed! I've failed you all.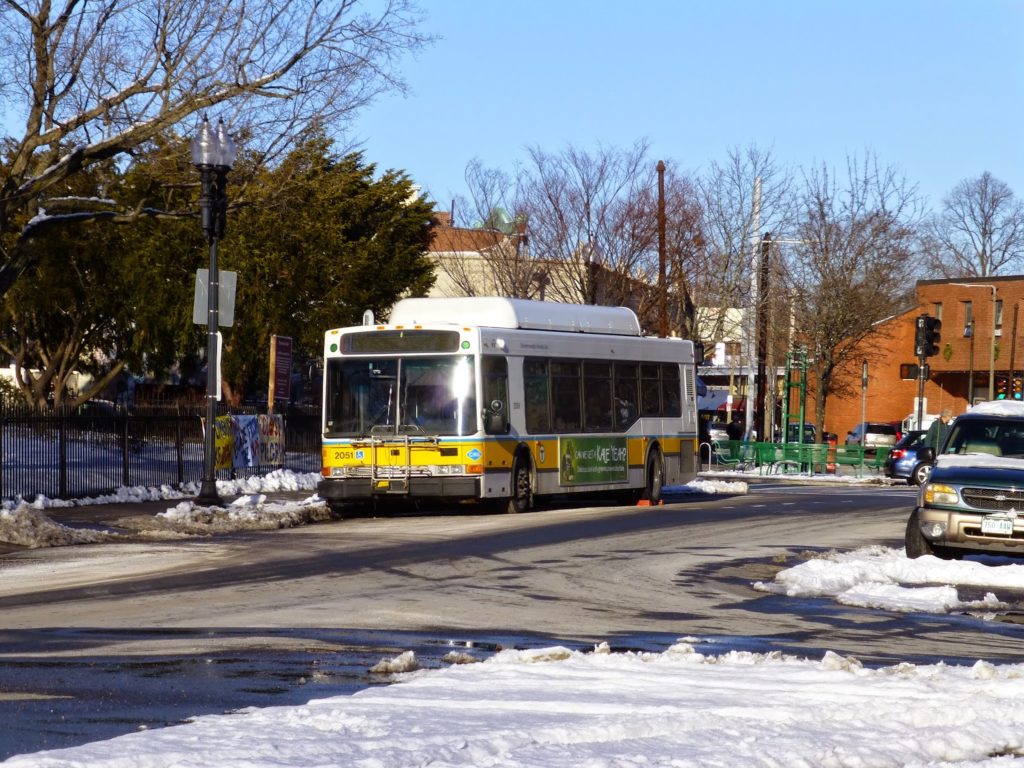 The bus laying over.
Route: 41 (Centre and Eliot Streets – JFK/UMASS Station via Dudley Station, Centre Street, and Jackson Square Station)
Ridership: There were about 25 people on our trip in total – not bad for a Sunday. This route goes through areas where lots of people use the bus, so it gets fairly high amounts of passengers overall – almost 2,250 riders per day on weekdays. That number drops to about 1,000 on Saturdays and about 550 on Sundays, but the 41 ranks pretty well overall.
Pros: The fact that it goes to JFK/UMASS is a definite plus. This route forms a direct link from JP to the Red Line – indeed, it's one of the only bus routes to serve JP anyway. The 41 also has a few parts all to its own, most notably the section on Centre Street from Jackson Square to South Huntington Ave.
Cons: The schedule is all-around pretty bad. Every half hour during the day is decent, but having those same headways during rush hour is pushing it. It gets worse on weekends, with buses running every 50 minutes Saturdays and every 45 minutes Sundays. The route also suffers from bad service spans – the last bus is at 9 PM on weekdays, 8 on Saturdays, and 6 on Sundays.
Nearby and Noteworthy: One stop along the route was announced as a "mansion." No mansions could be found.
Final Verdict: 5/10
I would call the 41 a pretty mediocre route. The ridership is decent, but the schedule is pretty terrible. Even the ride itself is mediocre – it's interesting enough, but there's nothing noteworthy about it. That said, it does provide a link from JFK/UMASS to JP, so it does have some use.
Latest MBTA News: Service Updates
MBTA trains have been…smoky lately, with two smoke-related incidents occurring in two days.