I have to admit, before riding the 15, I couldn't understand how it could be so busy. On the map, it looks like a fairly short route that has no unique portions to itself. Evidently, though, it goes through some pretty transit-starved neighborhoods, and I think its frequent service is what gives it its high ridership. So, to complete this recent trilogy of Key Bus Routes, here's the 15!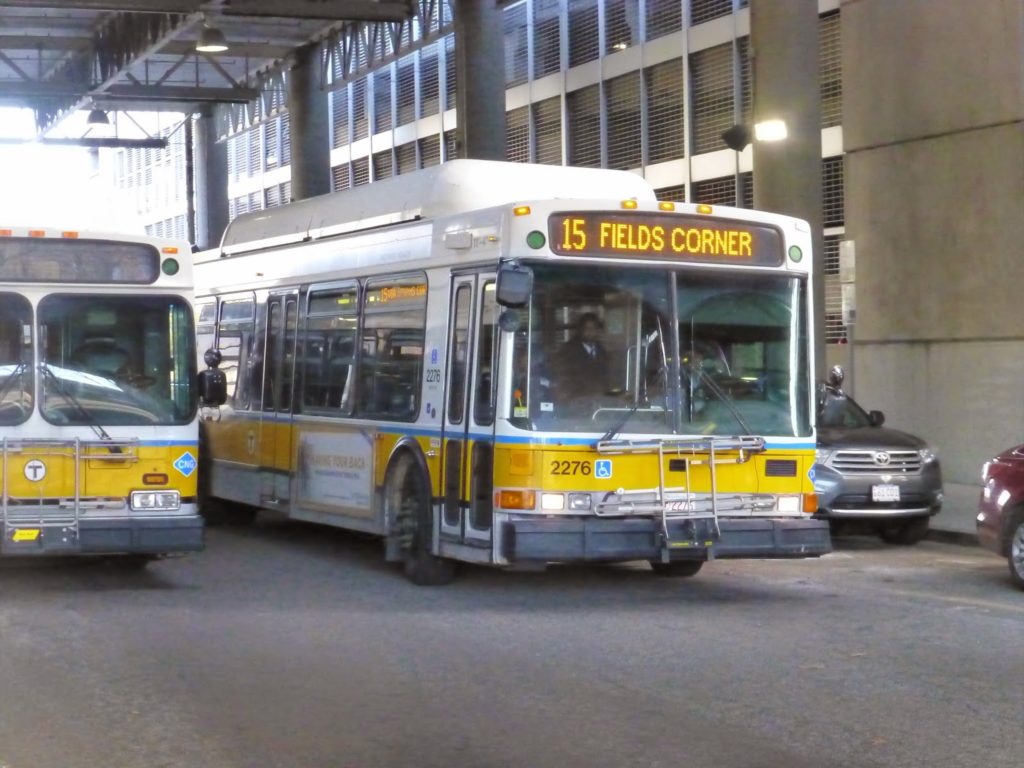 The 15 comes out from behind another bus at Ruggles.
As this was a Sunday, I would be getting the full 15 experience, all the way to Fields Corner – on weekdays and part-time Saturdays, buses short-turn at Kane Square. Leaving Ruggles with an already packed bus, we did the usual Tremont Street to Malcolm X Boulevard to Dudley run, where there was another hoard of people waiting to get on.
From there, we headed down Dudley Street along with the 41 and 45. It got residential pretty quickly, with mostly houses and a few apartments. At the intersection with Blue Hill Ave (where the 45 left us), there were a few businesses, though it went back to residences further down Dudley Street. After a playground, though, the retail came back in full force, lining both sides of the road.
We then went by some out-of-place modern apartments and a park. After that was Uphams Corner Station, which at street level was looking pretty worse for wear. There were a whole bunch of businesses at the intersection with Columbia Road, which we went down for a bit before turning onto Hancock Street.
Now we were running with the 17 down a mostly residential street with a few businesses dotted in. We turned onto Bowdoin Street at Kane Square, which had much fewer retail than I was expecting. It's a square, after all. At Saint Peters Square further down the road, there was an apartment building and a church. Lots of businesses lined Bowdoin Street later on, but they weren't part of any "square."
Soon, we turned onto Geneva Ave, joining the 19. This was a purely residential street, and there wasn't any retail until further down. There was a modern apartment building, then we turned onto the bus-only road that parallels the Red Line tracks without any stops. We looped around to the other side of Fields Corner Station, and the remaining passengers got off.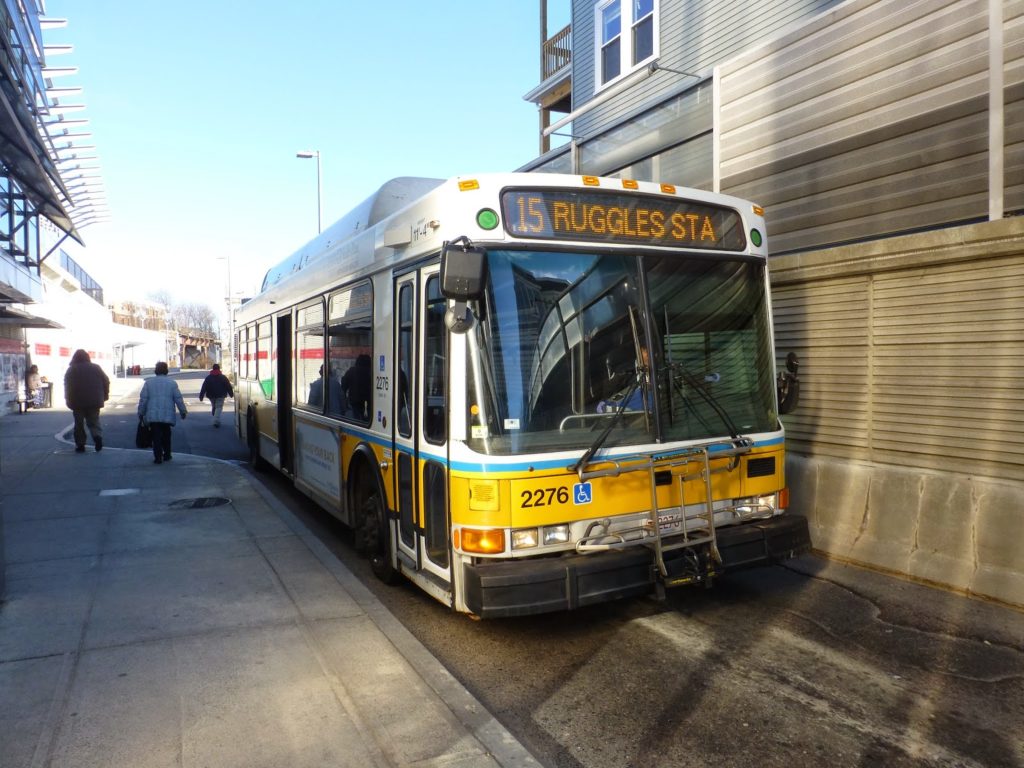 What an odd angle…
Route: 15 (Kane Square or Fields Corner Station – Ruggles Station via Uphams Corner)
Ridership: Very heavy indeed. There were, in total, about 55 people who rode this bus. The majority of them got on at Ruggles and Dudley, and there were about 15 people that went beyond Kane Square.
Pros: As I said at the beginning, this bus has no unique portions. However, it runs very often through these neighborhoods, which I think makes it so busy. Speaking of the schedule, it's very good, this being a Key Bus Route. It runs every 6 minutes during rush hour, about every 15 minutes during the day (give or take), every 20 minutes at night, every 15 minutes late nights on Fridays and Saturdays until 2:30, every 15 minutes on Saturdays, and every 20 minutes on Sundays.
Cons: Why doesn't this route go to Fields Corner on weekdays? On Saturdays, every other trip goes to the station while the others short-turn at Kane Square. I think this could be done on weekdays, too, so Bowdoin Street can have a connection to Dudley and the Orange Line full time.
Nearby and Noteworthy: Nothing specific, though there were plenty of small businesses along the route.
Final Verdict: 7/10
This certainly isn't a bad bus by any means. It serves some transit-starved neighborhoods and gives very frequent service at that. However, I wish it served Fields Corner on weekdays as well as nights and weekends. At least every other bus could go there, so that Bowdoin Street has a connection to Dudley and Ruggles on weekdays.
Latest MBTA News: Service Updates
Three Commuter Rail lines are getting weekend service again! See the new schedules for the Greenbush Line, Kingston/Plymouth Line, and Needham Line.