The 455 used to go all the way down to Haymarket, but during the bus massacre of July 2012 it was cut back to Wonderland. Trips to Wonderland had previously been weekend service, but now it goes there full time. That's not to say that the cutbacks made the schedule bad, though; this is the most frequent bus that serves Salem.
This route is coordinated with
the 459
on weekdays, since they both share local portions. Whereas the
450
and
456
go through a part of Salem with trashy businesses and large parking lots, the 455 and 459 serve a nicer, more residential area. I'm certainly not complaining.
So, we did the typical Salem bus loop, leaving the other routes by turning onto Congress Street. Going over a bridge, we then passed the Shetland Office/Industrial Park. (office on the schedule, industrial on the stop announcements, no idea which one is right.) Right after, we turned onto Harbor Street, a cute residential road, then again onto Lafayette Street.
This street had a mixture of houses, apartments, and architectural styles. There were a few really cute businesses at this one intersection. It wasn't with a major street or anything, but you could tell the businesses were locally run. The scenery was mostly houses for a while after that, until a retail block at Loring Ave, which we turned on.
We went past a development ("Rainbow Terrace"), and then Salem State University. It went back to houses after that, then it got rural and marshy for a bit. Loring Ave turned to the left, and there were some businesses, as well as some developments and apartment complexes. This was Vinnin Square, with a connection to the 441 and 448 to Marblehead. We soon entered Swampscott and Loring Ave became Essex Street.
We went by a cemetery, Essex Street went over the Commuter Rail tracks (luckily with no level crossings, cough, cough,
451
), and we passed Swampscott High School. Pretty soon after, we entered Lynn, and the businesses-house ratio slowly grew. We turned onto Chestnut Street, then Union Street, and eventually it became all businesses as we came into downtown Lynn.
Turning onto Silsbee Street, Mount Vernon Street, Spring Street, Broad Street, and finally Market Street, we stopped at the Lynn Commuter Rail station. There were a fair amount of people waiting here, but unfortunately we were about 15 minutes early and had to wait here. After the long layover (though without any pen personifying, cough, cough,
451
). we finally continued up Market Street.
We then turned onto Common Street, which had houses on one side and Lynn Common on the other. There was some retail when Common Street became Market Square, then we turned onto Western Ave. This was a mix of businesses and houses, then at West Lynn Garage we switched drivers for some reason.
Going through Lynn had been pretty slow, so the next part was quite a relief. After a stop at the G.E. River Works Plant, Western Ave became Salem Turnpike, and it was a straight run through marshland. The driver floored it, and we made no stops along the way. At Brown Circle, we made our way to the American Legion Highway. There was another rotary, Bell Circle, where we turned onto VFW Parkway. This led us to yet another rotary, which led into the Wonderland busway.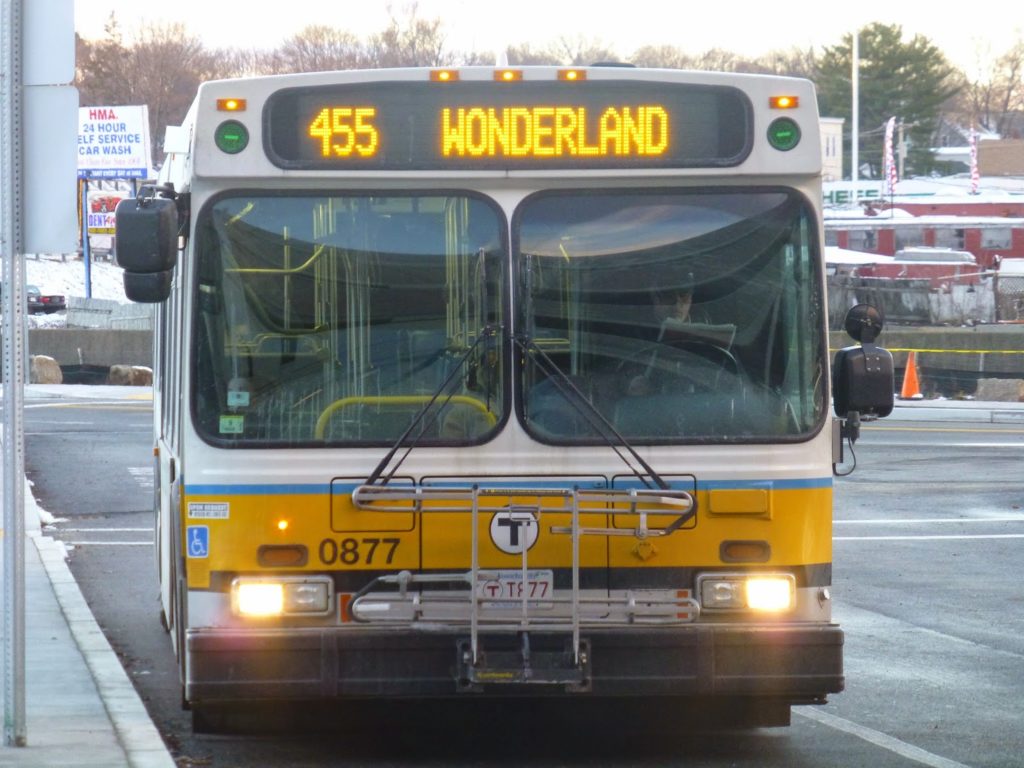 The bus in Salem.
Route: 455 (Salem Depot – Wonderland via Central Square, Lynn)
Ridership: There were about 30 people who rode this bus, about half of whom got on in Lynn. That's a pretty good amount for a reverse-peak run just before rush hour. Not everyone got off in Wonderland – some people got off at local stops after Lynn.
Pros: First and foremost, the schedule for this bus is really good for a 400 route. It's every 15 minutes during rush hour, every 35 minutes during the day (with every other trip being a 459), every hour at night, every half hour on Saturdays, and every hour on Sundays. Not to mention there are also 450 weekend trips that go from Salem to Wonderland, though those don't run as often. I also like how this route serves the more residential eastern part of Salem, over the uglier western part served by the 450 and 456.
Cons: The 450W is a much faster ride to Wonderland on weekends, since it bypasses downtown Lynn. That part can be really annoying on the 455, especially if you have to wait there. Also, every hour on Sundays isn't great, but it's not terrible for a 400 route.
Nearby and Noteworthy: Salem, once again. There is so much to do in that city! I should go during Halloween sometime.
Final Verdict: 8/10
Overall, this bus is pretty good, mainly for its schedule. The only real problem I have with that is the Sunday schedule, though the headways become every half hour when you factor in the 450W. That said, it could be annoying if you were trying to head into downtown Lynn on a Sunday. But overall, the 455 seems to get the ridership to match its good schedule, and considering how far it takes you, it's a pretty good route.
It's the 14th Annual Fill-A-Bus with gifts! Learn how to donate
here
.