This route is really isolated: it's the northernmost MBTA bus route; it only runs eight times a day; it's one of the most expensive buses for the MBTA to run; it was on the chopping block in 2012; and it goes down a road on which not even Google Street View has travelled! They've gone all the way down to Antarctica, but Tozer Road is just way too inaccessible for them. Anyway, let's waste no more time and head up to Beverly on the 451.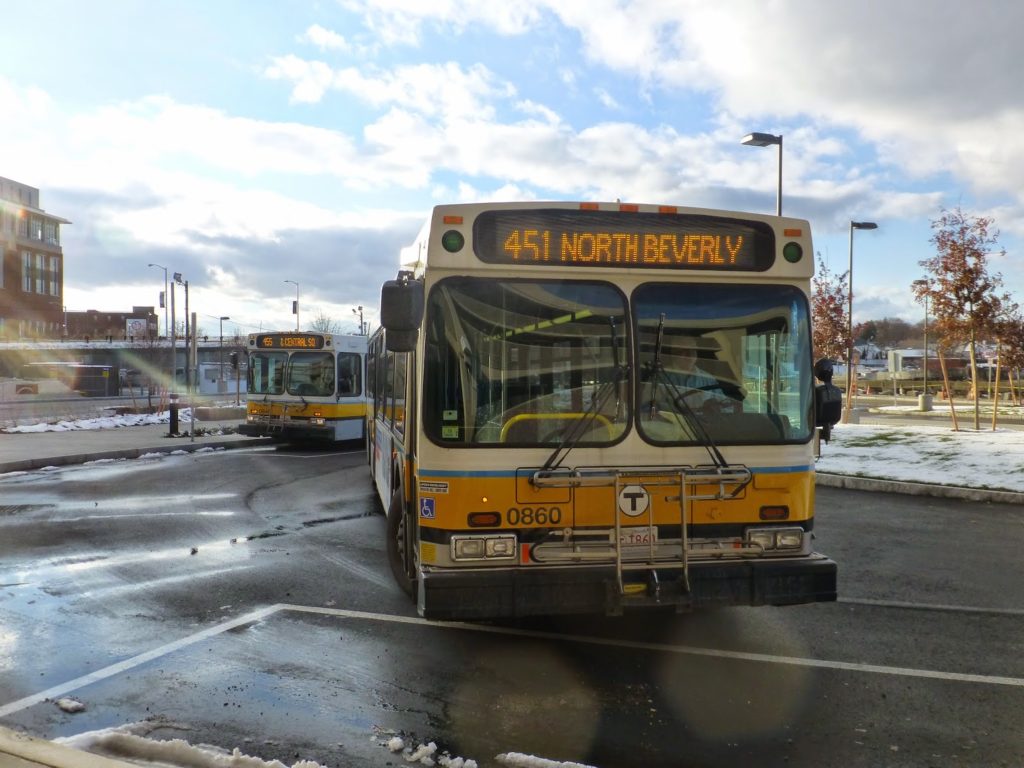 455 photobomb in the background!
Leaving the busway with just one other person riding, we headed down North Street through downtown Salem. We then turned onto Norman Street, which became New Derby Street after a massive intersection. Then we turned onto Hawthorne Boulevard, which is where the 451 leaves all the other Salem routes. Going by Salem Common, we passed the infamous Salem Witch Museum, then turned onto Winter Street.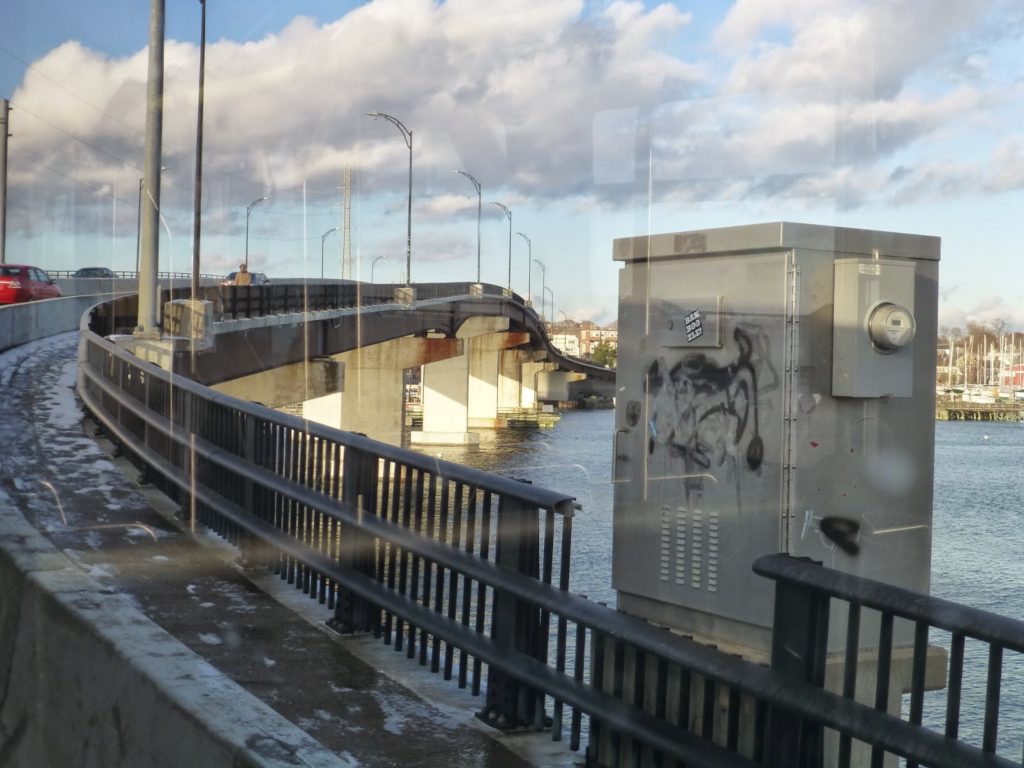 What a bridge!
It was residential here, with some beautiful old architecture. Then we turned onto Bridge Street, which had a few businesses in between the houses. At around this point, one of the passengers suddenly said "Is this the Wonderland bus?" Upon finding out that it wasn't, he swore loudly as he left the bus to head back to Salem Center for the 455. So eventually, with one fewer passenger, we headed onto Bridge Street's namesake, a large bridge. Heading over the Danvers River, we entered Beverly on the other side.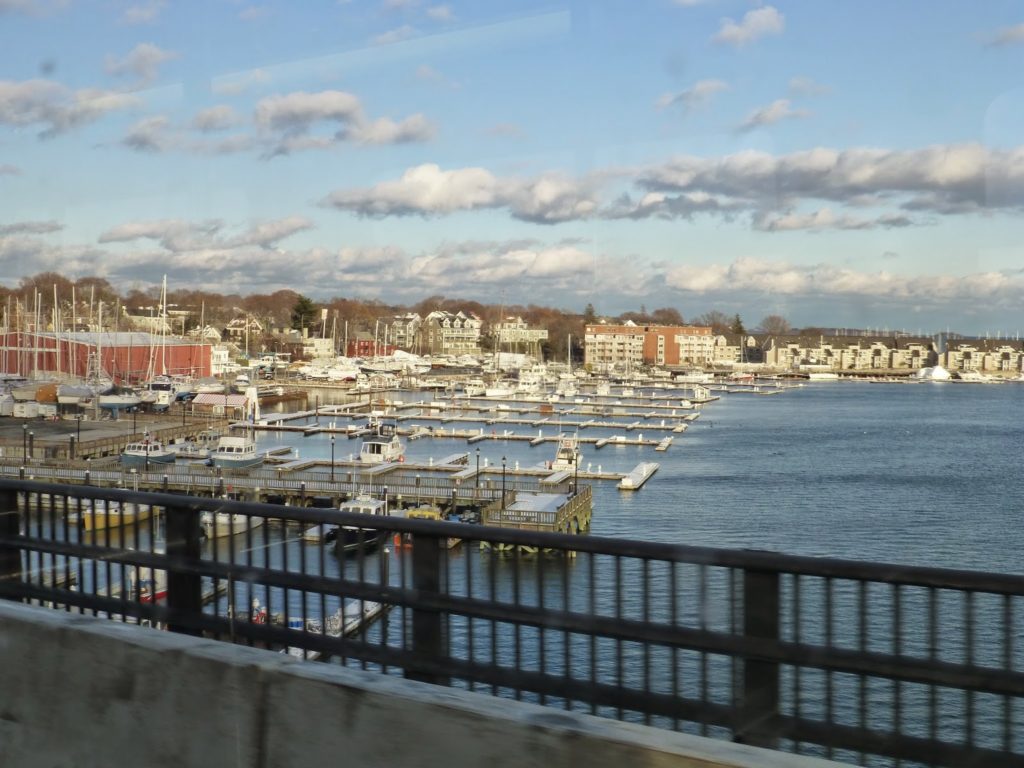 The view of Beverly.
We headed down Cabot Street, initially going by houses and then some businesses. These got nicer and more happening as we went along – there was even an old-fashioned movie theater! Interestingly, the 451 bypasses the Beverly Commuter Rail station, though that seems to be in a more industrial area, and anyway, it's covered by the Beverly Local Bus.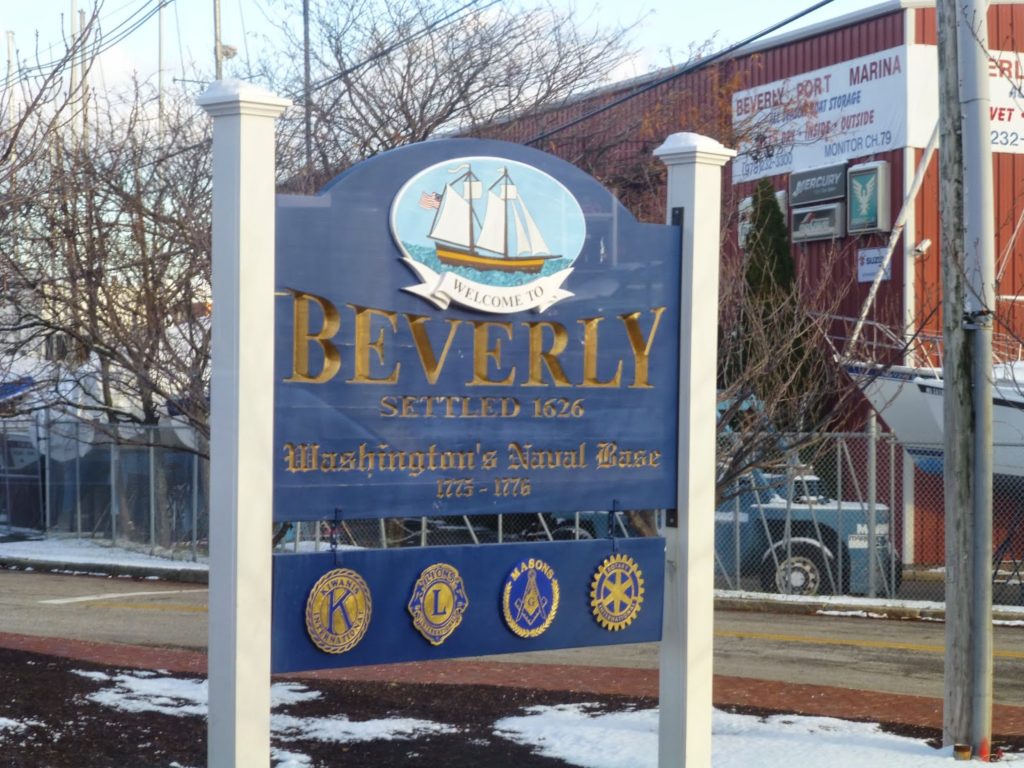 I love that sign!
Soon we turned onto Elliott Street, which was more residential. Annoyingly, there were two level crossings with the Commuter Rail on this section, which meant the bus had to stop and open the doors to check for trains twice. We then turned into the big parking lot of the Cummings Center, which seemed to be a strange office park/mall mixture. When we left that, we had to cross over the level crossings again, which made this part of the route take a really long time.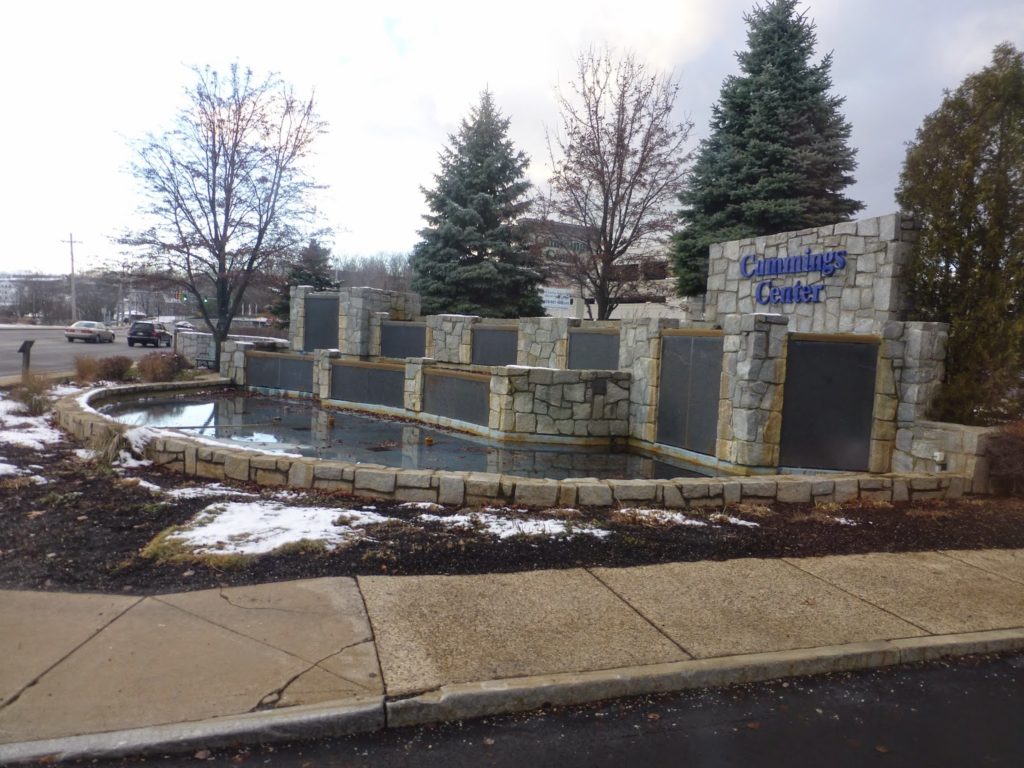 There would normally be some nice fountains here, but they were probably turned off for the winter.
Going back down Elliott Street, we turned once again onto Cabot Street, which was a nice residential area. After crossing over the Commuter Rail tracks again (and with some more stopping and door-opening action), there were a few trashy businesses. Then we went by a park and had another level crossing with the Commuter Rail tracks! Geez, Louise!
We went by a few schools, but it was mostly residential fare. At an intersection with some more trashy businesses, we turned onto Dodge Street and crossed Route 128. There was a big mall, then it turned residential once again. The businesses came back at North Beverly Station, which we passed but (thank goodness) didn't cross over. There was one more stop after the station, which was announced as Super Stop & Shop, the second one to appear on the route, in fact. Yes, both Stop & Shops on the 451 are in their elusive "super" forms.
I was the only one on the bus by this point, but I didn't want to get out here and wait an hour for the next one. So, I just sat there in the back. The driver eventually turned off the vehicle, which made things even more awkward. Quietly checking my schedule, it looked like we were 15 minutes early and would have to lay over for that long.
It was all right at first, but then the driver started to loudly whistle. Did he notice me? Would he kick me out? It got even weirder when he started to personify his pens…out loud. "I need you, and you," he said in between the whistling. I thought he was talking to me at first, which would've been really creepy. I was so relieved when he started up the bus again (still whistling) and maneuvered it out of the small mall we were in.
So we headed back down Enon Street, and then Dodge Street again. But this time we turned onto Tozer Road, a very rural street that didn't have sidewalks or even Google Street View! We went past "Beverly Commons," which seemed to essentially be a gated community, and then we crossed the darn Commuter Rail tracks again. After crossing Route 128, we passed a lot of industrial warehouses, and apparently a tennis club.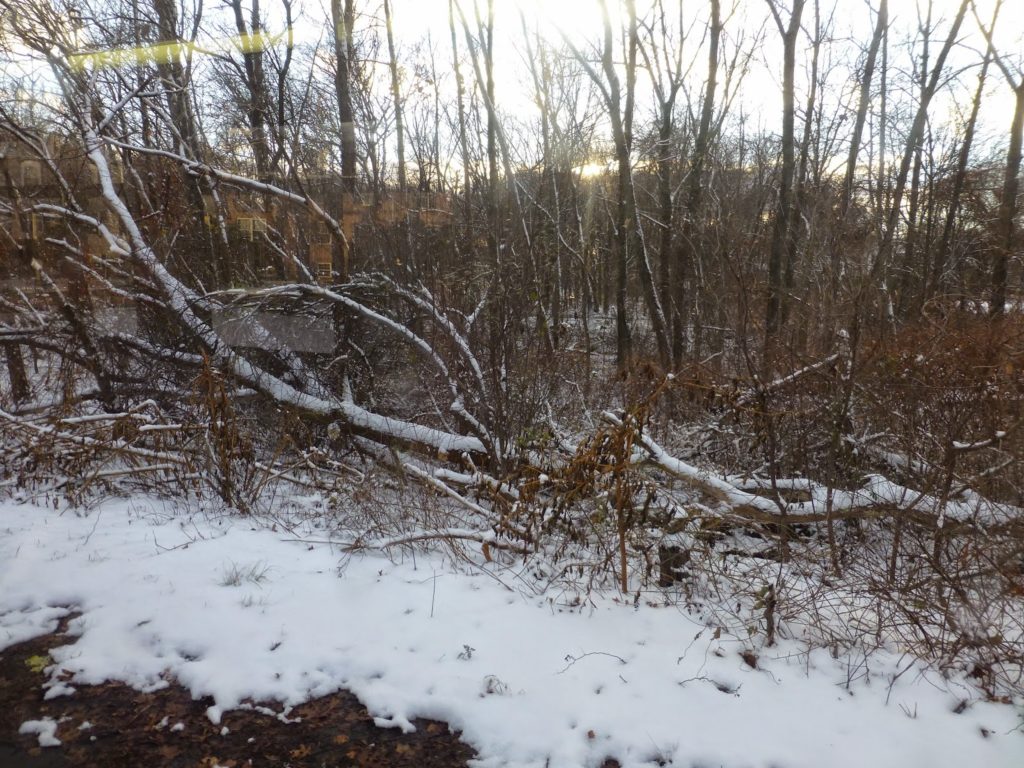 It's just endless, snowy woods.
We went by a "green energy park," which is pretty cool, then after turning onto Sohier Road, we passed the Beverly High School. It got residential again, and we went by a middle school. We turned onto Colon Street, Cabot Street (crossing over the stupid tracks again), and then Rantoul Street. Turning once again onto Elliott Street, we crossed over those rascally tracks twice, stopped at the Cummings Center, (with two people getting on this time!) and then crossed over the tracks again.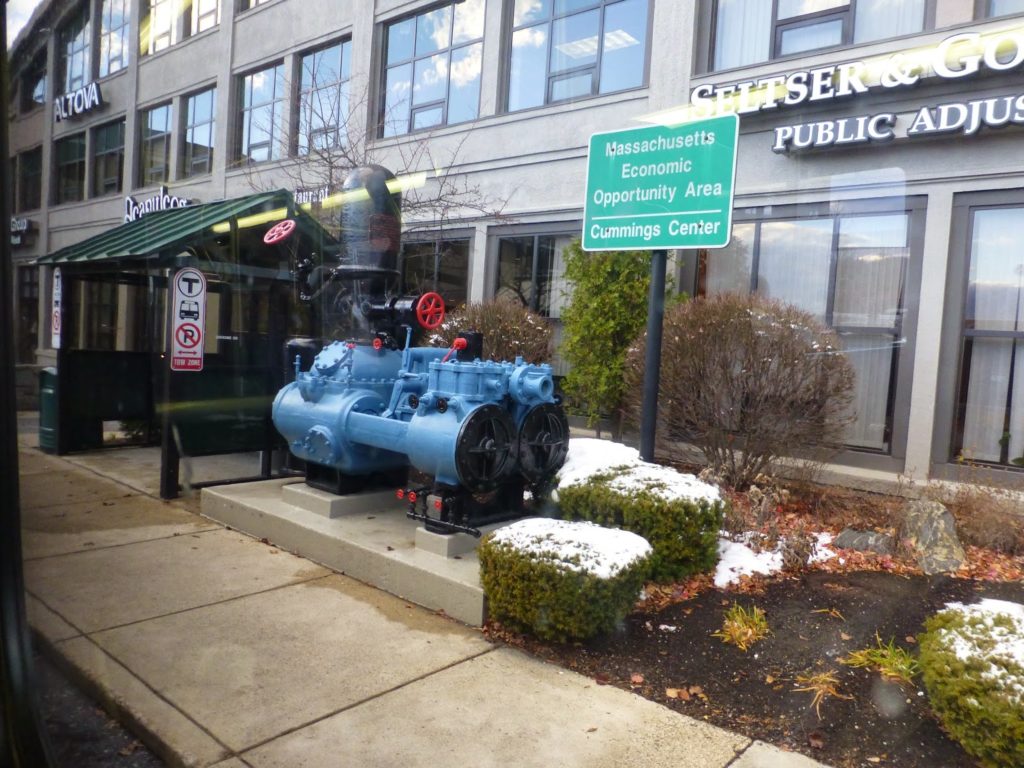 "Massachusetts Economic Opportunity Area." I guess that's what the Cummings Center is…
We headed back through the nice businesses of Cabot Street, and then went back over the bridge. Unfortunately, the driver was driving in the left lane, so the view from the bridge was pretty bad. The Commuter Rail tracks have a separate bridge over the Danvers River, but you can't see it from the road one. Actually, I'm surprised the tracks don't just have a level crossing with the river! They have about a million of 'em already!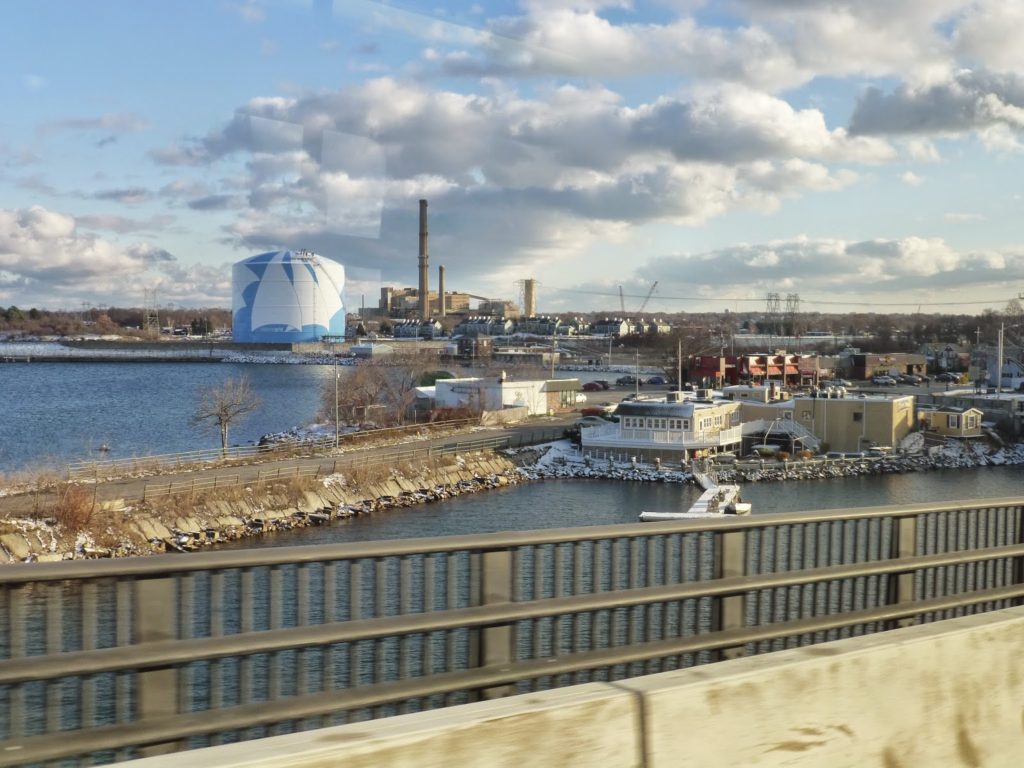 An industrial view of Salem.
We headed back down Bridge Street, Winter Street, Hawthorne Boulevard, and New Derby Street. Then we turned onto Washington Street, going past lots of nice businesses. We then turned onto Bridge Street, and drove into the Salem busway.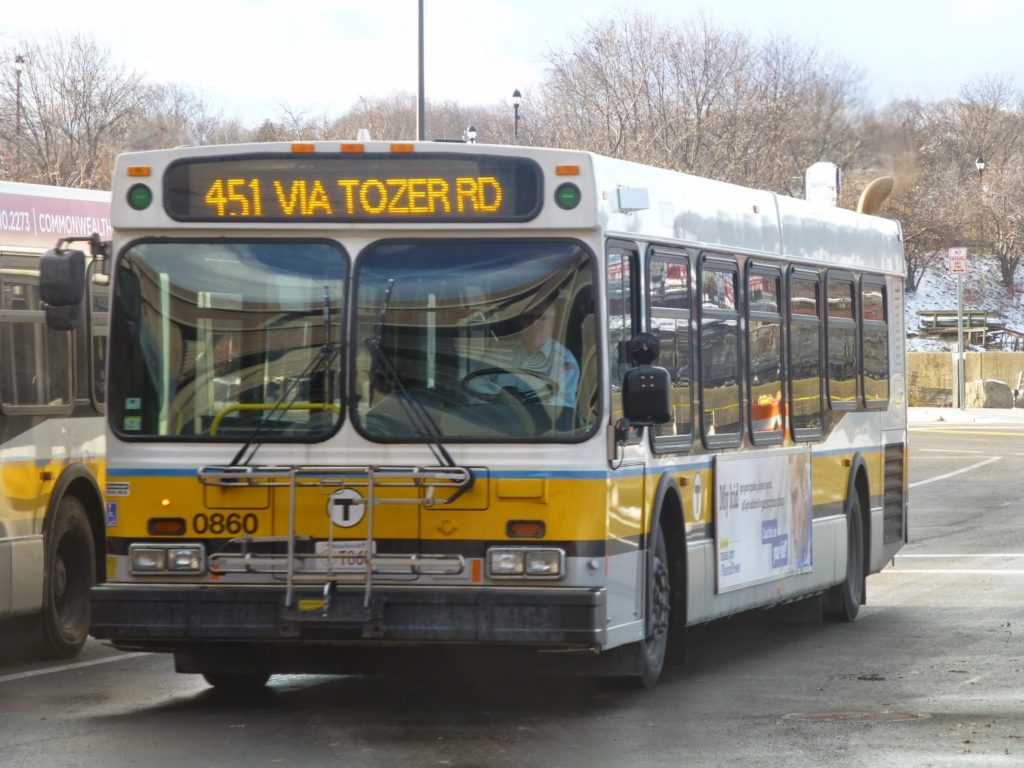 And the bus back in Salem,
Route: 451 (North Beverly – Salem Depot via Cabot Street or Tozer Road)
Ridership: This is one of those extremely local routes where very, very few people ride. There were only six passengers who rode the bus up towards Beverly (not including the guy that wanted the 455) and only seven coming back.
Pros: Although Beverly has its own local shuttle, the 451 goes much further north than it, and also serves Salem Station, a minor bus hub. Other than that, though, there aren't many good things about the route.
Cons: Namely, the schedule is terrible. The bus only runs eight times a day, weekdays only, with a gap in between rush hours. I mean, it gets pretty poor ridership, but that's a really bad schedule.
Nearby and Noteworthy:
The "downtowney" part along Cabot Street in Beverly was really nice, particularly that movie theater. This is also the only bus that goes by the
Salem Witch Museum
(admittedly kind of a tourist trap, but still worth a look), though it's a short walk from the Salem Station. The route also goes by the
New England Pirate Museum
, which I went to when I was younger. I seem to remember liking it, and it has pretty good Google reviews.
Final Verdict: 4/10
Look, I know this is the only MBTA route that serves Beverly, and it's definitely worth a ride if only for the bridge over the Danvers River. But good luck trying to do so, because the schedule is terrible. The ridership is bad, but this route ought to stick around, being the only one in Beverly.