A long time ago, on one of my very first for-fun bus trips, my father and I took the 459 up to Salem. I mentioned in that post how we got stuck up there, and a 459 back to Boston never showed up. At one point, there was a 450 that came, but for some reason I didn't want to take it. Think of this ride as an apology for so rudely ignoring that bus.
Leaving Haymarket, we headed up North Washington Street for a bit before turning onto Valenti Way, then Beverly Street. We then took the highway ramp towards Logan Airport, heading into a tunnel. We came back up for a few seconds, then floored it into the Callahan Tunnel under Boston Harbor.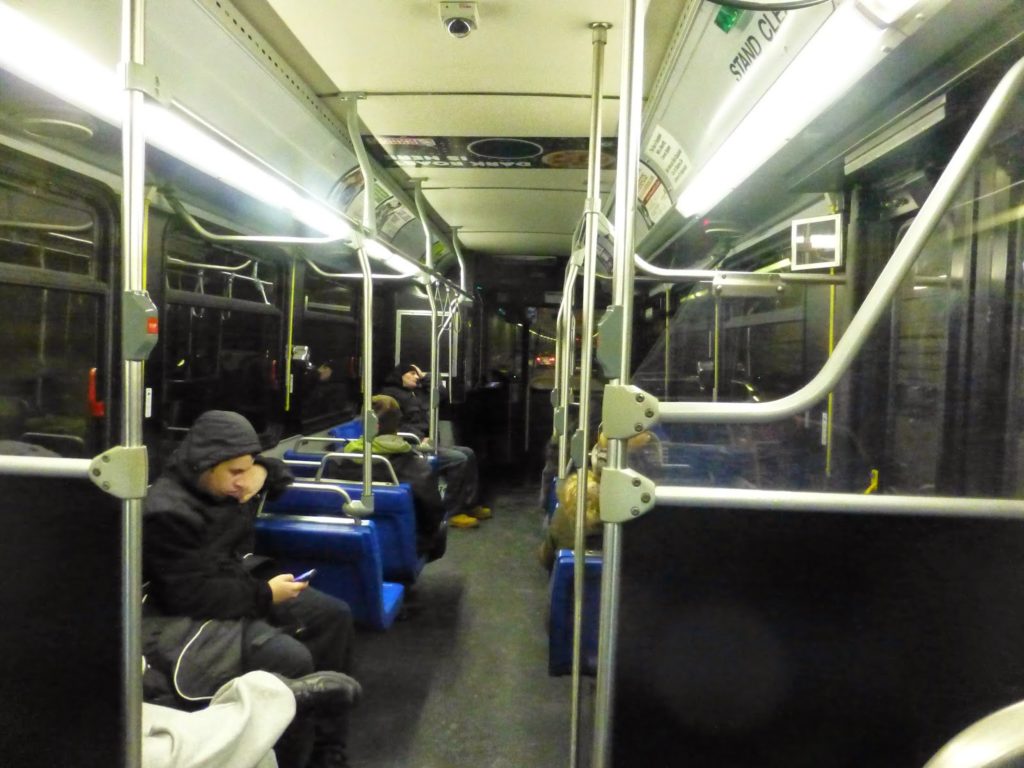 I thought a picture in the Callahan Tunnel would look cool. I was wrong.
We came out in East Boston, and Route 1A rose onto a bridge. We went very close to the airport, but instead of taking the exit for it, we stayed on Route 1A. Going by Airport Station, the highway rose up again for a bit before coming back down to ground level. The first stop outside of Haymarket was in an industrial area, but we just sailed right past it.
There were a few off-site parking lots for Logan Airport, as well as some hotels with shuttles there, along this portion of the route. We went through an extremely industrial area (it was just a bunch of vats), which was announced as Suffolk Downs. I mean, Suffolk Downs is close, I guess, but you can't actually see it from where the bus runs, and who uses the 450 to get there? We then went through Bell Circle, which is where the 450W on weekends joins up with the route from Wonderland.
We continued onto American Legion Highway, or Route 60. There was a massive church and yet another Logan Airport-related hotel (even though we were pretty far from there by now), but there were also a few houses along the highway. Unfortunately, though, it got industrial again at Brown Circle, where we headed up on the Salem Turnpike.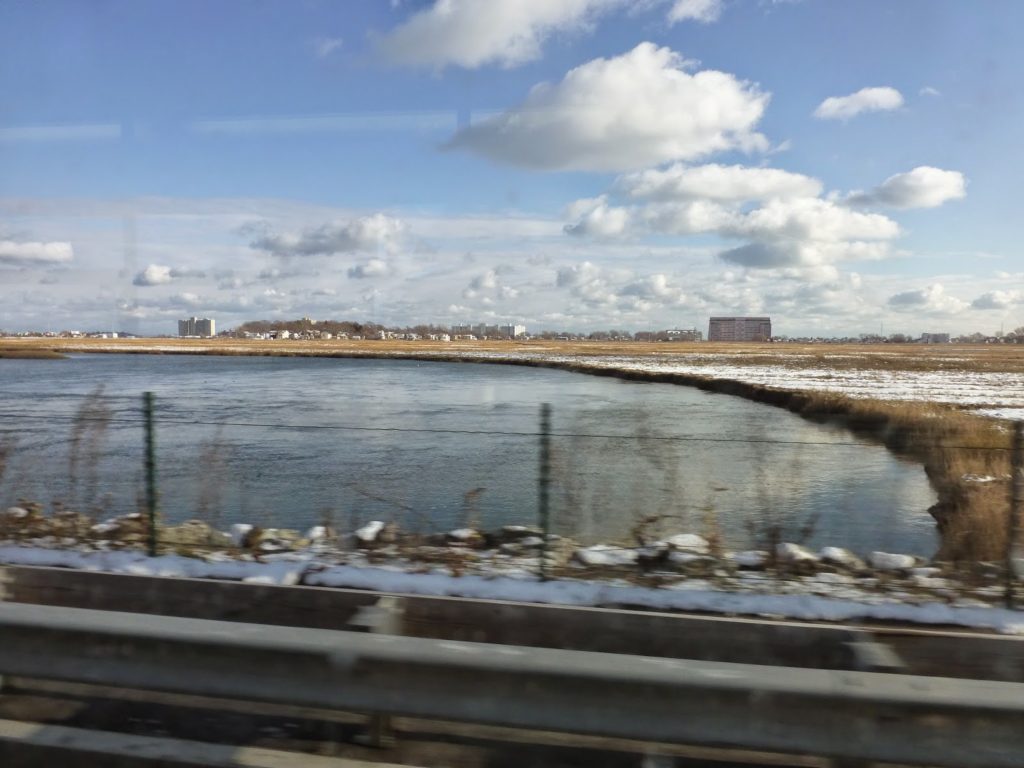 The view from the Turnpike.
The driver floored it, since the road was just a straight run through massive areas of marshland. There were a few industrial warehouses along here, but it was mostly just the reeds of the Rumney Marsh. But then, right out of nowhere, there was a massive (and I mean huge) factory that appeared by the road.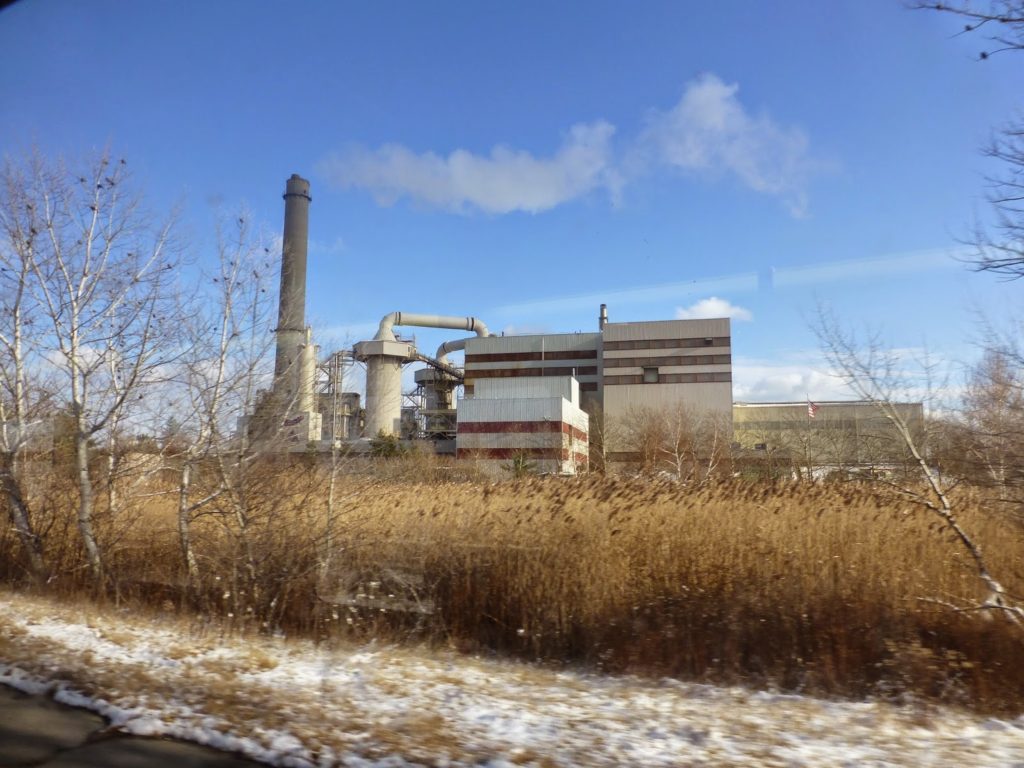 Why, hello there!
Then we slowly went onto a bridge over a river, and Salem Turnpike became Western Ave. We were in Lynn now, and it was once again industrial. At the West Lynn Garage, the driver pulled over and another one crossed the street to our bus. The two drivers conversed for a bit, (too long, to be honest – we were on a schedule!) then the other one took over the bus. After that, Western Ave became a mix of houses and businesses.
At South Common Street, many of the routes leave Western Ave to serve downtown Lynn, but we didn't join them. This meant a relatively speedy ride compared to if the bus served downtown. Western Ave was still a house-business mixture, though with more of an emphasis on the former. At Eastern Ave, we were joined by the 456. and then we went on a bridge over a pond.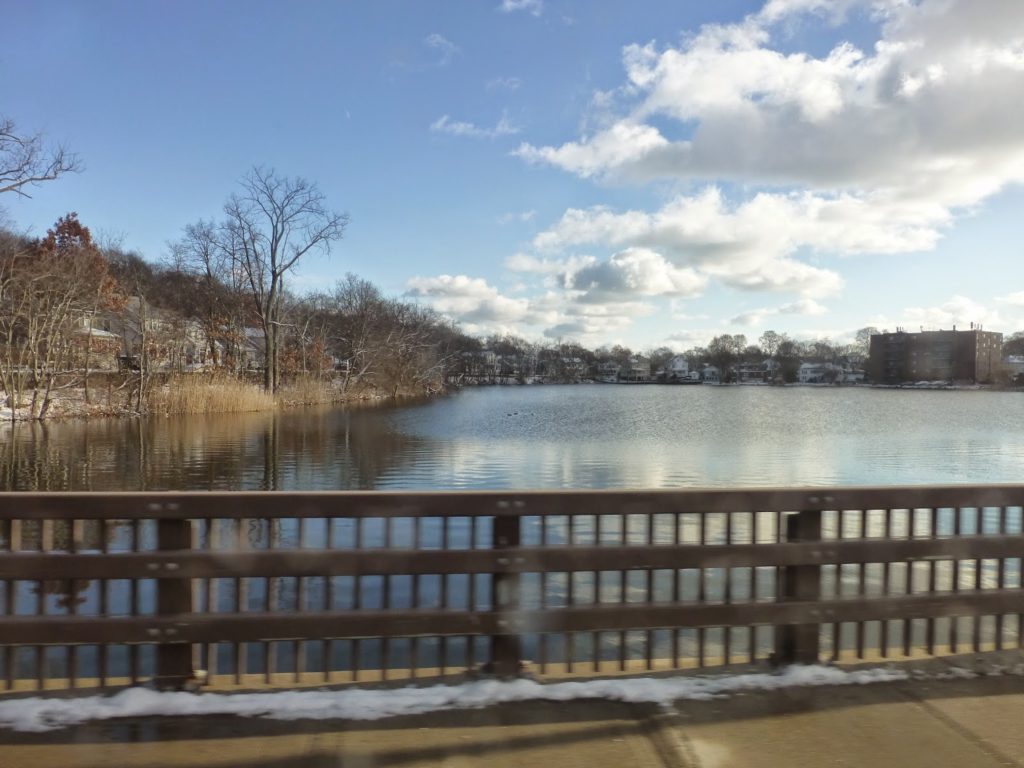 The view of the pond.
We went through a residential area, then we entered Salem, Western Ave became Highland Ave, and the surroundings got a whole lot dumpier. There were a few houses, but for the most part it was ugly businesses with massive parking lots. My fa-vor-ite. Finally, it got nice again, and we were back in a residential area.
We passed the huge Salem Hospital, and when Highland Ave became Essex Street, there were some nice businesses (without massive parking lots, thank you very much). Then we went through a fantastic-looking residential neighborhood, with very old-fashioned houses. In downtown Salem, we turned onto Summer Street and then Norman Street, going by plenty of businesses. We turned onto Washington Street at a massive intersection that took quite a while to traverse, then we turned again onto Bridge Street. From here, we made our way to the new Salem busway.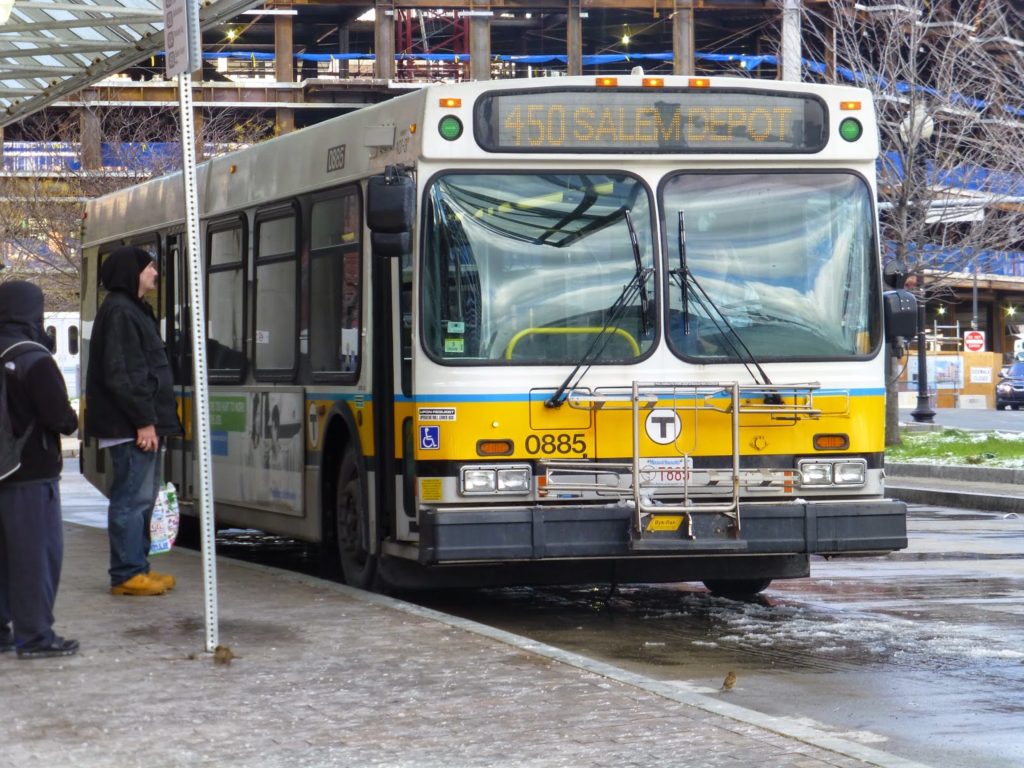 The bus back at Haymarket.
Route: 450/450W (Salem Depot – Haymarket or Wonderland Station via Highland Ave)
Ridership: In total, there were almost 25 people that rode this bus. That's pretty good for a route of this caliber, and the fact that it was midday. There were only about 10 people that got on at Haymarket for the express portion, and the rest used the 450 for local service. I was the only one that went all the way to Salem Depot, with everyone else getting off in the center.
Pros: This route gives Salem a direct link to Boston, and saves lots of time by bypassing downtown Lynn (unlike the 459, though that goes from Salem to the Seaport and Financial Districts). There's still a bit of traffic heading down Western Ave, but the bus travels very quickly for most of the route. I also like that this route has weekend service as the 450W to Wonderland, but…
Cons: The schedule's pretty bad overall. It's every half hour during rush hour, every 80 minutes during the day, every 60 minutes at night, every 70 minutes Saturdays, and every 60 minutes Sundays. Not only is it an unconventional schedule, (why does it run more often at night than during the day, why does it run more often on Sundays than Saturdays, etc.) but there are also some trips that start/end at the West Lynn Garage. One other thing: this bus goes so close to the airport, why not serve it? It would make a faster ride from there to Salem than the 459.
Nearby and Noteworthy: Downtown Salem for sure. Because as the holidays rapidly approach, witches are on everyone's minds, right? Right?
Final Verdict: 5/10
As a North Shore express bus, this is pretty good. But I saw some fairly decent ridership that makes me think that the schedule could stand to get a boost. I mean, every 80 minutes on weekdays is kind of ridiculous. And make sure your bus isn't terminating at the West Lynn garage! Because that place is pretty much in the middle of nowhere.
Latest MBTA News: Service Updates
October 2014 had the MBTA's highest ridership ever. It was the first time it surpassed 37 million passengers in a month. Also, the federal government will be paying for half of the Green Line extension! This is happening, people!