Apparently the Stage Fort Park Trolley has been running for eight years. You would think that would be enough time for people to actually, you know…use it.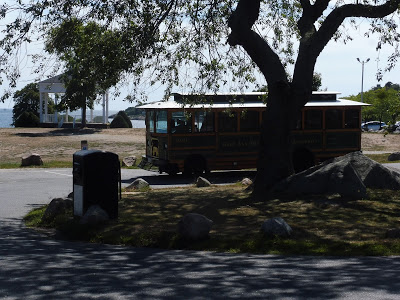 Oh no…
Yes, this thing uses a fake trolley, and it is soooooo much worse than the ones RIPTA uses. It's high-floor, for a start, and though CATA claims that the bus is wheelchair-accessible, I'm sure it's by means of some awful lift that never works. Also, the seats are these really uncomfortable wooden benches, and I don't know who the heck would want to sit in them for longer than thirty seconds.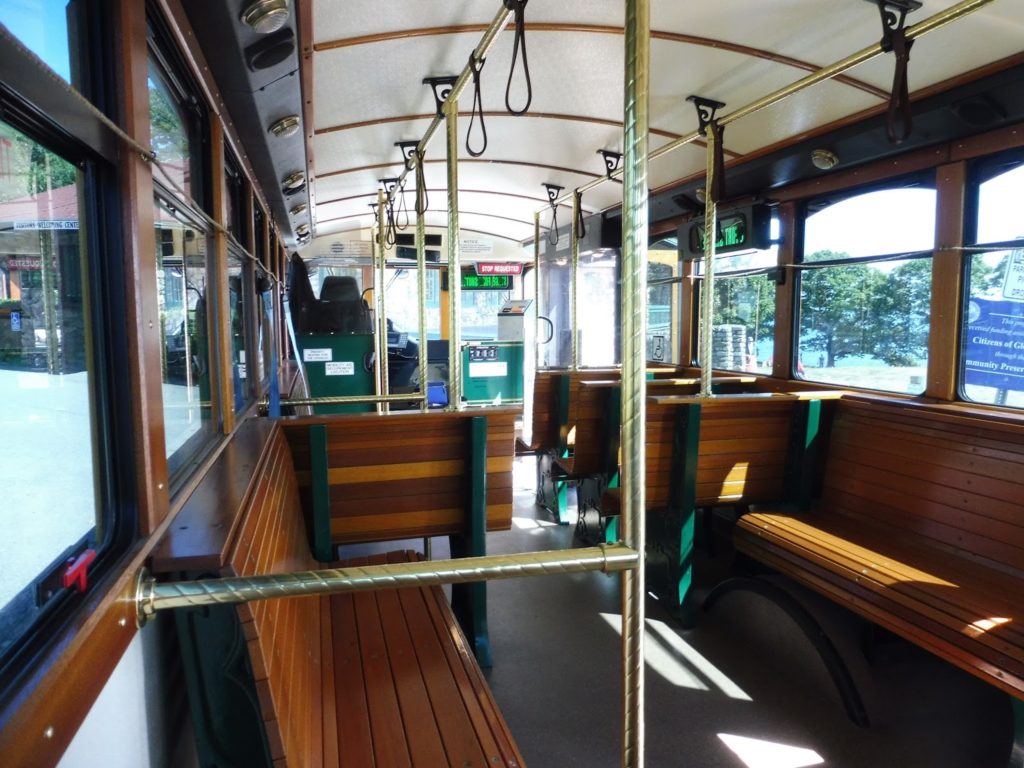 Ew!
We headed out from the Stage Fort Park Visitors Center, a park-and-ride where people can hop this bus to get into Gloucester proper. Coming up to Western Ave, we had the harbor on one side and lots of houses on the other. And then something really weird happened…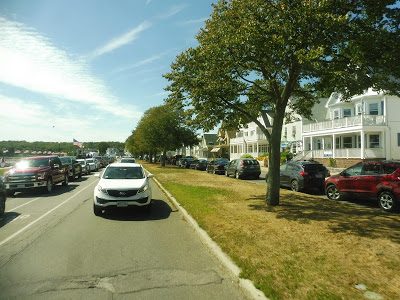 Alright, I will say the rearview window was great for pictures.
WOMAN PASSENGER: MAHTY!!!!!
MAN PASSENGER: Whaaaaaaaaaat?
WP: MAHTY, I THINK WE PAHKED IN THE WRONG SPACE!
MP: Who cayahs, we'ah on the bus.
WP: I THINK WE PAHKED IN THE FIFTEEN MINUTE ONLY SPACE!
MP: It doesn't mattah.
WP: DRIVAH! OH, DRIVAH, SHOULD I CALL THE VISITAHS CENTAH?
DRIVER: I don't think so, I doubt they'll notice your car is there.
WP: I'M CALLING THE VISITAHS CENTAH! [calls Visitors Center] MAHTY, THEY TOLD ME TO MOVE THE CAH!
DRIVER: You could've just not called…
MP: Well, I'm already on the bus, I'm not moving one bit.
WP: I…I…OKAY, MAHTY, I'LL GO MYSELF, THEN!
MP: Fine.
WP: OH, DRIVAH, LET ME OFF HEAH! MAHTY, I RUINED THE WHOLE DAY, OH MY GOSH! OH, MAHTY! [clampers off the bus]
[silence]
MP [to me]: Someone should teach those dogs to use the bathroom. Then they won't go all ovah the street!
ME: Uhh…yeah.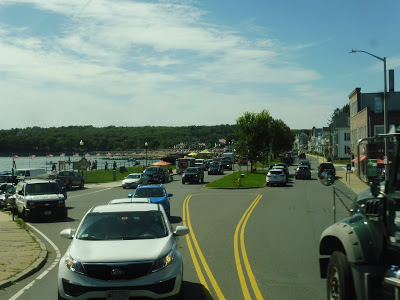 Screw the review, just get me off this bus!!!
Western Ave curved away from the water, then we used Angle Street to get onto Rogers Street. There were businesses for a bit, but this waterside road mostly served backlots from the businesses on nearby Main Street. We were supposed to deviate into the Gloucester Harbor Loop, which I think would've been fun, but for some reason we didn't. We let Mahty off at the entrance to the loop, though, so now it was just me.
Going down Rogers Street.
It got pretty industrial as we passed Dunkin' Donuts, the hub of the CATA, and soon after that, we turned onto Prospect Street. This was a twisty and narrow road lined with dense houses, and it stayed that way until we merged onto Railroad Ave. This took us past a few suburban businesses and, of course, the Commuter Rail station, although this particular trip didn't time with any trains. Thus, we looped around back to Prospect Street via Washington, Pearl, and Railroad, and we went straight back the way we had come.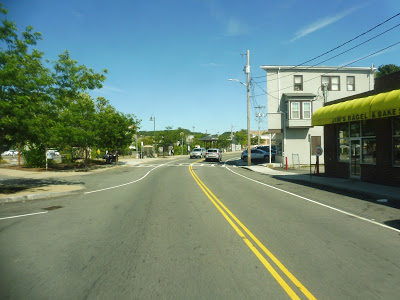 Passing the Commuter Rail station.
We turned onto Main Street next, which was mostly industrial. We eventually curved around onto Bass Ave, a residential road aside from the entrance to a Stop & Shop that most CATA buses deviate into – it was kinda fun not to! We made a turn onto Nautilus Road next, going by the footbridge to Good Harbor Beach. This is where things got scenic.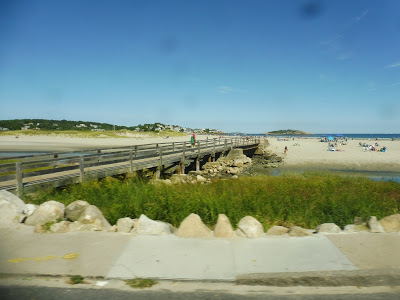 The footbridge to the beach.
We merged with Atlantic Road, and then it was pure views. One side of the road had beautiful houses and lots of hotels, while the other side was just open ocean. It was the same stretch of road that the Red Line goes down, but it was no less amazing the second time!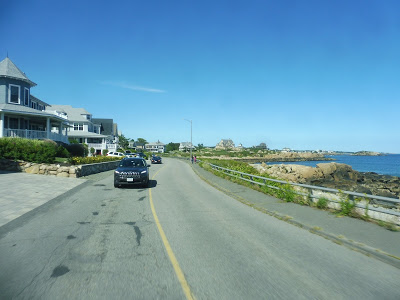 Wow, I love this.
Eventually we curved onto Farrington Ave, an unfortunately dry-land road that took us across the peninsula we were on to the other side. We merged onto Eastern Point Road there, and though there was a brief view of Niles Beach, it was a mostly unscenic road. There was a very cool deviation into Rocky Neck, though, a small peninsula home to a bunch of artists and galleries. It was a short loop around, but it was neat to see.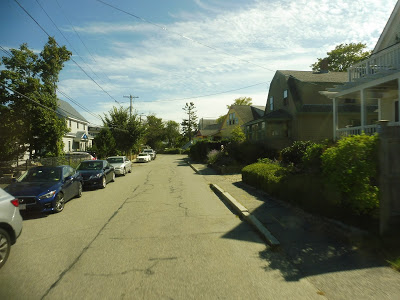 Some of the houses on Rocky Neck.
We returned to what was now called East Main Street, and it was mostly residential. There was a quick view of Gloucester at one point, and another one later on after we had curved past some harbor industrial buildings. At this point, we rejoined ourselves at the start of the loop, and I took the bus back to Dunkin' Donuts.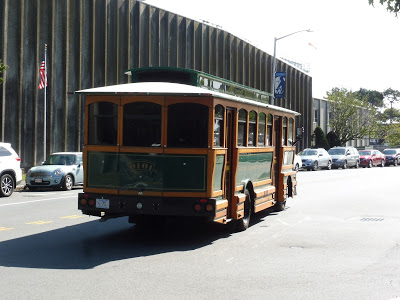 Not sure why you're on Rogers Street and not Main Street like you're supposed to be, but bye!
CATA Route: Stage Fort Park Trolley (SEASONAL: Stage Fort Park – Downtown Gloucester – Good Harbor Beach – Rocky Neck)
Ridership: This route runs weekends-only in the summer, and on both Saturday and Sunday, it averages about 50 riders. Well, okay, I guess that's about six people per round trip, which isn't awful……….
Pros: There's definitely a draw to being able to leave your car behind at the Visitors Center and taking this bus to where you want to go. The price is right, too: it costs $1.00 for a one-way trip ($0.50 for seniors and people with disabilities), or you can get a day pass for $3.00. The route connects up all of the tourist attractions of Gloucester, and it even times with Commuter Rail trains at the station!
Cons: It's pretty hard to rely on an hourly service when you're driving, isn't it? I mean, it's kinda tough to plan your arrival time at Gloucester to be exactly on the hour so you can catch this trolley. Plus, why would anyone want to spend a bus fare when they're already spending 15 bucks to park at Stage Fort Park?? And I understand that it would take more buses and more resources to run more frequent service, but I think I combination of that and better advertising for the park-and-ride (not to mention some sort of parking fee waiver for taking the bus) is the only way to get ridership to reasonable levels on this thing. Oh, also, there's a weird typo on the schedule that lists arrival and departure times at the Commuter Rail station as being the same thing…and on that note, I get that you're trying to time with trains, but forcing everyone else to sit through a fifteen-minute layover at the station is pretty darn annoying.
Nearby and Noteworthy: I don't know if Gloucester is actually a big tourist attraction or not, but I think the best places this route serves are the beaches on that scenic peninsula and Rocky Neck.
Final Verdict: 5/10
This really isn't a very good tourist trolley. It's infrequent, it forces finicky car passengers who are already spending money to park their vehicles to wait at the Commuter Rail station (why couldn't it just depart the Visitors Center later?), and apparently it doesn't actually follow the route it's supposed to follow, based on my trip! I think the only way to fix this thing would be to throw another bus on it and give it half-hourly service, which would mean both more frequent buses and there wouldn't have to be a layover at the Commuter Rail station anymore. A fee waiver or discount for the parking would be a great way to get more people on this thing, too.
Latest MBTA News: Service Updates