THIS BUS ROUTE IS RIDICULOUSLY SCENIC AND YOU ALL SHOULD RIDE IT!!! Have I gotten your attention? Great, let's review the Red Line.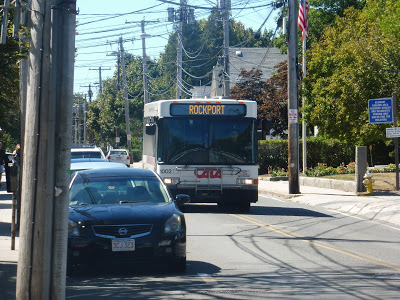 The bus in Rockport.
My friend Nathan and I got on at Rockport Market, which is considered to be the first timepoint of the route. I would make a joke about it not having amenities, but to be honest, even just a sign is rare for CATA! Of course, the stop had nothing else, but a sign is…good…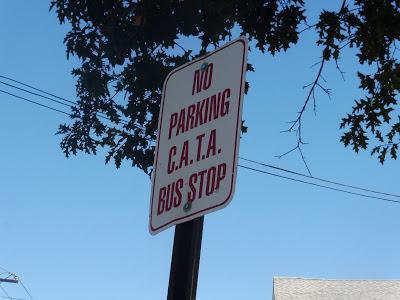 Beautiful.
We headed down Broadway, then turned onto Mount Pleasant Street, which took us away from downtown Rockport. This was a hilly street lined mostly with absolutely lovely houses (as well as the occasional inn, and they were lovely, too). The road became South Street, and it was still residential aside from a little tea room and a rehabilitation center.
Why, I do believe I can glimpse the ocean back there!
As we came up a bit closer to the water, the houses started to get much much bigger. We came pretty close to a golf course (because of course there would be a golf course in a place like this), but then the road went more inland. Now we were speeding through the forest, going by nice little houses.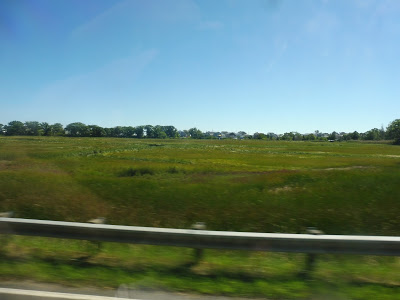 Would it be surprising if I said that this isn't the most scenic part of the route? Well…it's not.
South Street curved away, and now we were on Thatcher Road. There was a bit more forest, and then we came out into a marsh. The dense houses of Long Beach were in sight across the swamp, and it was a fantastic view! After that, we entered Gloucester and went by an ice cream shop, and then more houses.
Wow!
However, it wasn't long before the views came back! Thatcher Road eventually entered another marsh, offering a look out to the beach and at distant houses. However, we soon reached…a deviation? Wow, okay, I wasn't expecting that. Yes, we actually turned into the parking lot for a Stop and Shop, although we did pick someone up, so that's good.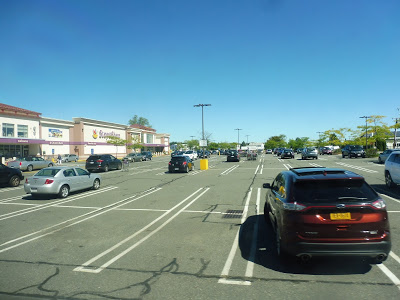 Best view on the route, guys!
But no, the best view was soon to come…very soon, actually. We turned onto Bass Ave, which became Nautilus Road and went right up to the water. There was a little beach here, and the view was fantastic. But guess what? It would get better! Now we were on the East Gloucester peninsula.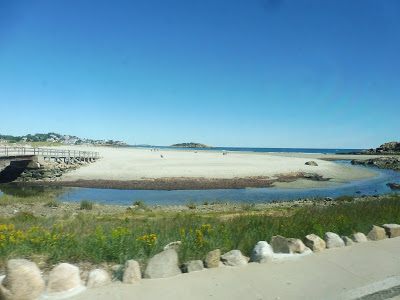 Awesome!
Yes, because then we merged onto Atlantic Ave, which was literally running alongside the coast! We were just going along this somewhat twisty road with an absolutely amazing water view to the left and a bunch of hotels and mansions on the right. Well, I guess that's how an oceanfront view affects property…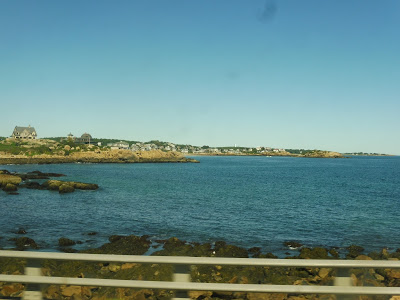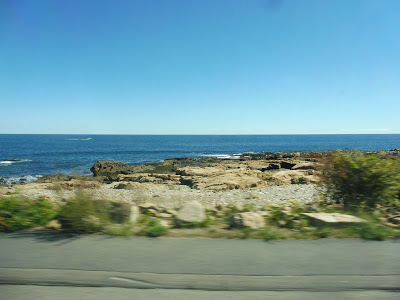 I'm including multiple pictures, because this is amazing.
Eventually, it became houses on both sides as Atlantic curved inland a bit. It merged around into Farrington Ave, which took us across to the other side of the East Gloucester peninsula, where we turned onto Eastern Point Boulevard. This was Niles Beach, and we got another awesome ocean view, and…OH MY GOSH, I CAN SEE BOSTON!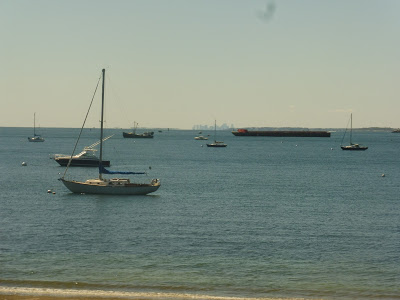 There it is!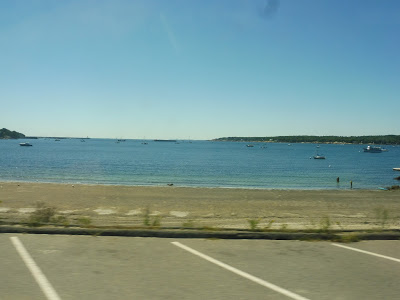 A wider look at the wonderful view!
We passed through a section with dense (charming) houses, and then came up to the water again! This time, it was a view of the Rocky Neck peninsula, a really fascinating neighborhood – it's an "art colony", with lots of galleries and businesses! The street became East Main Street from there, curving past houses and shipyards with views of downtown Gloucester.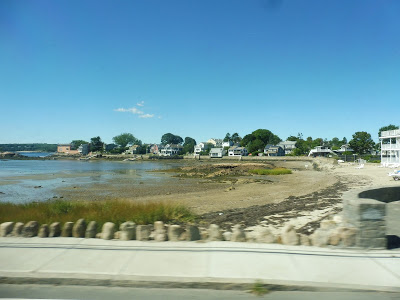 The view of Rocky Neck.
Due to one-ways, the inbound and outbound routes had a short split here. Thus, we merged onto the narrow Sayward Street, which was lined with houses. Next, we turned onto Bass Ave, only a half mile away from that Stop and Shop we had served a while back! Yeah, the trip around East Gloucester is a quite the deviation…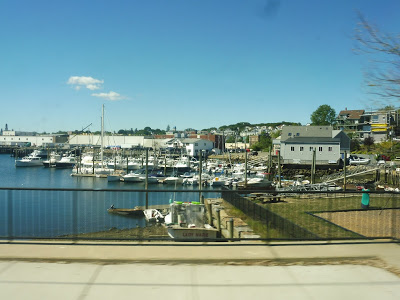 Looking at Gloucester!
Bass Ave was also residential, but soon we got a rapid scenery shift. We passed a park, the street became Eastern Ave, and the surroundings got very industrial (at least on the ocean side – the other side of the street was houses and businesses). Finally, the street name changed again to Rogers Street, and we reached the Gloucester Dunkin' Donuts in no time.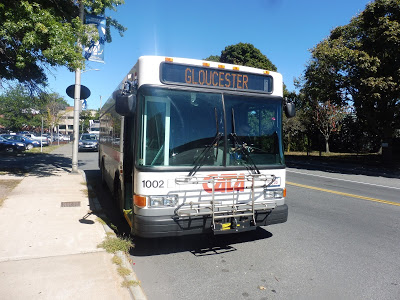 The bus in Gloucester.
CATA Route: Red Line (Gloucester – Rockport via Thatcher Road)
Ridership: On weekdays, the Red Line is the second-busiest connection between Gloucester and Rockport, although still below average with about 70 riders per day. On Saturdays, it's even lower, with the Red Line being the third least-used route overall, getting about 35 riders. My trip certainly wasn't busy – it only had two other people.
Pros: THE VIEW THE VIEW THE VIEW THE VIEW THE VIEW! And, uh, I guess the route serves some stuff, too.
Cons: Like any CATA route, the Red Line's schedule is insane. It can be generalized to around four trips per day (weekdays and Saturdays), but on weekdays there are strange short-turn trips and crazy school trips to factor into the mix. Also…why does it say "Commutter Rail" on the online schedule? Please fix that, CATA.
Nearby and Noteworthy: Who cares about what's AWAY from the bus when riding it is so beautiful? Although the Red Line does serve a few points of interest like Niles Beach and Rocky Neck, many are also served by the summer-only Stage Fort Park Trolley, which has a more consistent every-hour schedule.
Final Verdict: 5/10 (but 10/10 for the view!)
As a route, this is probably the worst of the Gloucester-Rockport CATA buses. It's the most infrequent one, it gets low ridership, and its schedule has a typo! That being said, the Red Line has the best view BY FAR, and I wholeheartedly recommend riding this thing just to look out the window. Just…good luck getting on the thing, what with its schedule and all. Again, the Stage Fort Park Trolley also traverses the most scenic part of the Red Line in the summer, with a much more frequent schedule.
Latest MBTA News: Service Updates