Having just eaten the worst pizza ever, my friend Michael and I were trudging through the snowy Roger Williams Park. Every time the wind blew, our numb hands got even number. We were trying to get to the Roger Williams Zoo in order to pick up the 6 to get back to Providence. Suddenly, it flew by us on its way there. "Grab the camera case, Michael!" I yelled as I dropped it in the snow in a mad rush to get a picture of the elusive vehicle.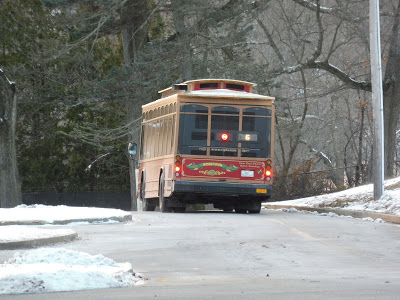 Waittttttt!
With newfound vigor, we navigated a rotary with no sidewalks and made it to the zoo parking lot. The bus was sitting there next to a themed shelter, but its destination board was off. Looking around, it seemed that the driver was power walking around the parking lot. We decided to sit under the shelter on some rock benches (which were a nice touch) while the driver entered the zoo for some reason.
The bus sitting next to the awesome zoo shelter.
Finally, the driver came back and asked if we were getting on. We said yes, and he let us onto the bus. We had gotten transfers from the R-Line (which would've honestly been a much easier way of getting back), and thus we grabbed seats and tried to warm up.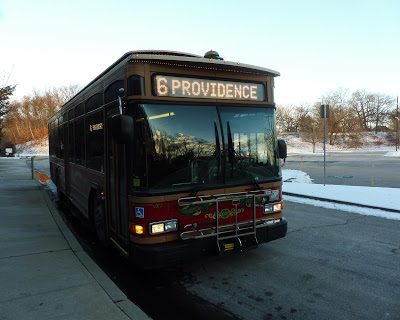 I had to crop this one a bit, since my glove got in the way. It was cold, okay?
As you can see, this route operates using tourist trolleys. I normally hate these kinds of vehicles, but it has to be said that the interior of this bad boy was amazing. Aside from the bright red seats (which were cool in their own right), the floors and walls were made out of wood! Plus, the cords used to request stops were made out of these rough ropes. I'm not sure what "theme" they were going for here, but it was fantastic regardless.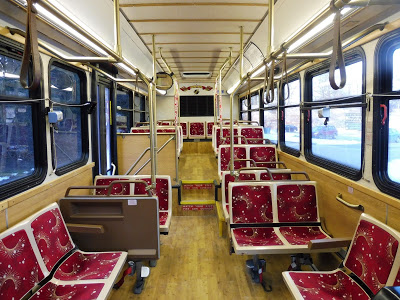 Looking toward the back…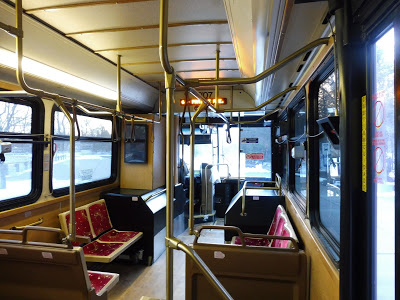 …and the front.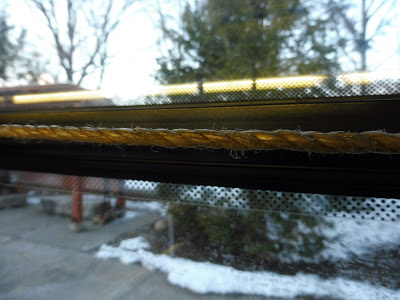 Also, just look at this stop request cord! Or…rope, I guess.
Heading out of the zoo parking lot, we went around a rotary onto Hawthorne Ave. This road went right through the park, and thus lots of snowy trees were in view. Eventually, we reached Broad Street, and turning north, we crossed over I-95.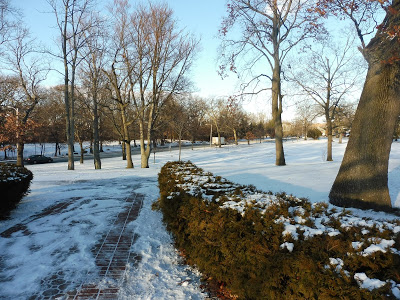 I used a photo from our walk because the bus windows were dirty.
We then merged onto Prairie Ave, going by a middle school. After a quick industrial blip, the street became lined with dense houses. There were also some businesses in the mix, as well as a library at one point. Prairie Ave curved north, and then we made a rather long detour.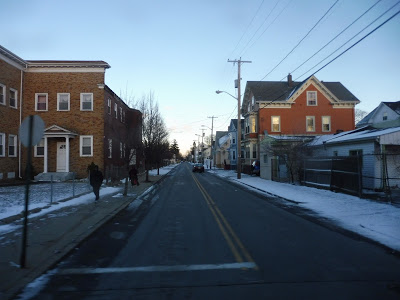 Looking down a side street.
Right, so pay attention, because this is complicated. We first turned onto Blackstone Street, and then Staniford Street. From there, we entered a loop at the entrance of the Community College of Rhode Island, picking no one up. We returned the way we came, but instead of going all the way down Blackstone Street, we turned onto Gay Street, and then Dudley Street.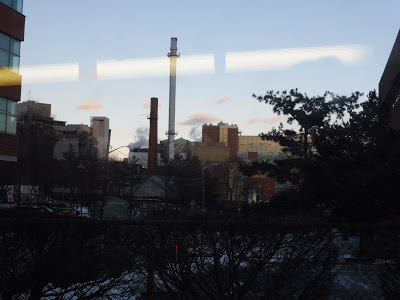 An industrial view from Gay Street.
Finally, we returned to Prairie Ave, going to a big parking lot for the Rhode Island Hospital. It got residential after that, with an apartment building on one side and houses on the other. We turned onto Point Street, which crossed over I-95 once more, then we turned onto East Franklin Street. Paralleling the highway, there was a fantastic skyline view to the right.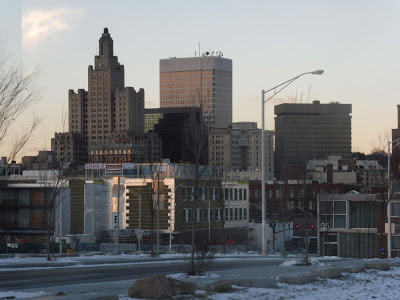 Man, I love the Providence skyline!
We turned onto Broad Street, leaving the highway behind. The road became Weybosset Street, and the surrounding buildings started to get taller as we got closer to downtown. As it started to curve around, we were suddenly in the financial district with skyscrapers everywhere. Finally, we arrived at Kennedy Plaza, and the bus went out of service.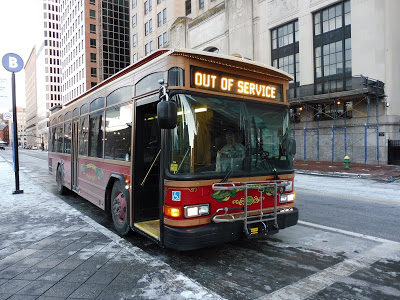 The bus in Providence.
RIPTA Route: 6 (Prairie/Roger Williams Zoo)
Ridership: In 2012, this route carried a measly 477 passengers per weekday, 264 per Saturday, and 100 per Sunday – and that was before this route's schedule cuts! My ride was similarly low, with only about five people in total. Now, I'll admit that this was Martin Luther King Day, but still, five people is tiny. I would imagine the 6 gets slightly more ridership during the summer, when people actually want to go to the zoo.
Pros: This would theoretically be a good bus for tourists. Direct service from Providence to the zoo? Awesome! And on weekdays, it satisfies that in a schedule regard, too, with every half hour service. However…
Cons: That becomes every hour on weekends – certainly not a good schedule for tourists. Okay, well, maybe it's a good route for locals. After all, it serves the Community College of Rhode Island, as well as the Rhode Island Hospital! Well, yeah, except it does that through a really time-consuming detour. Plus, it's within a few blocks of the R-Line for most of its trip. Talk about being overshadowed.
Nearby and Noteworthy: All I've seen of the Roger Williams Zoo is the parking lot, but it is one of the oldest zoos in the country and admissions are half-off through February. The 6 will take you there directly, while the R-Line is much more frequent, though it only drops you off at the entrance to the park in which the zoo is housed.
Final Verdict: 4/10
This route is kind of in a strange limbo. In order to be more of value to tourists, it would have to run more often. But since it wouldn't be too well-used, it could probably just get flat-out eliminated. I mean, okay, ridership still comes from the Community College, that said. I like the idea of running a cut-back version during the winter that only goes as far as the CCRI, and then during the summer it goes all the way to the zoo. Plus, it could also get extended to Providence Station on the other end during seasonal service to improve tourist connections. I mean, these buses are awesome, they can't be put to waste!
Latest MBTA News: Service Updates