Staples headquarters at 8 PM is a lonely place. I was just standing around, waiting for the 9 and hoping this last 8:10 trip actually existed. If it didn't, I had no idea what I would do. 8:10 came and went. So did 8:15. Was I stuck forever? Finally, the bus showed up at 8:18, and I happily boarded. The final MWRTA route.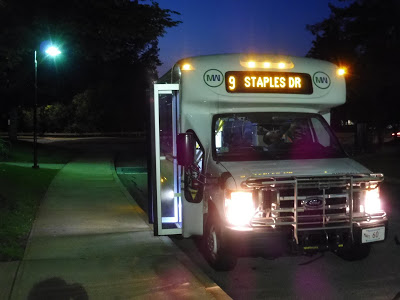 Take me out of here!
The 9 happens to be numbered such because it spends almost its entirety along my favorite road in the world, Route 9. Gosh, what a fitting end to this MWRTA experience. Not only that, but it starts with a bunch of random deviations: we made our way up to Crossing Boulevard and crossed over Route 9 to start one of them.
So it's gonna be one of these reviews, huh? Alrighty, then. This is Route 9, as far as I know.
We made a turn onto Boston Road, then another onto New York Ave, which took us past a bunch of office buildings. Of course, the number of people commuting from them at 8 PM happened to be an unsurprising 0. We turned onto California Ave next, taking it straight down into the ragtag MWRTA park and ride.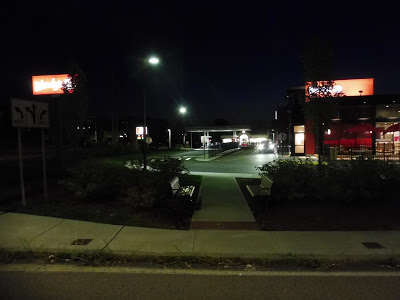 About to cross Route 9.
We headed straight onto the magical highway from there, taking it through an interchange with I-90. There was actually a nice view beyond the interchange as the road paralleled a reservoir, but we left it briefly to do a deviation into the Jefferson Hills apartment development. There were many more of those as we continued down Route 9.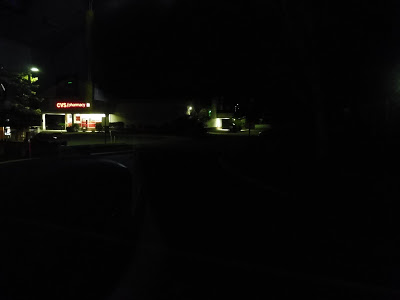 A CVS.
There was a brief section of woods, but once that ended, it was a burst of Route 9 businesses everywhere – gross, suburban retail with parking lots. We passed a Stop & Shop that the 7 has to deviate into but we don't (very satisfying), and the businesses continued. Soon after, though, we did a jog via Maynard Road, State Street, and High Street, in order to serve Framingham State University.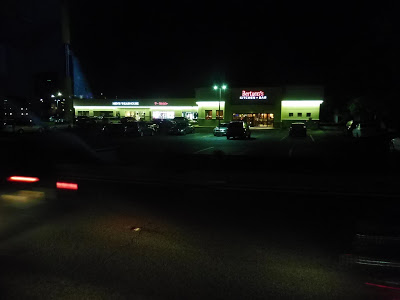 Thank goodness for all of the lights so I could take semi-clear pictures!
We returned to Route 9 and just blazed down it. It was 8 PM, traffic was light, and the scenery was unchanging – just more of the same stuff we had been seeing all along. It was a total blur until we whirled around onto Speen Street, which looped us over to the Natick Mall, usually the last stop on the route.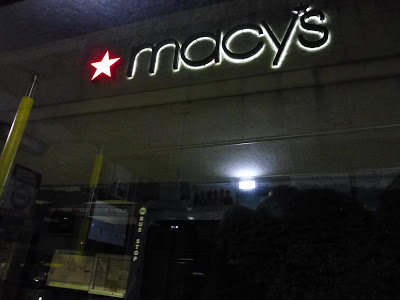 At the mall.
Since my trip was the last trip on the 9, it was heading back to Blandin Hub and I stayed on for the ride. We took the route of
the 4N
backwards, making our way back onto Speen Street, then turning onto Hartford Street. This was all residential, and it stayed that way when we turned onto Bishop Street. This took us straight down to Blandin Hub, with a bit of industry as we got closer to it. And as I got off that bus, I could relish in the fact that I would never have to ride this awful system again. Hooray.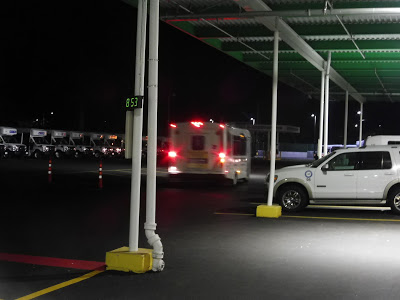 Good riddance!
MWRTA Route: 9 (Worcester Road)
Ridership: Says the MWRTA, "Route #9 has always experienced dismal ridership because of the highway's lack of pedestrian and bicycle amenities." Dismal isn't an incorrect word for it – although the route gets about 105 passengers per weekday, it averages out to only 4 per round trip, and most of that ridership is during peak periods. That means midday and evening trips are near-empty, which holds true for my ride; the last trip got only one other rider.
Pros: Despite the low ridership, this is clearly an important route, serving busy destinations at the western end of the MetroWest area. It's pretty frequent, too, with half-hourly service at rush hour and a bus about every hour middays.
Cons:
It's an MWRTA route – those headways are totally approximate because the times are completely random: 7:25, 7:51, 8:15, 8:45, 9:16, 9:38, 10:00, you get the idea. Also, one reason I think this route has low ridership is because it doesn't have that direct subway connection. The 9 and
the 1
to Woodland actually used to be the same route, but for some reason the MWRTA decided to split them up. This was a horrible idea for ridership in my opinion, and the routes don't even time with each other at their transfer point, the Natick Mall.
Nearby and Noteworthy: It's just a lot of office parks, but if you're interested in seeing Staples headquarters, you can take this bus over there, I guess!
Final Verdict: 5/10
The 9 is one of the better routes on the MWRTA, and it really does have potential. It's just too bad it ends at the Natick Mall, isolated from the subway where people might actually ride this to commute. Well, I decided to put the routes back together again! See the full schedule
here
.
I threw this together really hastily in time for the review, so it's not perfect (there's an annoying hour-long gap in the evening rush going eastbound that I need to fix), but this is what the route could be. I tried to give it a decent amount of time to traverse Route 9, but maintaining a half-hourly schedule in the evening rush could be difficult because of traffic. Still, the point is that using the same amount of buses, the 1 and the 9 can be combined with much more consistent headways, plus with a one-seat ride! Not bad! Also, since this is my last MWRTA review: good riddance, you horrible bus system. BOO-YAH!!!!
Latest MBTA News: Service Updates