Yeah, it's kinda easy to forget that Woodland has a bus connection, isn't it? The MWRTA actually runs two buses here, but the one we're focusing on today is the 1, which goes from Woodland all the way to the Natick Mall! Not bad for $1.25, eh?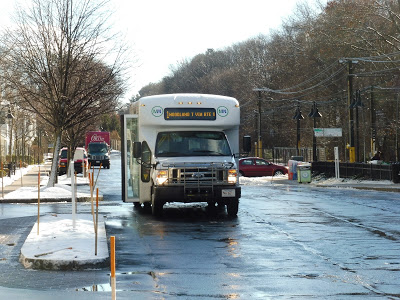 OH NO, IT'S A MINIBUS! ABORT, ABORT!!!
Okay, it wasn't that bad of a minibus. It was standard fare, with those classic minibus seats and a bunch of MWRTA posters everywhere with dubious grammar. The wheelchair lift wasn't too jiggly, but it could get annoying if one sat next to it for too long.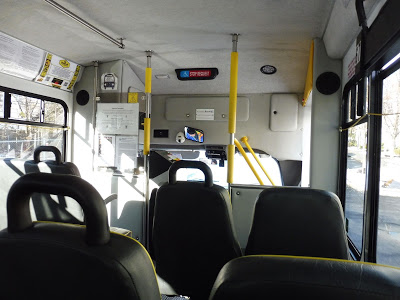 The inside.
We pulled out of the Woodland Station busway (gosh, it just feels weird to say it!) and turned onto Washington Street, passing a golf course on one side and a hospital on the other. As we merged with Beacon Street (the same one that runs into Boston), we crossed over I-95, then we turned onto Walnut Street, crossing the Charles River. After some office buildings, we reached more residential fare on Cedar Street.
Going over the tiny Charles.
Eventually we merged off of Cedar Street in order to turn onto one of my least-favorite roads ever, Route 9. Luckily, it wasn't too horrible yet – right now it was just woods and houses with driveways that would be a pain to get in and out of. At Wellesley Hills, we took the underpass, speeding under the downtown area instead of, you know, stopping. Sure, the MWRTA 8 serves it on Washington Street, but the 8 barely ever runs!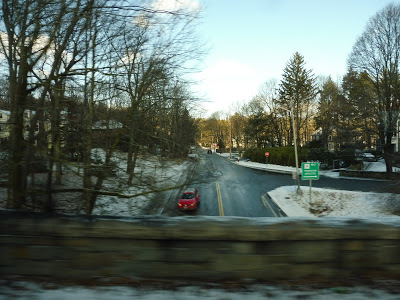 Zooming over a side street.
We crossed over the Worcester Line tracks, and it went back to being residential beyond there. There were a few businesses and offices as we crossed over Weston Road, and then we entered…the horrible part of Route 9. The street was lined with so many suburban businesses with parking lots out front, and it was disgusting! For the record, the bus was supposed to deviate onto Overbrook Drive to serve a housing development, but we didn't…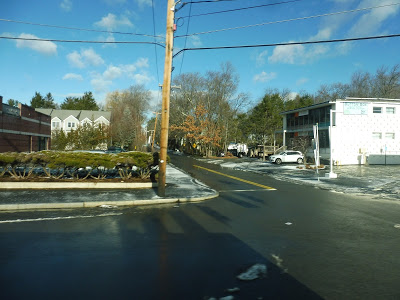 This shot doesn't do the grossness justice!
We got a very quick forest break, and then the horrible buildings were back. The gigantic Mathworks building occupied the other side of the street – we just sped right by, but eastbound buses deviate to serve it. Other than that, it was just more suburban businesses, shopping plazas, and of course, parking lots.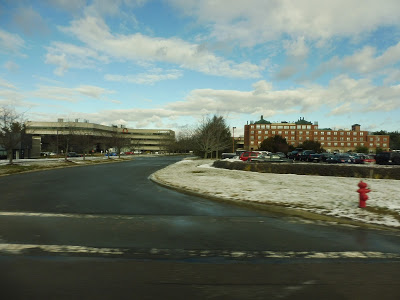 Beautiful office parks…
Later on there was another quick break from the disgusting buildings. For a brief moment the road was on an isthmus running through a lake, offering a nice view…until we reached land again. More office buildings, anyone?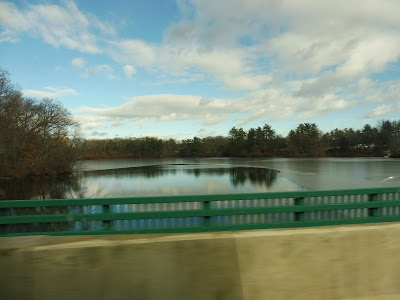 At least we've got the lake.
And then it was deviation time! We took an off-ramp from Route 9 and turned onto Superior Drive. This took us to a parking lot deviation, in order to serve an under-construction branch of Mathworks. After that, we returned to Superior Drive and took a left outside of a FedEx facility, snaking through more parking lots until we popped out onto Speen Street.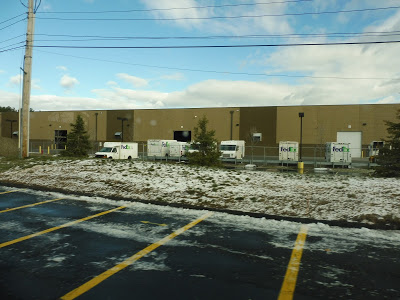 Going past the FedEx building.
We went by a pretty small shopping plaza, then it was time for the big moment we had all been waiting for: the Natick Mall. It was a long process, too – first we merged onto Natick Mall Road, taking us past part of the mall and into a tunnel under another part. On the other side, we went around a rotary and exited onto Flutie Pass. We went by a parking garage (one of many at this mall), then after another rotary, we arrived at the Natick Mall shelter.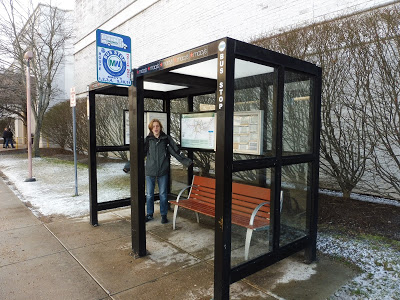 Alright, Sam, thanks for photobombing…
There are a few select trips on the 1 that are extended to Framingham, and Sam and I were under the impression that we were on one of those trips – after all, the schedule said it was. However, the driver asserted that it wasn't, which would mean that he was either incredibly early or incredibly late. Either way, we were forced to get off at the mall, so we would have to board another bus to get into Framingham.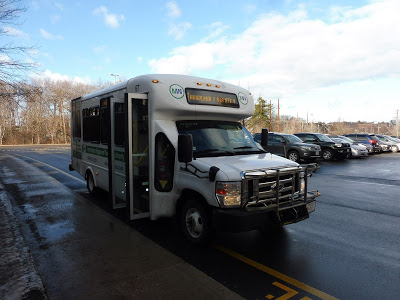 Alright, well, have fun going back to Woodland…
MWRTA Route: 1 (Woodland Shuttle)
Ridership: When we took the 1 out to Natick around mid-morning, we were the only people on board; coming back during the evening rush, there were three other people – and this is one of the busier routes on the MWRTA. Over the course of 2015, the 1 got 35,280 people, or around 140 riders per day. Most of those trips were during the rush hour – this route is popular with reverse commuters heading out to the Route 9 area.
Pros: This is just a great concept for a route. It's awesome that reverse commuters have a connection from the Green Line out to MetroWest jobs. I could even see this route being used by shoppers – the Natick Mall is huge, and this bus is the most convenient way of getting out there from closer to Boston.
Cons: Thanks to traffic on Route 9, the 1 has a bit of a chronic lateness problem. However, there's nothing that can be done about that – instead, let's take a look at what is quite possibly the stupidest schedule I've ever seen! Okay, they have it down pat middays and during the evening rush – about every 80 minutes during the former and every 40 minutes during the latter. Great. But what the heck are these departures during the morning rush? 7:44, 8:03, 9:03, 9:17, 10:22, 10:31????? YOU HAVE TWO BUSES TO WORK WITH, WHY THE HECK ARE THEY RUNNING RIGHT NEXT TO EACH OTHER?!?!?!!?! You have a gap of over an hour, then two trips within NINE minutes of each other? A five-year-old scheduled this, I swear.
Nearby and Noteworthy: I've never been inside the Natick Mall, but it's definitely…big. I'm sure it has a store for everyone!
Final Verdict: 5/10
Look, the route is great and the midday and evening rush schedules are fine. But that morning rush schedule just rubs me the wrong way. How are such stupid headways considered okay? Why should passengers have to be waiting over an hour in the morning rush? The other problem with the 1 is its lateness, which can get pretty darn bad…and I'm sure with that stupid schedule, it causes horrible bunching to make those hour-long gaps even worse! Brilliant!
Latest MBTA News: Service Updates