Another MWRTA route that has the potential to be great but is dragged down by a horrible schedule? I'm really getting sick of these. It's the 7!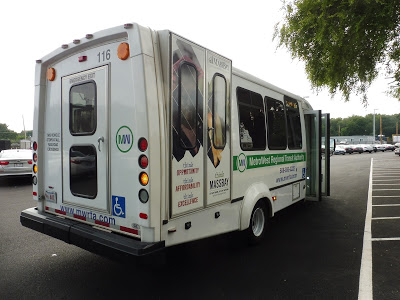 The back of the bus at the Banana Lot.
From the Banana Lot, we made our way up to Franklin Street, an industrial road. That didn't last long, though – soon enough, it was houses galore. After an abandoned shopping plaza, there was a brief section of woods, but it went right back to being residential when we turned onto Maple Street.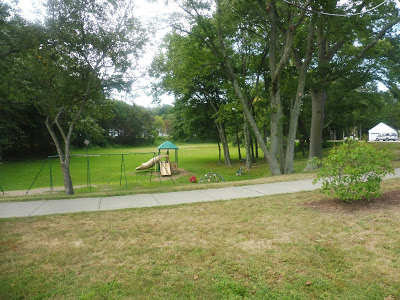 A playground!
We turned onto State Street next, and that took us right into the campus of Framingham State University. It was also a small campus, though – once we got onto Salem End Road, it went right back to houses. We soon turned onto Temple Street, then we deviated into a Stop & Shop, because it's the MWRTA and they need to deviate into everything.
UH-OH!
Oh no, next it was time for a stretch on ROUTE 9! What kinds of horrible buildings would we see? Suburban businesses? Check. Parking lots? Check. Monolithic apartment towers? Check. A rather pretty reservoir? Oh…apparently, that's a check, too! Well, that's a nice change!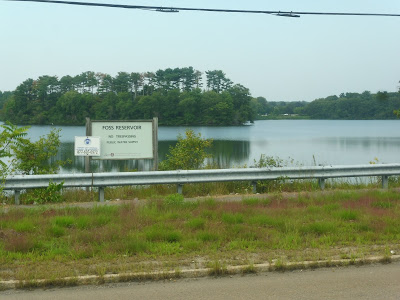 This isn't the Route 9 I know!
Eventually one of those apartment towers was deemed deviation-worthy, so we pulled into the Jefferson Hills Apartments. We went back onto Route 9 after that, making our way through a complicated interchange with I-90. There were lots of office parks on the other side of the interchange, and we took a strange off-ramp onto Staples Drive to serve one of them. That's right, it was a deviation to Staples Headquarters!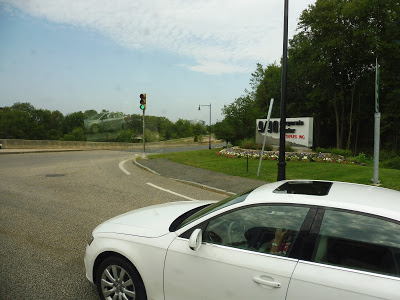 Coming out of Staples.
This next part is pretty darn nonsensical. We've got Crossing Boulevard, left on Pleasant Street Connector, right on Boston Road, right on New York Ave (going by some big office parks), right on California Ave, straight into "Route 9 Park and Ride." It was, uh, kind of an odd place for one. And it was a real ragtag operation. Oh well, we served it anyway.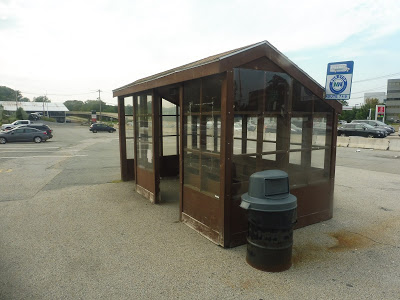 Alright, well, the shelter's kinda nice!
Luckily, the route would be deviation-free after that mess. We went down Route 9 for a bit before turning onto Central Street. Now in Southborough, it was mostly houses along here, but once we turned onto Boston Road, we got a really nice view: the street went over a lake!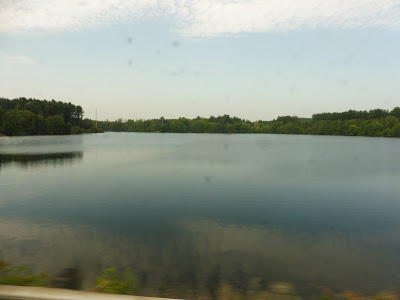 Ahhhh, lovely!
There were more houses on the other side, but it all changed once we turned onto Main Street. We were now in, as the MWRTA puts it, "Downtown Southborough"! Wow, that is a really hyped-up name for a really boring town center. Seriously, if I hadn't known from looking at the map, it would've just seemed like some random clump of a few boring businesses.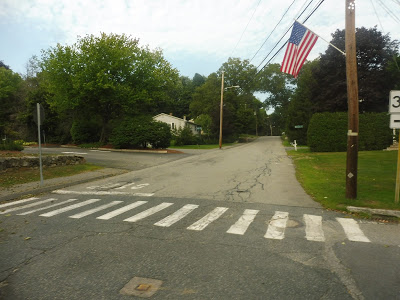 Here's a side street or something. Who knows?
We turned onto Marlboro Road next, passing by some fields and a fancy-looking private school. It became a mix of sparse houses and woods next, all the way up until we entered Marlborough and the road became Maple Street. Then it was gross industrial buildings!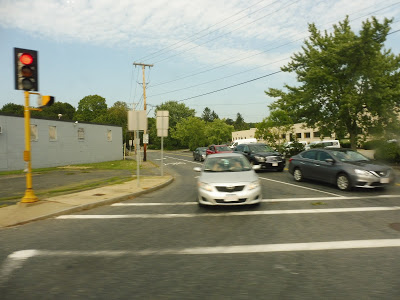 Hi, Marlborough…
Some houses started to show up as our street became Bolton Street. It started to grow wider, culminating at its intersection with Main Street, onto which we turned. Now this was the real deal! Two-, three-, and four-story buildings lined the main drag, all housing (mostly boring, sadly) businesses.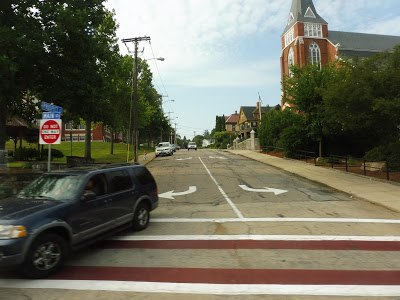 A side road from Main Street.
As we left the downtown, it got a lot more residential in the form of dense houses – I had no idea Marlborough was this urban! We turned onto Broad Street, going by some apartment buildings, then there was some retail as we turned onto Lincoln Street. We headed onto Mechanic Street next, which curved around to become the wide Granger Boulevard, and at that point, we went into the perfect place to end the route: the Marlborough Senior Center. Wonderful.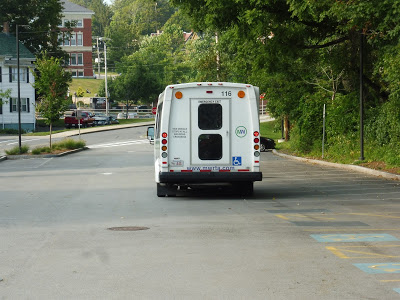 Bye!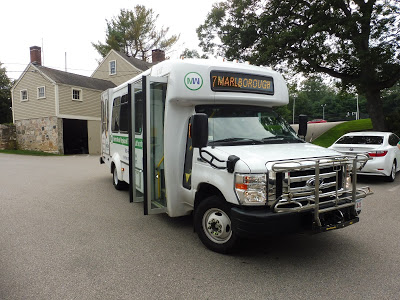 This picture at Jefferson Hills is the only one I have with the actual route number in it.
MWRTA Route: 7 (Southborough/Marlborough)
Ridership: This route actually gets good ridership! On weekdays in 2015, it got 54,262 people, which divides out to about 208 per day. It's nothing special, but hey, this is the MWRTA we're talking about. My ride got 10 people total!
Pros: Aside from the weird mess of office park deviations along Route 9, the 7 is generally straight and efficient. It actually functions as a bus route, connecting two sizeable cities and serving a variety of attractions in between.
Cons: Oh hi, schedule! How's it going? What's that? You want the weekday headways to be anywhere from every half hour to every 87 minutes, with a bunch of varying times in between? And you want the route to only run four times per Saturday, with more random headways, all over every two hours? Awesome!
Nearby and Noteworthy: There isn't all that much of note in Marlborough, but it's the most exciting place you'll find on the 7.
Final Verdict: 6/10
It's becoming abundantly clear that the schedule is the only reason that a lot of the MWRTA's routes are bad. The 7 gets good ridership and serves multiple towns and attractions, but that schedule is just awful! Not to mention that the route still does those office park deviations on midday and Saturday trips, because that makes sense. Should I lower the score to a 5? Ehhhh, I won't, but it's very close.
Latest MBTA News: Service Updates