Ever since I found out that there was a place called Belchertown, I really wanted to visit it. Ever since I found out that there was a bus to Belchertown, I really wanted to ride it. Finally, my dreams have come true…the 45, everybody!
Oh…okay, it's kind of a pit.
Yeah, turns out Belchertown really makes me want to belch, because its center is little more than a common, a few municipal buildings, and some sketchy-looking restaurants. Sam and I were originally gonna hang out in Belchertown for an hour and a half until the next bus, but upon our arrival, it was clear the place has absolutely nothing to do. Thus, we hightailed it out of there on the bus, making our way around the common on Main Street.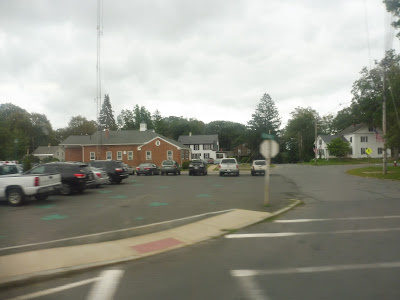 Goodbye, Belchertown!
There were houses for a bit, then we got some suburban businesses with parking lots as we merged onto Federal Street. Those businesses ended pretty quickly, though – after one brief stretch of industry, it became houses and a heck of a lot of woods. We headed down Amherst Road and just sped through the forest!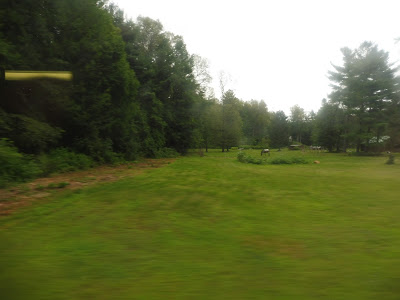 I think that's a horse back there!
We merged back with Federal Street, then we made a sudden turn onto Old Amherst Road, basically in order to serve another residential area. Upon our return to Federal Street, there was a church, a self-storage center, an auto shop, a small housing development, and a vet. We briefly entered Pelham, then came into Amherst, with the road becoming Belchertown Road.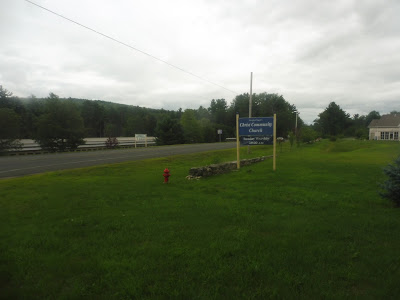 Coming back onto Federal Street.
At Old Belchertown Road, we were joined by the 30. Luckily, we didn't have to do its horrible deviation to the Valley Medical Center, so we just continued up past the Rolling Green Apartments. However, we broke away from the 30 by going onto Gatehouse Road, serving another apartment complex.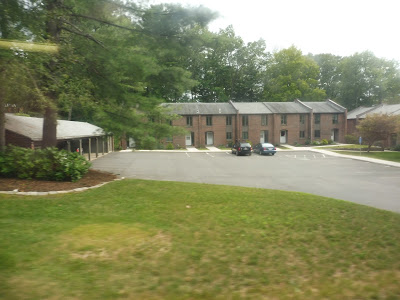 Yup, there it is…
After that, it was time for some narrow residential streets – we used Stony Hill Road, Heatherstone Road, and Pelham Road to eventually rejoin the 30 on Main Street. It was smooth sailing from here; after the mostly residential Main Street, we turned onto North Pleasant Street, passing the businesses of North Amherst Center. From there, it was just a straight shot to UMass, where Sam and I got off at the first of the three stops.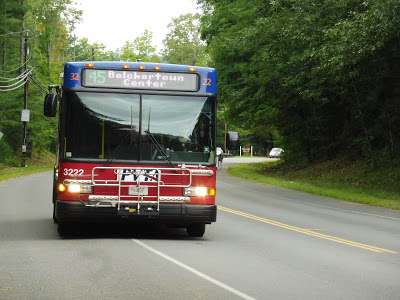 The bus became a 46 at UMass, so here it is where we originally got on at Old Belchertown Road.
PVTA Route: 45 (Belchertown Center/UMass)
Ridership: The 45 doesn't have all that many trips per day, but its ridership per trip is good – about 25 people. This is mostly during the school year, though, as my summer trip was much quieter.
Pros: This route provides an important rush hour connection from UMass to Belchertown, which surprisingly attracts a decent amount of commuters. The route's schedule is a little weird, but it does its job – service is inconsistent, but it generally runs during rush hour, with a few midday trips. This is also just a really fun ride – speeding through the woods is a blast!
Cons: I'm a little dubious about how much ridership the 45 actually gets on its own. You see, a large portion of the route parallels the 30, and I'm wondering how many people use it as a quieter substitute for that bus. Also, does the 45 really need those midday trips? I doubt they get that many people…
Nearby and Noteworthy: Nope! Belchertown is awful! The rest is woods! Sorry!
Final Verdict: 7/10
The route does its job getting Belchertown commuters to and from UMass, and that's about it. No frills. Its schedule is a little weird, and I'm a little unsure about how many of its riders actually go to the unique section, but this is a fine route.
Latest MBTA News: Service Updates