Rush hour-only bus time! Oh…except there's one midday trip. And one late morning trip. Alright, so I guess the 46 is 66% rush hour-only…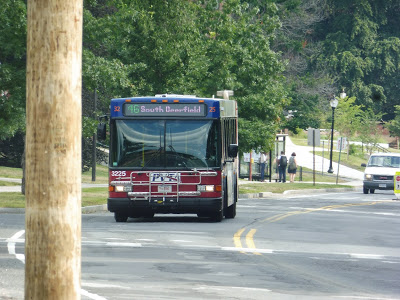 The bus zooming down the street.
Sam and I got on at the GRC, the northernmost stop of the UMass triad of stops. From there, we went around a roundabout and headed up North Pleasant Street, going by houses and a few straggling UMass buildings. There were some apartment developments further north, then we got some retail at North Amherst Center.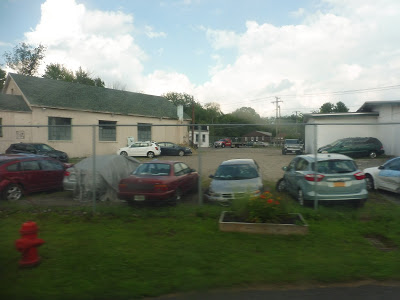 An auto shop north of North Amherst Center.
It was pretty industrial as we headed up Sunderland Road, but we did pass the Amherst Survival Center, an important destination. It was mostly farmland after that, which continued as the street merged into Route 116. There was a clump of random buildings at one point, but then it went back to farmland and woods.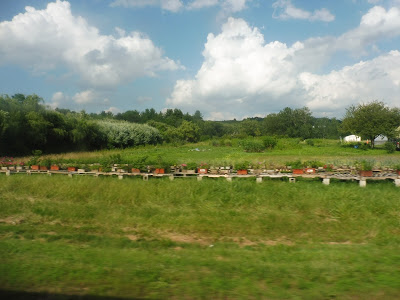 A farm.
As the street curved northwest, we got some retail and residential developments. It was woods again for a bit, then after a solar farm, there were lots of businesses as we came into Sunderland Center. From there, we headed out over the Connecticut River, and like all Connecticut River crossings, it was beautiful.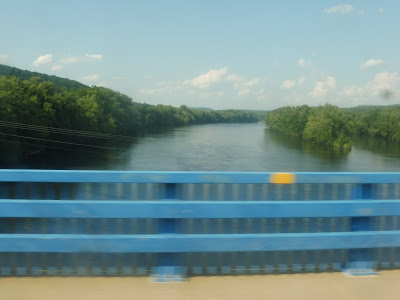 Wow!
There were woods on the other side as we entered Deerfield. Next, we turned onto the residential Sugarloaf Street, which took us up to South Deerfield Center. Up here, there was a common and lots of businesses. From there, we headed down South Main Street, going by lots of houses and a cemetery later on. Finally, we turned onto Sunderland Road, which led us to our final stop: Whately Park & Ride.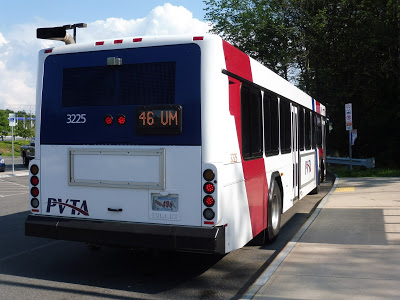 46, UM…
PVTA Route: 46 (South Deerfield/Whately Park & Ride/UMass)
Ridership:
The 46 technically gets "good" ridership, with about 25 riders per trip, but it's a little more complicated than that. On our ride, the vast majority of the riders got off along the shared section with
the 31
, which runs every 15 minutes on weekdays – can those really count as riders for the 46? Honestly, there were only about 4-5 people that actually travelled over the Connecticut River to the unique part of the 46, which is a lot smaller than that 25 rider count would lead you to believe.
Pros: Still, as low as the ridership is, this route provides an important service by allowing students and faculty commuting from Franklin County to park at Whately Park & Ride and take the bus into UMass. Yes, it's a small amount of people, but this route has a small amount of service, with only six round trips per day – four of those are during rush hour, and the PVTA is planning on cutting the two midday trips anyway.
Cons: I mean, it's really just the low ridership. As a route, the 46 does fine.
Nearby and Noteworthy:
No one's actually gonna take this route there, but there's no denying that
Yankee Candle Village Store
in Deerfield is amazing and wonderful to visit at Christmas time.
Final Verdict: 7/10
The 46 is one of those routes that just, you know, does its thing. You don't see it a lot, but it just chugs along, carrying Franklin County commuters to UMass. It makes a lot of sense to cut the midday trips, so this route will be running as efficiently as it can run.