Finally! Our first PVTA review! As you may know, I'm doing a Summer Transportation Institute at UMass, so it makes sense that the first review out here would be of one of the system's UMass routes. The 31 is actually one of the busiest routes on the PVTA (Pioneer Valley Transportation Authority), and even in the summer, it had a good amount of people. Let's take a look!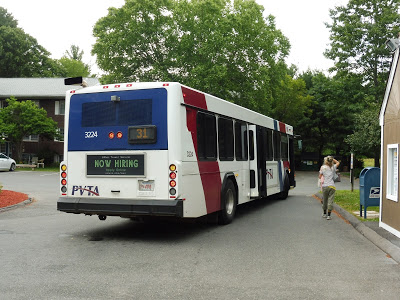 The bus at Sugarloaf Estates.
We started at Sugarloaf Estates, a housing development in Sunderland. From there, we made our way down Old Amherst Road, passing houses with farmland just behind them. There were a few small businesses as the street curved south, then we merged onto normal Amherst Road, passing a few more apartment complexes.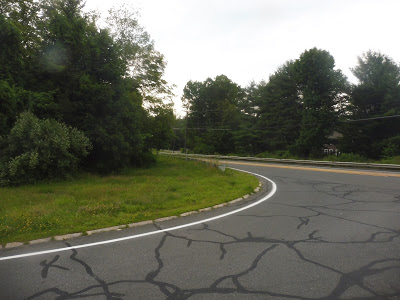 Coming onto Amherst Road.
There were some businesses with parking lots continuing south, then we got some really beautiful scenery with farms, woods, and the occasional house. We eventually got to a point where there were a few industrial buildings, businesses, and houses, then it was farmland and woods again. It continued like that for quite a while until we finally turned onto Meadow Street, where there were some houses and yet another apartment complex.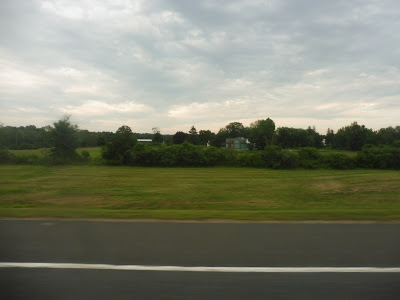 A field.
This street took us to North Amherst Center, which consisted of a few historical buildings and businesses. Here, we turned onto North Pleasant Street, taking us past lots of houses and more apartment complexes. There was one last farm and a few more houses, then we came into the UMass campus, and the scenery changed dramatically.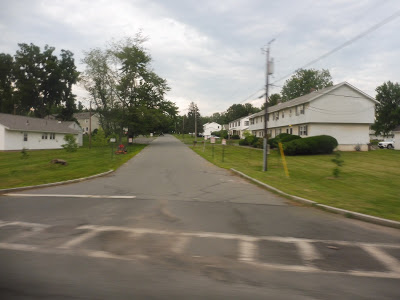 One of the housing developments.
We went through a roundabout, then there were university buildings everywhere. Some were old, some were modern, and some were awful brutalist constructions. We made stops at the Graduate Research Center, Integrative Learning Center, and Fine Arts Center, the three main stops at UMass. Along the way, we got a nice view of the campus pond with the tall library in the background.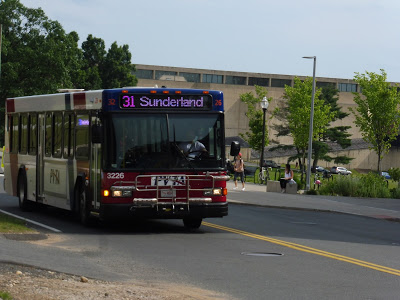 An earlier bus at UMass.
The street curved to the left and we more or less left the UMass campus, but there were still a few straggling university buildings. Next, we turned onto East Pleasant Street, going around a park, with a few businesses on the other side. Soon there was retail on both sides of the street, and we came into lovely Amherst Center.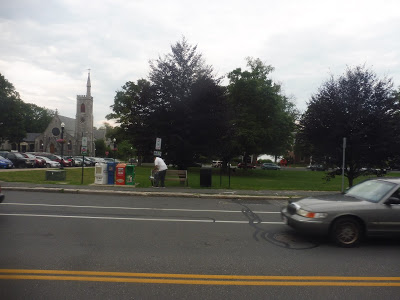 Amherst Town Common.
South of the center, we went by Amherst Town Common and Amherst College, along with a few houses. We got an absolutely amazing view of rolling fields and hills for a brief moment, but after that it was mostly residential. Eventually, we turned onto East Hadley Road, which took us past more houses before we got to the route's terminus: Boulders Apartments. The bus slowly looped around the complex in order to turn around and head up back to Sunderland.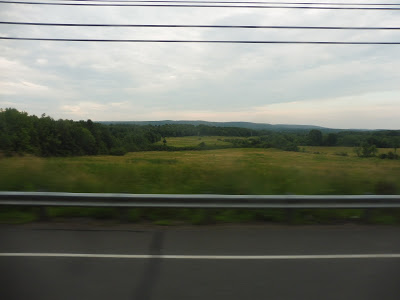 Man, I love this view!
PVTA Route: 31 (Sunderland/South Amherst)
Ridership: Like I said, this is one of the busiest routes on the PVTA – third, to be exact, with 5,114 riders per day! An even better figure is the passengers per trip, for which the 31 is number one, with a whopping 67 riders per trip. Since it was summer, ridership was a little lighter than that, but there were still about 30-40 passengers on my ride!
Pros: It may not seem like it based on a lot of the scenery I described (the route does pass through a lot of farmland), but this route serves a lot. Not only does it go by lots of apartment developments for off-campus students, who absolutely need this route, but it's also one of the many buses plying the busy route from UMass to Amherst Center. Also, the schedule for the 31 is great – it's every 15 minutes on weekdays, while on weekends and summer weekdays, it's every 45 minutes.
Cons: This is a really minor thing, but I wish the route was better coordinated with the 30, the other key player on the UMass to Amherst Center route. On weekends, both routes run at different frequencies, so it's harder to do, but on weekdays, they both run every 15 minutes with a 6 minute gap, then a 9 minute gap. It doesn't seem like it would be that hard to coordinate them a little better…
Nearby and Noteworthy: I'll have plenty of opportunities to talk about Amherst Center, but this is one of the main routes that serves it. Amherst Center is awesome – there are lots of interesting businesses and great restaurants everywhere, and for the most part, it's very walkable.
Final Verdict: 9/10
The 31 is just great. It's a well-used route, it's frequent, it serves a lot, and it's actually a really pretty ride at certain points! It may experience crowding during the school year, I imagine, but at least the all-door boarding can mitigate that to some degree (UMass routes are free). I still wish it could be better coordinated with the 30, though…it would be so easy to do!
Latest MBTA News: Service Updates