Remember how the 19 allowed me to discover the majestic land known as Walmart? Well, now we're riding its sister route, the 17. I wonder if it has any more amazing big box stores to discover! Oh…Stop & Shop is this route's terminus? Weeeeeeeeeeeee…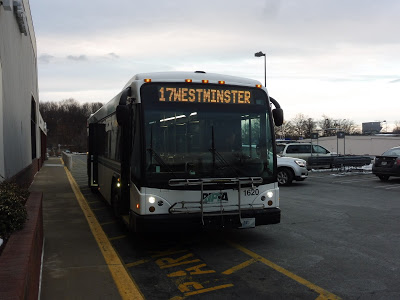 That's a rather nice sky in the background!
We left the Stop & Shop parking lot and turned onto Phenix Ave, with suburban businesses all around. However, the road became residential once we crossed Atwood Ave…and then there were more suburban businesses only a few blocks later at the intersection with Cranston Street (on which the 30 runs). There was also a big apartment tower over here.
That is indeed a big apartment tower.
The street became Park Ave after that, and it was still lined with those businesses as we turned onto Dyer Ave. We went over the Pocasset River, offering a brief forest break, but then the scenery got industrial. We crossed Cranston Street and the 30 again, then after a few houses, we passed by the terminus of the 18.
Some random shopping plaza.
Beyond there, Dyer Ave was a mix of basically everything – houses, businesses, and industrial buildings. As we entered Providence, the street became Pocasset Ave, and it got a lot denser. The street was lined with mostly houses and businesses now.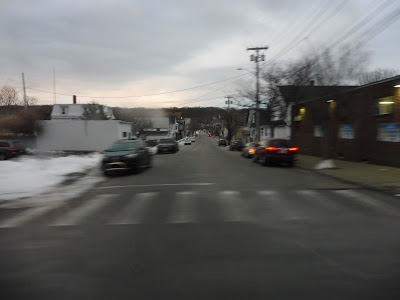 I don't know why I find this picture kinda cool…
There was a brief block where it became entirely residential, but once Pocasset Ave merged left and we joined the 19 on Plainfield Street, there was a short industrial section. We went under Route 6, a highway, and right after that we entered Olneyville Square, where there were businesses all around. After travelling through the square, we merged onto Westminster Street, going under Route 10, another highway.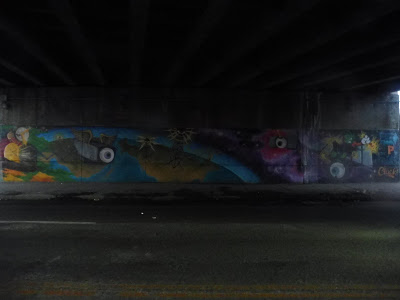 A mural under the highway.
We passed an elementary school, then it was another mix of dense houses and businesses. At the intersection with Cranston Street, we were joined by the 18 and the 31, and together we passed some varied buildings and crossed over I-95. We made our way to Washington Street on the other side of the highway.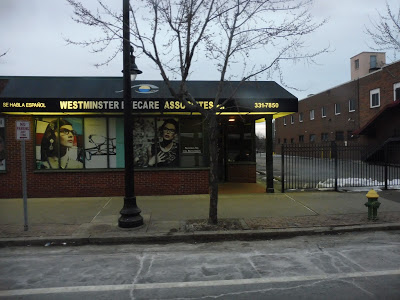 Enjoy this random business, I guess!
Oh, the route map makes the downtown trip look so easy, doesn't it? Just straight up Washington Street to Kennedy Plaza, that's how it's drawn. But of course we had to take the long crazy route because of course we were in a rush to get our train home!
A parking lot downtown.
Thus, we turned onto Empire Street, then Weybosset Street, passing by the Providence Performing Arts Center. And wouldn't you know it, there was a play going on that night! The traffic was awful through downtown, even after we passed the theater! Eventually we got some speed again as the street curved around and we finally arrived at Kennedy Plaza. For the record, we did make our train, but just barely – we had to sprint to the station!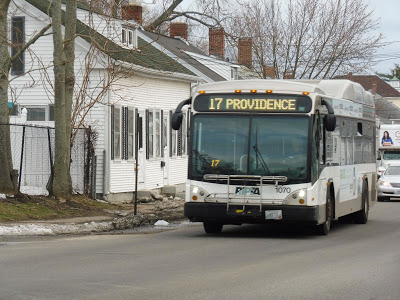 I didn't get any pictures at Kennedy Plaza because we were running too fast, so here's an earlier bus after we had gotten of the 18.
RIPTA Route: 17 (Dyer/Pocasset)
Ridership: The 17 is, funnily enough, the RIPTA route with the 17th highest ridership! Every weekday in 2012, it got an average of 1,377 passengers, while on Saturdays it got 730 riders. The route didn't have Sunday service back then.
Pros: The 17 is a pretty straight corridor route that serves a bunch of dense residential areas in Providence and Cranston. It has a decent schedule, too – every half hour on weekdays, every 50 minutes on Saturdays, and every 70 minutes nights and Sundays. Now, that weekend schedule sounds bad, but you have to remember that much of this route is shared with the 19, and the two are perfectly coordinated. Thus, service on the highest-ridership section is actually double the frequency of the 17.
Cons: Can RIPTA please update its maps to show where the buses actually go downtown? I mean, that whole detour we took there nearly cost us the train! Also, a lot of the outer route is really close to the 30, which runs express and offers a much quicker ride out there.
Nearby and Noteworthy: Stop & Shop, I guess. Most of this route really isn't that interesting at all…
Final Verdict: 8/10
The 17 is a great little route. It serves some neighborhoods that aren't served by other routes, but also some that are – the 30 is a significantly faster ride to some of those outer areas than the 17 is. Still, that's basically my only problem with the route. Overall, the 17 performs its job well, and has pretty frequent service on the shared portion thanks to great coordination with the 19.
Latest MBTA News: Service Updates