Okay…I know Walmart contributed to the destruction of American cities and brought everyone out to the suburbs and represents everything wrong with American consumerism and whatnot…but man, they really have everything, don't they? And for such low prices! The Walmart in Cranston, RI was the first one I had ever been in, and…wow, what an experience! But then I remembered what Walmart did to America and went right back to hating it. Anyway, did you know that there's also a bus that goes to the Walmart in Cranston, RI? Let's talk about that.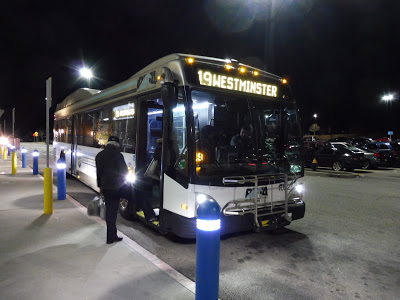 Yes, it's the 19! Also, don't ask what my friend Michael and I were doing in Cranston at 6:00 at night.
This route is basically as simple as running from this Walmart in Cranston back to Providence. So yeah – we headed out of the parking lot and turned onto Plainfield Pike. The road went downhill, playing host to both houses and suburban businesses with parking lots. There was a brief residential neighborhood before we got to the intersection with Atwood Ave, where there was retail on all sides.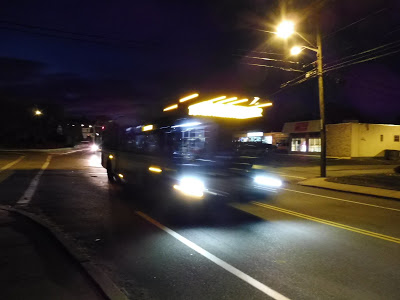 An earlier trip speeding along Plainfield Pike.
Past that intersection, the road became just Plainfield Street, and it had a bit of an industrial feel. I mean, there were houses and businesses, too, but it just wasn't a very nice neighborhood. It became entirely residential soon, but it was all broken by a storage place – a clear sign that we were in the suburbs. Unfortunately, it was also the start of another semi-industrial section.
Beautiful.
Once again, though, it became houses after a little while. Eventually, we reached a park. where we turned onto…Plainfield Street. Okay, I guess the street decided to take a right, too. Now it was dense, with a lot of houses along the road, interspersed with sketchy-looking restaurants.
Oh dear, that is not a nice intersection…
Pocasset Ave merged into Plainfield Street near an apartment building, and we headed under an overpass for Route 6. This took us into Olneyville Square, where we merged into Westminster Street. There were businesses along the road as we headed through the square, then we crossed over the Commuter Rail tracks and under Route 10 in quick succession.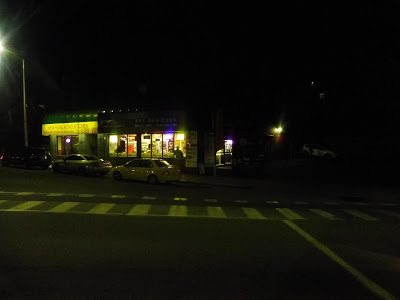 A few businesses.
The street was a close mix between houses and random businesses. It continued like that for a good while, actually, before we merged with Cranston Street – now there was a high school and an apartment building on one side, and multistoried brick buildings on the other. We crossed over I-95, then made our way onto Washington Street. We were most definitely in downtown Providence now, with multistoried buildings on all sides. This street led us right into Kennedy Plaza, where the bus let everyone off.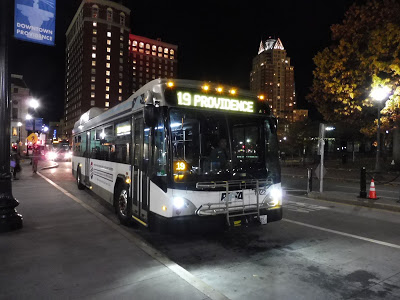 Those buildings make for a rather pleasant background.
RIPTA Route: 19 (Plainfield/Westminster)
Ridership: In 2012, the 19 got pretty good ridership, with 1,541 riders per weekday, 980 per Saturday, and 754 per Sunday. Most of these came from the denser part of the route, but a lot of people got on at Walmart, too. This held true for my trip, which only got about 10-15 people, but it was an inbound trip on a Saturday night, so that makes sense.
Pros: This bus serves a lot. The Walmart out in Cranston seems to be a big ridership draw, and a few rush hour trips are extended to the Cranston Industrial Park, so the route definitely has reverse commuting opportunities.
Cons: Aside from the weekday schedule (every half hour), I think the 19 could stand to run a little more often. On Saturdays, it's every 50 minutes and on Sundays, it's every 70 minutes. That said, the route is coordinated pretty well with the 17 to provide frequent service along Westminster Street to Olneyville Square, so there's that.
Nearby and Noteworthy: When I told my band teacher (who's from Rhode Island) that I took the bus through Olneyville Square, he went "Oh my gosh, that's the most dangerous neighborhood in Rhode Island! You don't want to be hanging around there!" So, uh…don't go to Olneyville Square, I guess. But hey, there'll always be Walmart!
Final Verdict: 7/10
I was originally going to give this one a 6, but the coordination with the 17 brings it up for me. Most of the 19's ridership is concentrated on the inner section, and a lot of it is shared with the 17 anyway, so service is more frequent than it looks. That's not to say that people don't take the route further, and I would love to see more frequent service in the outer section, but it would just result in less-crowded buses.
Latest MBTA News: Service Updates