The 31 is one of RIPTA's most frequent and well-used routes. However, more than half of it is shared with another route, the 18. The 18 is not nearly as frequent…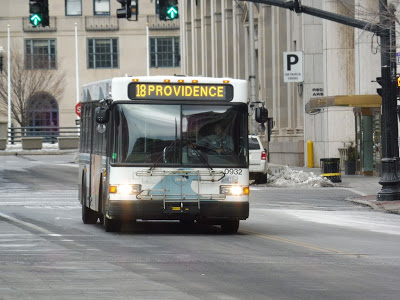 The bus coming into Kennedy Plaza.
Leaving Kennedy Plaza, we made our way onto Washington Street. It was downtown Providence, so the street was lined with tall buildings of various uses. After we passed the Providence Public Library, there were just a few more buildings before we crossed over I-95, effectively leaving downtown.
Crossing I-95.
After going over the highway, we made our way onto Westminster Street, going by businesses, a church, an apartment building, and the Providence Classical High School. We soon split off from the 17 and 19 by merging onto Cranston Street, which went by a park and some housing developments. There were also some businesses here and there.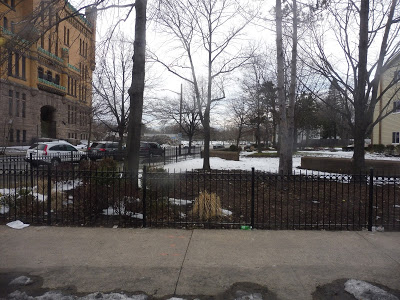 A small park.
Outside of the huge elaborate Cranston Street Armory, we left the 31, starting our independent section on Chapin Ave. This was a narrow street lined with dense houses and apartments on both sides. Next, we turned onto Ellery Street, offering mostly the same scenery, plus a park. There were a few businesses as we turned onto Union Ave, which crossed over the Huntington Expressway and the Commuter Rail tracks.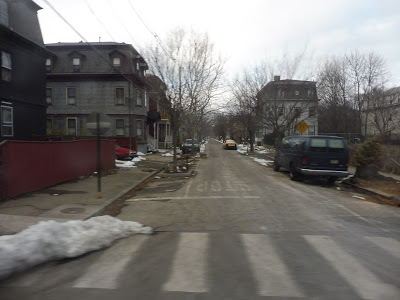 Looking down a side street.
There was a bit of industry, then more dense houses and the occasional intersection with businesses. After the road went up a hill, we turned onto Laurel Hill Ave, entering Cranston. The houses along this street were bigger and further apart, and they continued as we turned onto Chestnut Hill Ave. We were only on here for a few blocks before turning onto Dyer Ave, where we reached the final stop – it was just a sign.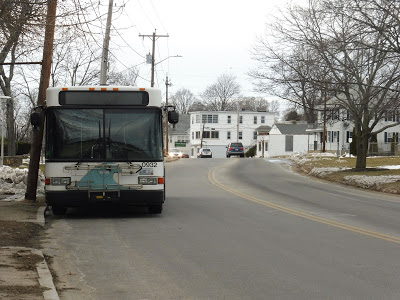 The bus laying over.
RIPTA Route: 18 (Union Avenue)
Ridership: In 2012, the route got 636 riders per weekday and 338 per Saturday, sticking it slightly below average for RIPTA routes. On my trip, there was a decent amount of ridership along the shared portion with the 31, but the only people who stuck around as far as the independent section got off within a few stops.
Pros: The route directly serves some dense residential areas, and it definitely seems like a good amount of people use it (RIPTA's ridership map shows good amounts of people even at the independent stops). The schedule is also neat and clean, with half-hourly service during peak periods and hourly service middays and Saturdays.
Cons: There's no Sunday service, but that's not actually a huge deal – the route never strays further than around a five minute walk from other RIPTA routes. Of course, that could also be considered a con, since it shows that the route may not be necessary.
Nearby and Noteworthy: No, there's nothing much along this route. The few businesses it does serve on the independent section (and, indeed, on the shared section) seemed pretty sketchy.
Final Verdict: 7/10
The RIPTA evaluation for the 18 uses a term that I like to say a lot: this is a niche route. It gives infrequent, direct service to neighborhoods that are very close to other routes, but it seems like it gets enough people to justify its existence. That's good enough for me!
Latest MBTA News: Service Updates