Huh…that route title is flat-out incorrect! The Quad Express doesn't serve Harvard Square at all! I mean, contrary to what you would think, the Harvard Shuttle website is full of typos, so this could just be another one. But yeah, the Quad Express goes from the Quad, a campus northeast of Harvard, to Memorial Hall, north of Harvard Square. That "via" in the title is very deceiving…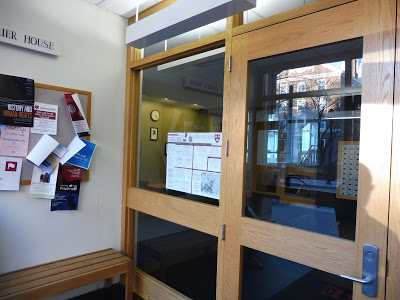 Oh wow, a proper waiting room!
The Quad features what is probably the best facility in the whole Harvard shuttle system. There are a few benches outside for the summer, but on the inside – there's a heated waiting room! Sure, it's kinda small, but it has a bench, a paper schedule, and a screen showing the shuttle tracker! Now that's what I call luxury.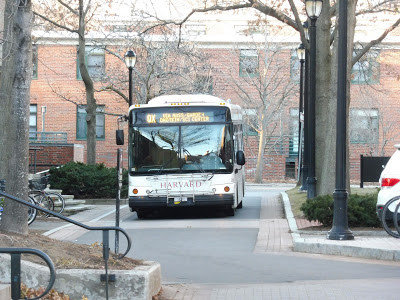 The bus coming down the narrow street.
Another cool thing about the Quad stop is that it's located on a street for Harvard vehicles only. The bus that came trundling down the road was a different one from before, both inside and outside. It was boxier with its exterior, while the inside had mostly sideways seats this time. Everything also felt wider, from the actual width of the bus to the very large back doors.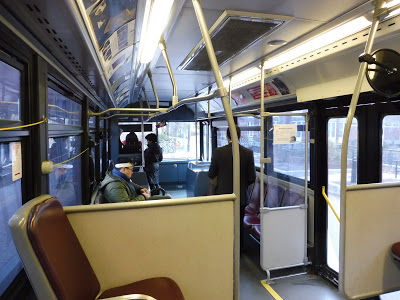 I dunno…it's a mixed bag for me.
This busway actually has two stops on it, with another at the southern end. It's only missing, oh, you know, a sign. Come on, there's a big brick pole they can easily stick a sign on! Well, anyway, we turned onto Sheppard Street, then Garden Street, which was initially residential.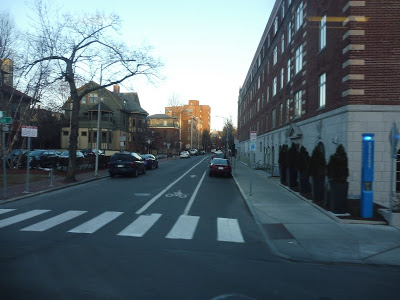 A side street getting closer to Harvard.
It got denser pretty quickly, though; after we passed the Longy School of Music, there were apartment buildings on either side of the street. We came up alongside the Cambridge Common, with some churches and Harvard University buildings on the other side. At the end of Garden Street was our closest stop to Harvard Square, but it was decidedly not Harvard Square.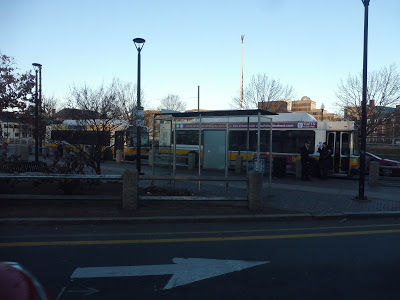 Some 66s at Dawes Island.
Next, we curved around the portal for the Harvard Bus Tunnel onto Mass Ave, heading up past the Law School. We turned onto Everett Street, skirting the border of Lesley University, then we turned onto Oxford Street, passing the Harvard Natural History Museum and some other university buildings. After the road curved left to become Kirkland Street, we pulled into the Memorial Hall busway, where Nathan and I got off – from here, the route heads back to the Quad.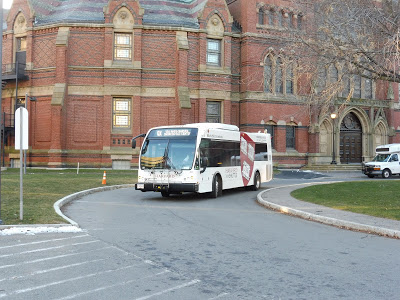 An earlier bus coming 'round the bend outside of beautiful Sanders Theatre!
Harvard Shuttle Route: Quad Express (Memorial Hall via Harvard Square)
Ridership: Luckily, we didn't ride this route during the peak. According to Nathan, who uses these shuttles on a somewhat-regular basis, they can get really crowded. Our ride was fairly light, but since the Quad is pretty far from the main part of Harvard, this bus is a lifeline for people going up there.
Pros: Like I said, this route is great for students heading to the Quad, and its 10 minute headways allow the shuttle to be pretty reliable. This is also the simplest of the three main Harvard Shuttle routes, with direct service to the Quad – its only one-way service is around the Law School loop, which the other two buses also do.
Cons: It doesn't serve Harvard Yard! Why not? I mean, don't get me wrong, I can't say I'm too familiar with Harvard University commuting patterns, but based on the heavy ridership of the evening Quad Yard Express (which will be covered in a later post), it seems like it would make sense to always serve the yard. Plus, running around via the Law School to Memorial Hall takes a while, and is already covered by two other routes.
Nearby and Noteworthy: Well, the route's unique section is the Quad, which doesn't seem to offer too much for non-Harvard students. Anyone know anything of note around there?
Final Verdict: 7/10
Having a route to serve the Quad is definitely needed, and I guess this route does a fine job of it. I'm mainly miffed at the fact that it doesn't serve Harvard Yard. And sure, maybe people do use this to get to the Law School or Memorial Hall (which I personally don't think it needs to serve, since other routes already serve them), but then why stop service there at 4:30? It shifts to the Quad Yard Express then! Oh well…the Quad Express provides frequent service to the Quad, which is the most important part of it, I guess.
Latest MBTA News: Service Updates