This! This is what the Quad Express should be! The Quad Yard Express runs from the Quad to Harvard Yard and back! Oh, how I love it! Too bad it only runs after 5 PM…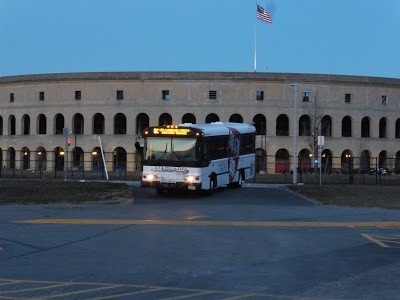 Time for a long story…
Okay, so we were originally waiting at the Continuum in Allston for the Barry's Corner route to show up. The bus was already incredibly late, and when it pulled into the Continuum parking lot, we saw that it was the Blue Bird, Harvard's oldest bus. And…the driver wouldn't let us on. Because the AC wasn't working. We could even see his breath! He explained that another bus would come to pick us up.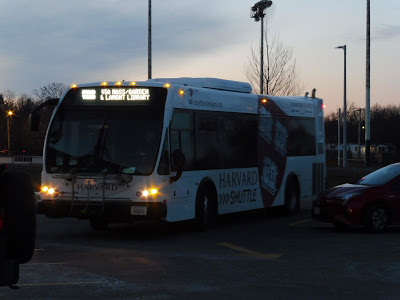 The replacement!
The next bus that pulled in was thankfully a newer one, so it was working fine (although a ride on the Blue Bird would've been really fun – that thing was noisy). As it turned out, this was the bus that would be doing the trip on the Quad Yard Express we were gonna get after Barry's Corner! But we ended up taking a somewhat different route from the normal Barry's Corner run, so just consider this an "extended" Quad Yard Express.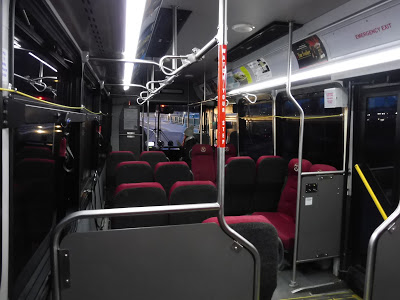 Oh wow, I love these poofy seats!
So we pulled out of the Continuum and headed up North Harvard Street. We sped past Harvard Stadium and a few other university buildings, then crossed over the Charles River. After that crossing, we split off from the Barry's Corner route by turning onto Memorial Drive, on a section that no normal Harvard route serves.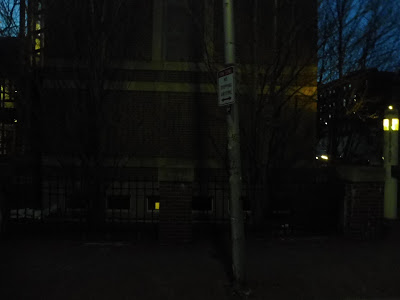 Wow, it's rather dark…
This took us past a bunch of Harvard dorms, which continued as we turned onto the narrow Plympton Street. It led up to Harvard Yard, where we turned onto Mass Ave and stopped outside of Holyoke Gate. This is where the actual Quad Yard Express route begins. It's also where we started to get a bunch of people.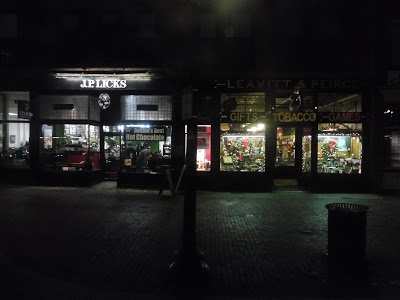 Some businesses opposite Holyoke Gate.
Now with about a full-seated load, we curved around the yard, with a bunch of Harvard Square businesses lining the street. We turned up and around the Harvard Bus Tunnel portal, making our way onto Garden Street. This led us past Cambridge Common and more Harvard buildings, then we saw a hotel and a few apartments.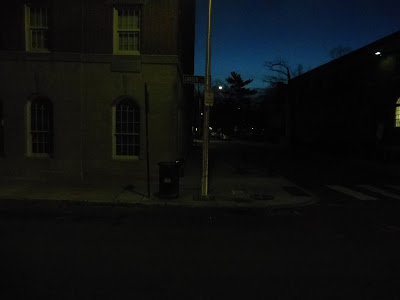 Looking down a dark side street.
It became mostly houses for just a bit, but then we got more Harvard buildings along the street. Next, we turned onto Linnaean Street, and then into the Quad busway. This took us to the last stop, where everyone on the bus got off, and Nathan, Sam, and I started to make our way toward Mass Ave to catch a 77.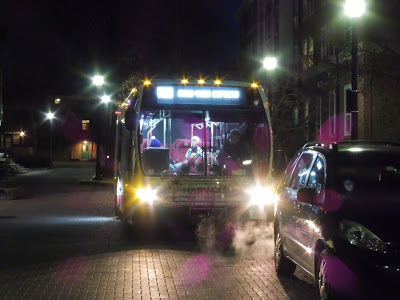 The bus taking a quick layover.
Harvard Shuttle Route: Quad Yard Express (Lamont – Harvard Square)
Ridership: Ridership is good in both directions, but especially outbound – heading towards the Quad, this route can get packed. I wonder if this shows that there's an increased amount of demand for a bus from Harvard Yard to the Quad at all times…
Pros: I'm just gonna say it, I think this route is way superior to the normal Quad Express. It gets a bunch of people, and it actually serves the yard, where it seems like more people would be coming from.
Cons: Firstly, the frequency on the route could probably be improved. Every 20-25 minutes? Come on, a lot of people use this! Stick a second bus on there. More importantly, though, I think this bus should run all day. Honestly, just cut the Quad Express and run this route instead, with service to the yard. Plus, if they put a stop at Fogg Museum, it would be an easy walk for people trying to get to Memorial Hall.
Nearby and Noteworthy: Andy Cox left a comment on my Quad Express review with very detailed information on its attractions:
"-An observatory (I believe owned and operated by Harvard, but they give tours), though that's easier accessed via 72/74/75/78 on Concord Ave.
-A firehouse with one of the smallest parks in Boston (literally like two square feet, it's got a bench and a flagpole and there's no room for anything else).
-And Senator Elizabeth Warren lives somewhere over there, though I don't know where exactly."
Thanks, Andy!
Final Verdict: 6/10
Ahh, if only the Quad Yard Express could run all day. Maybe more people are commuting to Memorial Hall, but I'm not sure – whenever I see a Quad Express over there, it's empty. Running the Quad Yard Express instead could save time and take students to the more centralized yard. Oh, and give it a second bus and make it run every 10 minutes! None of this every 20 minute crap…
Latest MBTA News: Service Updates
Hey, there are new schedules starting tomorrow! In particular, the 73 will be running with trackless trolleys again!!!!! Check out the other changes here.