Wow, look, guys, I'm at Harvard University! Okay, so I'm not actually in the university, but I did get to ride some of their shuttles around! That's almost as good as getting accepted, right?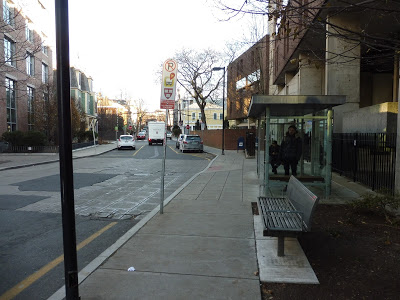 Wow, who knew the Harvard shuttle had such great facilities?
The Harvard shuttle system is a complicated beast, but on a typical weekday it has three primary routes. We'll be covering all three of them, and eventually all of their routes – hey, why not, they're free! So today, we're looking at the Mather Express, which makes sort of a figure-8 loop around the main portion of Harvard University.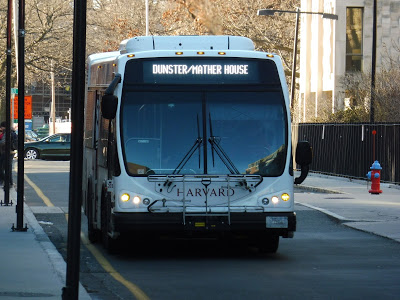 The bus coming down Cowperthwaite Street.
The route starts to the south of Harvard Square, near the Charles River, on Cowperthwaite Street. This stop serves – of course – Mather House, as well as Dunster House. It's a narrow street, but it has a nice glass shelter for Harvard buses. The vehicle itself was rather nice inside, and it was just strange to be parading around Cambridge in a non-MBTA bus!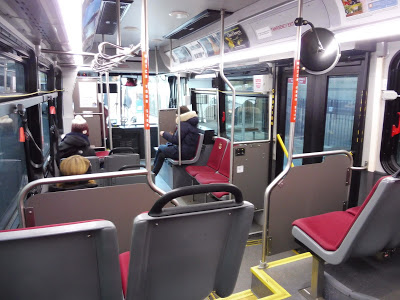 How quant!
We reached the end of Cowperthwaite Street (that's fun to say, isn't it?) and turned onto Banks Street, a narrow side street lined with dense houses. At the end of that, we turned onto Mount Auburn Street, then made a sharp swerve around onto Mass Ave. As we came closer to Harvard Square, the street was lined with businesses and apartments.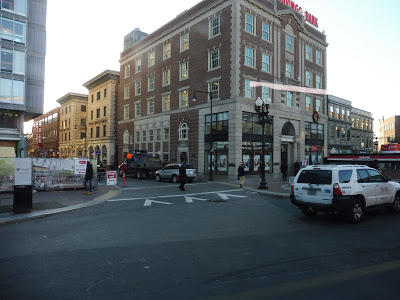 Going past the main part of Harvard Square.
We came up alongside Harvard Yard, making a major stop at Holyoke Gate. Next, we made our way around the yard, passing the Red Line station and then curving around the portal for the bus tunnel. Now we were heading up Mass Ave, but first we made a stop for the Harvard Law School.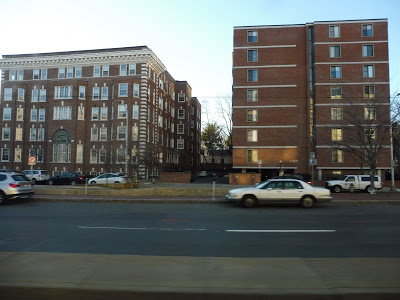 Some apartments on Mass Ave.
Continuing up Mass Ave for one more block, we turned onto Everett Street. There were Harvard buildings on one side and apartments on the other; we also had a run-in with a Leslie University dorm! Next, we turned onto Oxford Street, with Harvard buildings on both sides – the Harvard Natural History museum was to the left.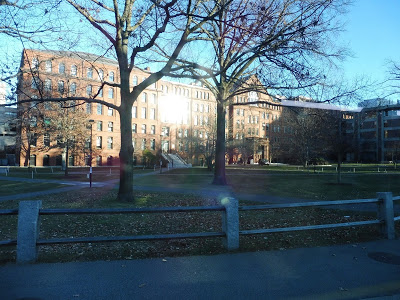 The museum!
Oxford Street curved to the left to become Kirkland Street, and outside of the beautiful Sanders Theater, we had another major stop. In fact, this stop (Memorial Hall) was major enough to earn itself a proper busway! For some reason, though, our bus decided not to serve it, so the person waiting had to walk out to the street and get on. That's rather annoying…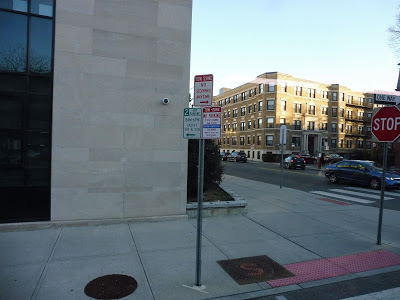 Rounding the corner on Felton Street.
We turned onto Quincy Street, then Cambridge Street. Due to one-ways, we had to make a bit of a jog in the route, next running on Felton Street (past the Cambridge Rindge and Latin High School), and finally Broadway. This allowed us to return to Quincy Street and continue alongside the yard again. This brought us to Lamont Library, which is where my friend Nathan and I got off; from here, the route makes the short trip back to Cowperthwaite Street to start its journey again.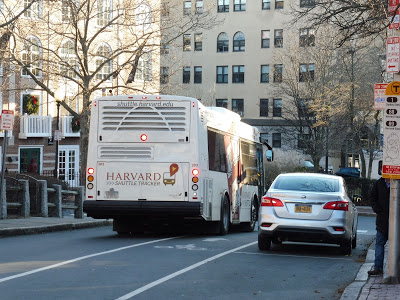 The bus heading back to its starting point.
Harvard Shuttle Route: Mather Express (Memorial Hall via Harvard Square)
Ridership: My trip was fairly light, with less than 10 riders in total, and it has to be said that this is the least-used route of the three primary shuttles. However, it still serves a purpose, as the residents of Mather and Dunster Houses use the route to get to Harvard Yard or Memorial Hall.
Pros: This is a pretty short route, meaning it can operate service every 10 minutes with only two buses! It does a good job of covering the "inner" section of Harvard University, and it gets a decent smattering of ridership.
Cons: Not much with the route itself, but service gets a lot more complicated after 4 PM. After 4, the Mather Express gets replaced by the River House A…which then gets replaced by the River House B…and that gets replaced by the River House C. I have no idea why there are three River House routes that more or less serve the same things, but that rant is for another review.
Nearby and Noteworthy: Well, in terms of the route's unique sections, you've basically got Mather/Dunster Houses and that's it. However, the northern part of the route does run by the Harvard Natural History Museum, although the two other main shuttles serve that, too.
Final Verdict: 9/10
Of all the Harvard shuttles, this one makes the most logical sense. Its route is fairly straightforward, its schedule is mostly consistent (aside from a few random gaps, presumably for driver switches), and its ridership is fine and evenly spread out. Sure, once the clock strikes 4 PM, everything goes crazy with the River House routes, but on its own, the Mather Express is a great little route.
Latest MBTA News: Service Updates