I thought this would be a good one! I THOUGHT THIS WOULD BE A GOOD ONE! It…it looked so promising… But nope, turns out Harvard Avenue is just as stupidly bad as every other B Line stop. Wonderful.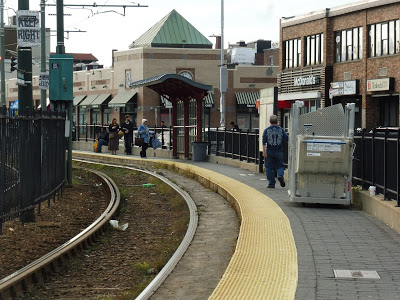 The outbound side.
The sad part is that the outbound side is actually okay! I mean, it has an ADA platform with a nice curve and a fence blocking passengers from traffic. The shelter has no benches under it, but it's a modern shelter. The platform also has a wastebasket and a wheelchair lift. So yeah, one would think that if the outbound side is this competent, then the inbound side would have to be even better! Well…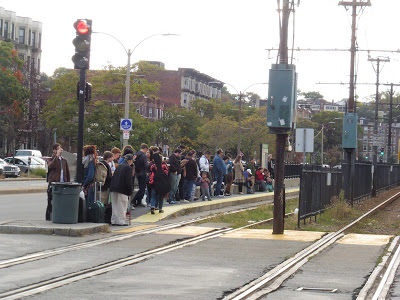 WHAT IS THIS? WHAT IS THIS???
THE INBOUND PLATFORM IS A JOKE. A JOKE! LOOK AT ALL THOSE PASSENGERS CROWDED ON THAT TINY THING! SURE, THE PLATFORM IS ADA, BUT IS THERE SHELTER? NO! ARE THERE EVEN ANY BENCHES? NOPE! ALL YOU'VE GOT IS A HORRIBLE WASTEBASKET! ABSOLUTELY RIDICULOUS!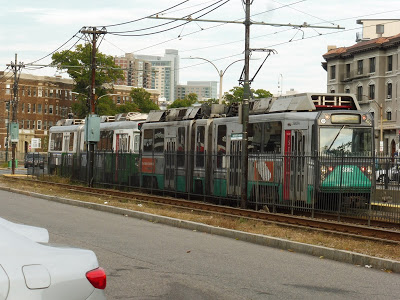 An inbound train.
Station: Harvard Avenue
Ridership: Oh, you know, it's only the BUSIEST STREET-RUNNING STOP ON THE ENTIRE GREEN LINE! It's such a shame those 3,602 riders per weekday have nowhere to SIT!
Pros: The platform is great – it's ADA, it has the yellow bumps, wonderful. And for the few people going outbound, they shouldn't have much of a problem here.
Cons: Too bad the VAST majority of people here are going inbound! Because, you know, people commute into the city. And for a major "accessible" stop like this one, you would think a shelter would be a given. Heck, you would think a bench would be a given! My gosh, the 66 stops here, and it gets a shelter on one side and a few benches on the other side – you know it's a bad station when the bus stops have more amenities than the train platform!
Nearby and Noteworthy: Harvard Ave is a major street lined with businesses, although Commonwealth Ave around here is mainly apartments.
Final Verdict: 4/10
This station is just…stupid. Considering the huge amount of riders it gets, how can the inbound platform get away with not even having a single bench??? Who thought it was a good idea to give the outbound platform a shelter but not the inbound? Harvard Ave gets a 4 because its platform is in good ADA condition, but only because of that. From a planning perspective, it deserves way lower.
Latest MBTA News: Service Updates