Harvard Ave is a horrible station because it deserves so much better, what with its accessibility and high ridership. That's why I got into an all-caps rant in that review. However, with the trio of Griggs Street/Long Avenue, Allston Street, and Warren Street, we're back to typical B Line badness – nothing to get too worked up about.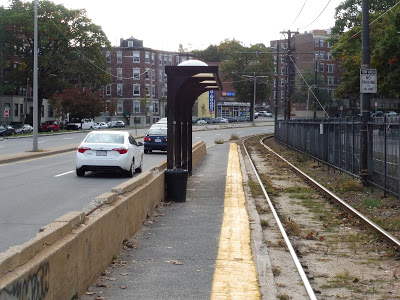 Well then…
Yeah, of course, "typical B Line badness" does mean "incredibly terrible". Here we see the inbound platform at Griggs Street/Long Avenue, which is a ridiculously long name for a station, incidentally. All three stations have similar inbound platforms, with an ugly, benchless shelter and crumbling concrete barrier.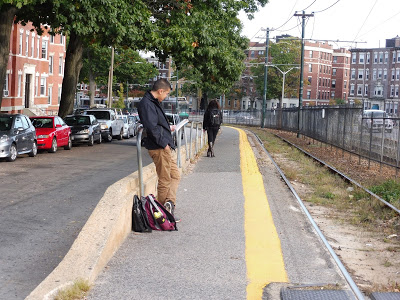 The outbound platform at Allston Street.
Okay, it has to be said that Allston Street's outbound platform is slightly better than the other two. Yes, they're all completely bare, which I guess can be excused this far out on the line – although based on the picture above, there are still some people that travel outbound even out here. Allston Street one-ups the other two stations with a somewhat proper barrier, however; Griggs Street and Warren Street are merely curbs.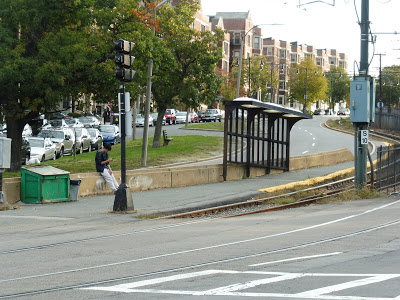 Warren Street has quite a shelter!
Warren Street is more of the same for the most part, but it is one of the more unique stations on the B. The outbound platform is simply asphalt with no barrier, as usual, but the inbound side is on a really steep hill! Its shelter has to be super offset from the ground in order to be straight! Yes, there are still no benches, but it's definitely an interesting sight.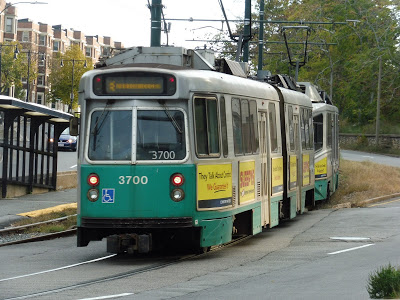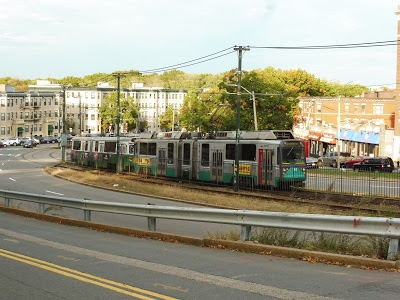 There were a few train pictures I liked from these stations, so have three!
Stations: Griggs Street/Long Avenue, Allston Street, and Warren Street
Ridership: Griggs Street and Allston Street get pretty standard Green Line ridership, with 1,203 and 1,437 riders per day, respectively. Warren Street, on the other hand? It's the fourth-busiest station on the B, with 2,047 riders per day! Huh…okay!
Pros: There isn't much good to say about these stations, but at least each one is unique. Griggs Street/Long Avenue gets the reward for longest station name on the MBTA; Allston Street is the only B Line station with the metal barriers seen on the outbound platform; and Warren Street has that incredible hill!
Cons: Butttttttttttt…they're still standard B Line stations. That means essentially nothing going outbound, and a single solitary shelter with no bench going inbound. Great…
Nearby and Noteworthy: There's not much in the way of businesses around here, aside from a few supermarkets and convenience stores. I like the look of the apartments along this part of Commonwealth Ave, though!
Final Verdict: 3/10
Yeah, whatever, I've got nothing new to say here. However, I will say that these stations get imaginary bonus points for being unique!
Latest MBTA News: Service Updates