Ooooh, now this is a very interesting one indeed! I had no idea this service even existed until my friend Sam and I took a trip down to Taunton and discovered its schedule hanging on the wall! Well, we had to give it a ride, didn't we?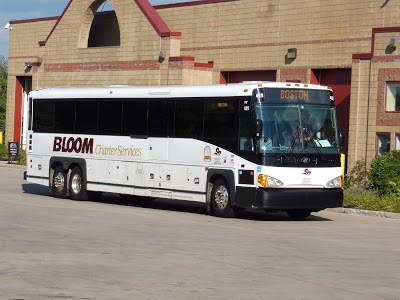 The bus coming into the Bloom Terminal.
So what the heck is the Bloom Bus? Well, it's a coach bus line that runs local with stops at Taunton, Raynham, Easton, and West Bridgewater, then express right into Boston! Its fare is a flat $11.00 to get from any of those four stops into the city, and it uses pretty standard coaches to run the route.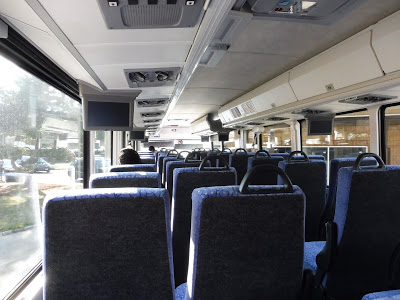 The inside of the bus.
Of course, I would be remiss to talk about this bus without mentioning its bathroom! The inside is decent enough for a coach bus bathroom (it's not like you can expect much), but keep in mind that the door is really narrow. It can be a tight squeeze to get in.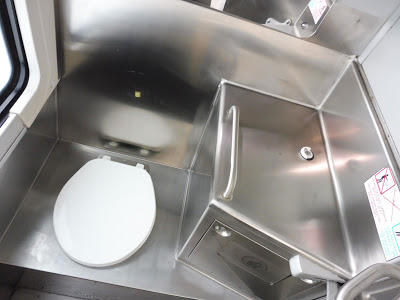 It's beautiful!
We left the
Bloom Bus Terminal
in Taunton (The name makes sense now, doesn't it?) and headed down Oak Street, which immediately became Washington Street. The Bloom Bus has limited stops and downtown Taunton isn't one of them, so we just stayed on Washington, bypassing the downtown. We did go by a hospital, though, as well as a few houses.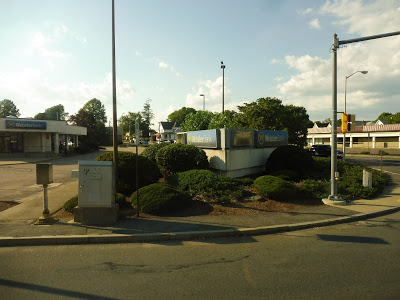 A street corner.
We then merged onto Broadway, which was mostly lined with houses, and also a cemetery. Occasionally, an industrial or retail building would pop up, and we also passed another graveyard. Actually, after that second cemetery, Broadway became way more industrial. Auto shops, anyone?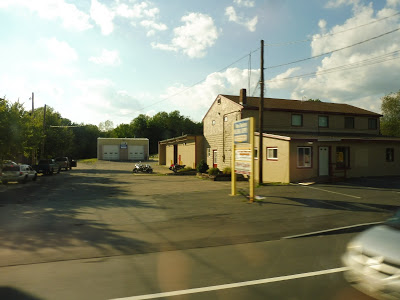 Some random industrial building.
We eventually got a break from the industry (having entered Raynham) with…oh great, a Walmart. If GATRA were up here, I'm sure it would've made a deviation! Luckily, we still made no stops as we continued up Broadway, which was now residential. Did it last long? Not really – we started seeing businesses again soon.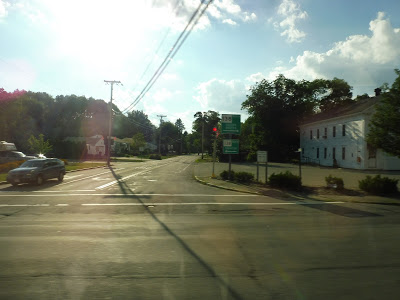 A pretty major intersection.
We crossed over I-495, and the street got more woodsey after that. Still, there was a bit of retail and industry that showed up, as well as a trailer park and an ice skating rink. And then…we arrived at one of the largest, most empty parking lots I've ever seen. Turns out this was our first stop, as we pulled into the lot (primarily for a dog track, but there's plenty of space to park for the bus) and looped around. No one was waiting to get on at the small shelter, so we continued up Broadway.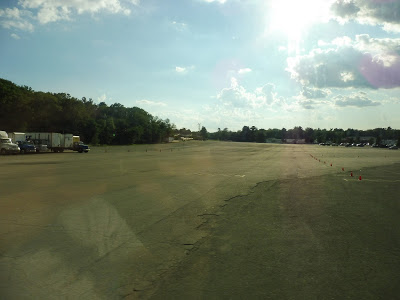 Oh my oh my…
It was pure forest after that, and no buildings broke the trees as we came into Easton. Eventually, we went under some telephone wires, then passed a variety of buildings in a short amount of time – houses, residential developments, an industrial building, and a golf driving range (along with a mini-golf course). At the next intersection, we turned onto Route 106 (Foundry Street), where there were a few businesses.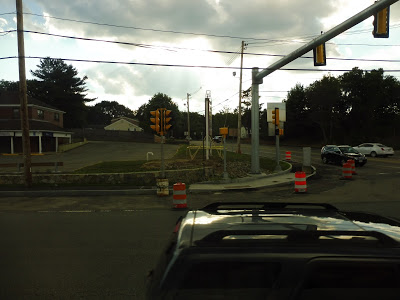 A pretty generic intersection.
We went by a couple of housing developments, crossed over a small river, and then some more development – residential and retail. We then made a loop around another park-and-ride, and this one had no riders, either. Thus, we rounded a cloverleaf interchange and headed onto Route 24 – next stop, Boston!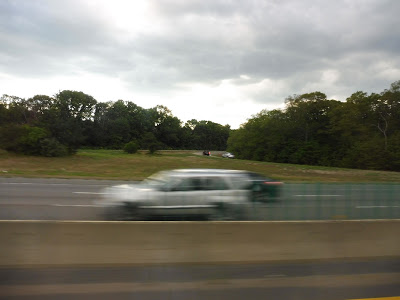 Highway pictures are hard…
The view from the highway started out as trees…and that's about it. We were able to see lots of industrial development in Brockton, however. After that, there were houses pretty close to the freeway, but they were hard to see through the trees. We symbolically passed the Westgate Mall (I sure as heck couldn't see it), where two trips per day deviate on request to serve Brockton, but this was not one of those trips – we sailed right through.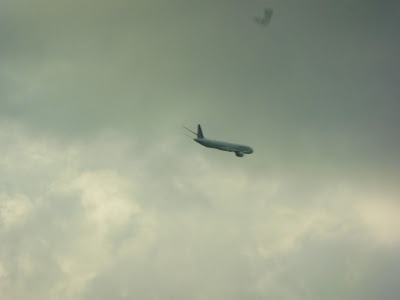 Is it a bird? Is it a plane? No, it's…a plane.
We got some more woods from there, interspersed with random highway development on neighboring streets. Eventually, we reached Route 24's final interchange, curving north onto I-93. This part of the interstate was forested, but we reached development in Braintree very soon.
Some random office building.
It started to get much denser past Braintree, and we could actually see…stuff! The highway went into its short tunnel at East Milton Square, and we passed through a marsh, then went over the Neponset River. We went by the famous Keystone Apartments, (201 and 202, woooo!) and the road came alongside the water, with a view of that classic rainbow gas tank.
This came out…better than expected!
The highway came up along the Red Line, and we went by Savin Hill Station. We curved over the tracks near JFK/UMASS Station, and passed the South Bay Center soon after. It was industrial from there as we passed Southampton Garage (both Amtrak and MBTA), then the freeway went elevated over Albany Street.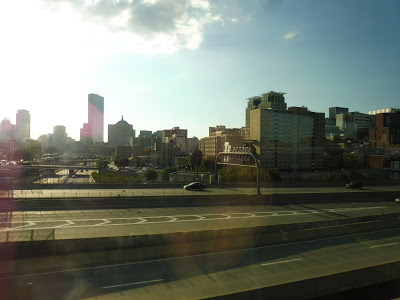 Nice view!
We took the South Station exit, and I assumed we would run on that connector road that leads to the bus terminal. Instead, we just took the normal exit onto Lincoln Street. At this point, the driver turned around and shouted "Is anyone going to South Station?" No one on the bus was, although the "South Station" stop really isn't at South Station – we'll discuss that later. Anyway, since no one was going there, we turned onto Kneeland Street.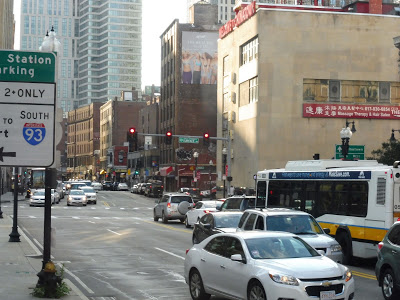 Kneeland Street is busy!
We headed through Chinatown, then the Theatre District. After that, Stuart Street became one-way in the opposite direction, so we had to turn onto Charles Street South, then Park Plaza. This led us past some tall buildings (apartments, perhaps), and then we looped onto Stuart Street via Arlington Street. And…this was the last stop. Just some random block with no signage at all. Huh.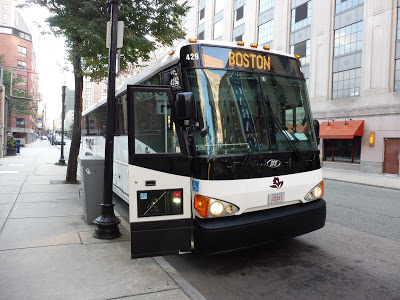 The bus at its "stop".
Route: Bloom Bus Lines (Taunton, Raynham, Easton, and West Bridgewater – Boston)
Ridership: My trip was practically empty, with only two other people riding – however, this was a reverse-peak trip, so of course it wasn't going to get that many people. In terms of overall ridership, the best statistics I can find are from this article, published at the beginning of 2014. (on my birthday!) Ignoring that fact that it's from a Beverly-based news site (a town which the Bloom Bus doesn't go anywhere near), it said that the route got 350-400 riders per day at the time. The route had 13 round trips per day, then, which means about 10-15 people per trip. Not a bad average, considering that most reverse peak trips won't get anyone.
Pros: Taunton has no Commuter Rail service as of yet (we'll see if South Coast Rail will change that), so this bus is incredibly useful for commuters in that area. All of the route's suburban stops offer parking, so people can drive in and grab the Bloom to get into Boston. The buses the route uses are comfortable, and the schedule is pretty darn good – the route runs every half hour in the peak direction, and service is provided consistently throughout the day (minus a bit of a gap in the late morning). It even runs on Saturdays and Sundays, with two morning and two evening round trips.
Cons: The fare system for the route is rather wonky – yes, $11.00 from Taunton to Boston is essentially the same price as Commuter Rail, which is great. But since it's a flat fare, it would also cost $11.00 to go from Taunton to Raynham, for example. I'm not saying anyone would do this, but they could maybe encourage local travel by having cheaper "interzone" fares in the suburbs. The other problem with the route is its stops in Boston – they could really use some signage. How is anyone supposed to know where the bus boards when it just stops on random city blocks? Also, the "South Station" stop is actually two blocks from the station itself, but I'll let it slide.
Nearby and Noteworthy: Taunton doesn't have a reputation for being the best town ever, but if you're going there for whatever reason, this is the route to use.
Final Verdict: 8/10
This is by far the best way of getting from Boston to Taunton (sorry, GATRA). It's comfortable, it's cheap, and it's reasonably fast if traffic cooperates. Just make sure you check their boarding locations in Boston before heading out – they can be hard to find. Also, don't plan on taking this thing locally in the suburbs, since it's way too expensive. But still, this bus is awesome! I know I'll definitely use it again next time I ride some GATRA routes down in Taunton.
Latest MBTA News: Service Updates