The METRO pulse is the hub of the Portland METRO…sort of. Well, four out of eight of its routes serve it. That's…pretty hubby? I guess? Well, it has a proper facility and everything, so I figured we'd take a look at it.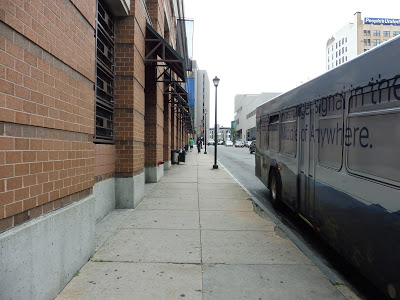 The outdoor boarding area.
The outdoor area of the Pulse could use some work, though. The sign for the stop is way back near the entrance to the building, but vehicles seem to always pull way up and board at the end of the block. Instead of putting a sign up and pretending that all buses stop there, why not just make berths? They have enough room to put a berth for each route that serves the Pulse, so I don't see why not.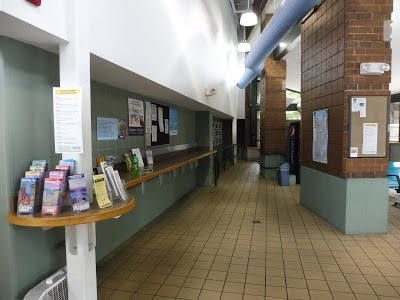 The inside.
Inside of the Pulse, there are lots of maps and schedules for every route on the METRO. In the back, there are photos of historic Portland, with an exit in the back that you can't re-enter (I found this out the hard way). There's also an employee lounge back there, which is a good inclusion for driver layovers.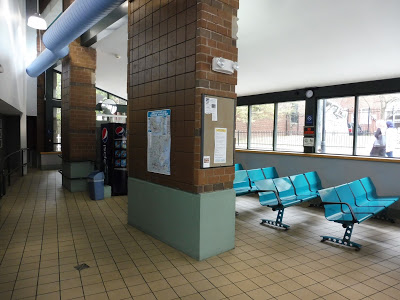 The waiting area.
There's a decent amount of indoor waiting space here, which must be especially useful in the winter months. The Pulse also has a few vending machines, wastebaskets, and a water fountain, as well as a rack of brochures. Finally, there's a little library where people can trade books, which is nice to see.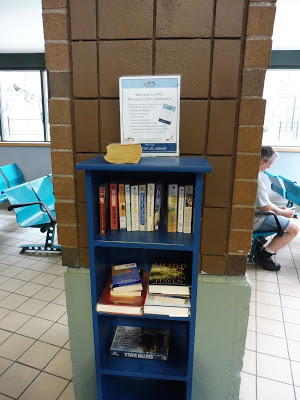 Lovely!
Portland METRO Station: METRO Pulse
Ridership: There are no ridership statistics for the Pulse, but I can imagine it's very high. After all, this is where many METRO routes terminate, and their other routes run just nearby.
Pros: Everything about the interior is great. It offers a lot of seating and a good amount of amenities, with the library being a particularly nice addition.
Cons: The Pulse definitely has some problems, though. First of all, signage to Congress Street needs to be better. That's where the other four METRO routes board, and though they get a nice shelter, there's no indication that it exists from the Pulse. Secondly, the Pulse could really use some proper berths, since the current setup is just ridiculous. It would be a lot better if people just knew where they had to wait for whatever route they wanted.
Nearby and Noteworthy: I've mentioned this in my Portland Transportation Center post, but the biggest city in Maine really is an awesome place. I recommend checking it out!
Final Verdict: 6/10
Regardless of its flaws, the METRO Pulse still carries out its function of being a good bus hub. The interior is a good place to wait, especially when it's cold, and ultimately that's what matters for a hub. Still, there are some very easily fixable problems here: signage to and from the Congress Street stop would be very useful for out-of-towners or newcomers who are making transfers; and putting benches along the whole of Elm Street and adding berths would make boarding a lot easier.
Latest MBTA News: Service Updates