Did I just add Portland METRO to my jurisdiction? Yes, I did! Honestly, Portland is pretty close to Boston when you consider the frequency of the Downeaster, so I figured why not review all of its routes? I was only able to ride one in full when I was there, unfortunately, so here's a look at the 5!
The 5 is one of the busier routes in Portland – busy enough so that it runs every half hour on Saturdays, which is when I rode it. It runs west from Portland, starting out pretty straight but making lots of deviations on the outer end, including one to the Portland International Jetport! For some reason, it's not just called an "airport" – what the heck, Portland?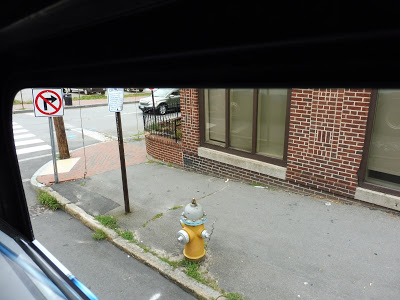 Just to let you know, the window had an ad wrap on it that made any photos through it look awful. I did my best with taking pictures out of the small opening, but it took a good amount of the ride to perfect this art.
Heading down Elm Street, we bypassed dense downtown Portland, heading past a lot of parking lots instead. Next, we turned onto Oxford Street, which merged into Portland Street, and after a few houses and businesses, became Park Ave. This was an apt name, as we were running right alongside the nice-looking Deering Oaks Park (with apartments on the other side).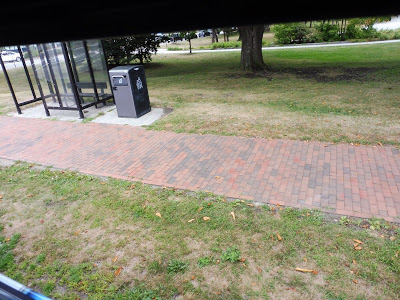 What lovely…grass!
Eventually, we passed an ice-skating rink and a stadium, then went under some train tracks. On the other side, we went by a factory for Hood, then crossed under I-295 and merged into Congress Street. We passed a few gas stations, but it became residential after that.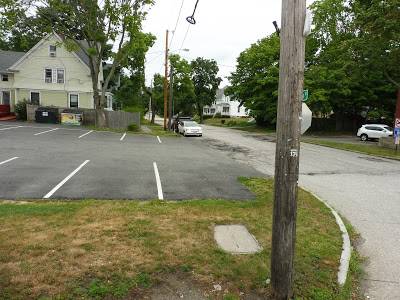 Heyyyy, I'm getting better at this!
We soon went by the Westgate Shopping Center, although we didn't deviate to serve it. Thank you, Portland METRO! There was a level crossing with another rail line after that, and after a few more houses, we entered a marsh. We crossed over the Fore River, and a smaller creek soon after.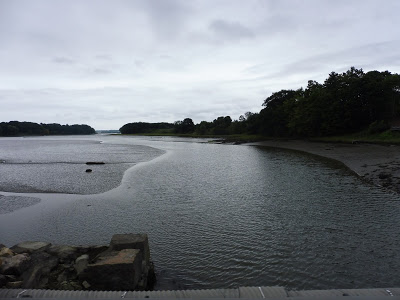 Going over the river.
It was actually kinda woodsy on the other side, with lots of trees and relatively spaced-out houses. We passed a cemetery and merged onto Johnson Road, although weekday trips would make an additional deviation to an office park. We went around the Portland Jetport, but since the bus directly serves it in only one direction, we sped right by pretty quickly.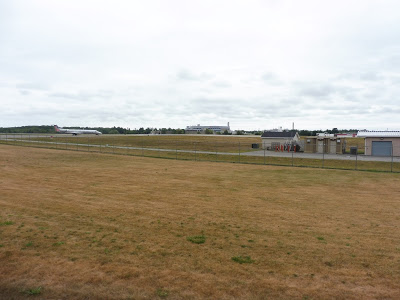 A plane at the Jetport.
We turned onto Maine Mall Road, and we were now in parking lot land, as well as auto shops and malls. Pulling into a shopping plaza, we navigated through the parking lot to reach the stop, then crossed Gorham Road to immediately enter another lot. This was the Maine Mall, and we reached our layover point, where the driver went into the mall for a bit. I guess the 5 operates as a loop, since a bunch of people were still on board at this point.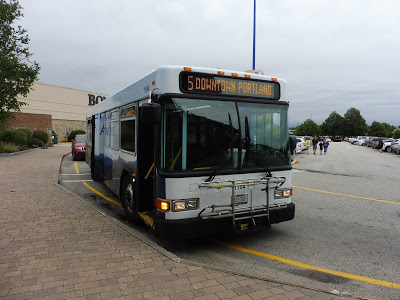 The bus at the mall.
From the mall, we crossed Philbrook Ave into yet another shopping plaza, the Hannaford Supermarket. Next, we headed onto Foden Road, going by office parks on either side. At Kaplan University, we turned onto Western Ave, which passed some huge factories and warehouses, as well as another shopping plaza.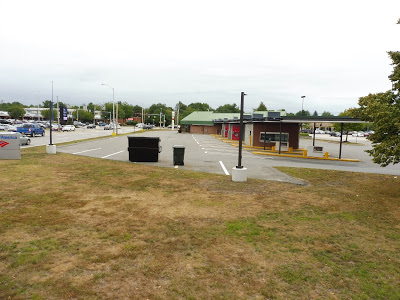 Great neighborhood!
We headed back onto Johnson Road, looping around the Jetport again. However, this time we actually diverted to serve it, turning onto Jetport Boulevard. Along the way to the terminal, we also passed some more office parks and a hotel.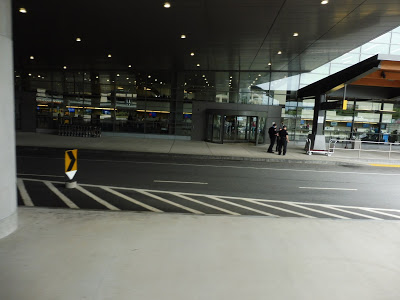 The terminal! Someday I want to come back here and see what the inside is like.
We turned onto Al McKay Ave, which led into the terminal. I gotta be honest, I was expecting not to pick anyone up here, but surprisingly, there was actually someone waiting! After that, we looped around onto Jetport Access Road, which went through some trees before arriving at Congress Street, where we rejoined the regular route. My friend Sam and I took the bus as far back as Sewell Street, where we disembarked to head to the Downeaster station.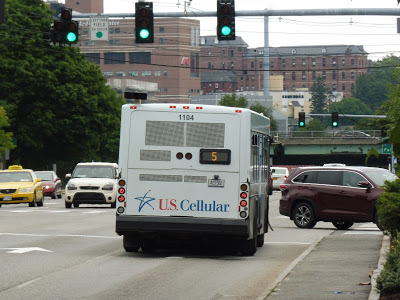 The bus heading back towards downtown.
Portland METRO Route: 5 (Maine Mall)
Ridership: Alas, METRO joins the ranks of public transit systems that refuse to release ridership by route to the public. Thus, I'm forced to rely on experience for the ridership counts, which showed that the 5 gets a lot of people. My bus had about 30 riders heading outbound and maybe 20-25 going back. Most of them were shoppers coming from downtown Portland.
Pros: This bus is a pretty fast way of getting out to the Maine Mall and other shopping centers, as well as office parks on weekdays. It's also one of the most frequent Portland METRO routes, running every 25 minutes on weekdays, every half hour on Saturdays, and every 45 minutes on Sundays. Finally, I love the way the route treats deviations, with the Jetport and weekday-only Congress Hutchins detours being limited to one-way only. Normally I would dislike the shopping plaza deviations on the 5, but again, they're all part of a loop and they all get people, so I can't complain.
Cons: This is a super tiny nitpick, but I wish there was better indication of the fact that you can get off at Sewell Street to get to the Portland Transportation Center. The only foolproof way of solving this would be automatic announcements, though, and that's something that METRO needs anyway.
Nearby and Noteworthy: That stadium the route goes by is the home of the Portland Sea Dogs, a minor league baseball team. Other than that, there are lots of malls on the outer end of the 5. Take your pick!
Final Verdict: 9/10
The 5 is quite possibly the best route on the Portland METRO. It has very frequent service (including the agency's most frequent Sunday service), and serves a lot. The ridership we got on a Saturday was perfect – full-seated load! There's nothing I would change about the route at all, aside from the fact that it would be benefitted by automatic announcements. However, that applies to METRO as a whole.
Latest MBTA News: Service Updates