For a reasonably small city, Portland really knows how to do transportation. Aside from its frequent bus system, they also combined Amtrak and Concord Coach Lines operations into one intermodal terminal: the Portland Transportation Center! Let's see how it looks.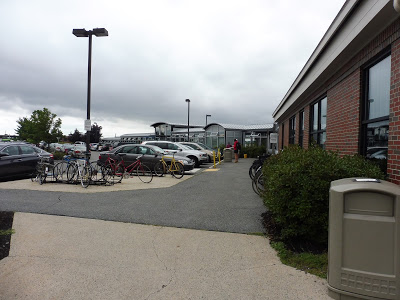 Some of the parking at the terminal.
We can start with parking, because there's a lot of it outside the terminal. The station features 700 long-term spaces, meaning you can stay in them overnight. It's $4.00 per day, which is great for a big station like this. There is also ample bike parking here, although I'm not sure how many spaces are provided.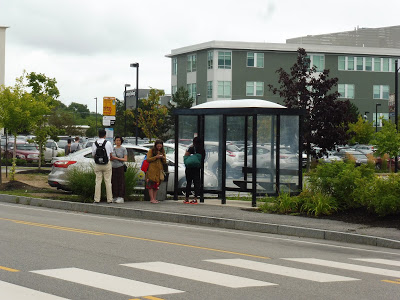 The shelter for the Portland METRO.
You can also get to or from this station by bus. Portland METRO's route 1 comes here every half hour Monday-Saturday and every hour Sundays, and gives riders a quick link into downtown. Even better, Downeaster riders get a free transfer to the 1 (or any METRO route) by asking a train host. The bus stops at a normal shelter outside the terminal, but it's a fine place to wait.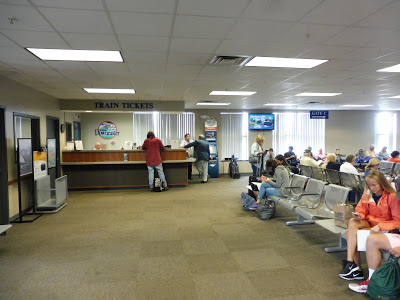 Part of the huge waiting area.
The station has a pretty big waiting room, with lots of seating. On the Amtrak side of things, there's a proper ticket counter, as well as a Quik-Trak automatic machine if you're so inclined to use that. This side of the waiting room also features a wall of brochures, and you can find a regional bus map against one of the walls.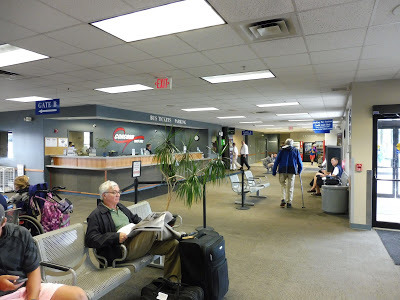 The other side of the waiting area.
Additionally, there's a bus ticket area on the other side of the room, and this is where all the other amenities are, too. For example, there are vending machines and an ATM over here, both of which are quite useful. There are also bathrooms, but I was unable to go inside and see what they were like. Finally, the whole facility has Wi-Fi, so you can surf the web while waiting for your train or bus.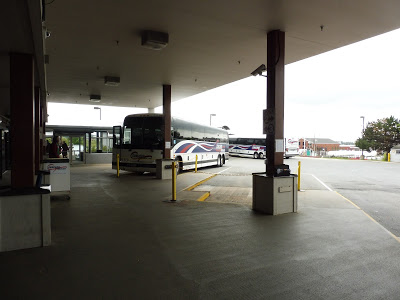 The bus boarding area.
There isn't anything special about the place where you board Concord Coach Lines – it's basically just the place where you board Concord Coach Lines. It's all sheltered and there are berths for each bus, but it's nothing special. Almost everyone waits in the waiting room, anyway, so the barebones boarding area is fine.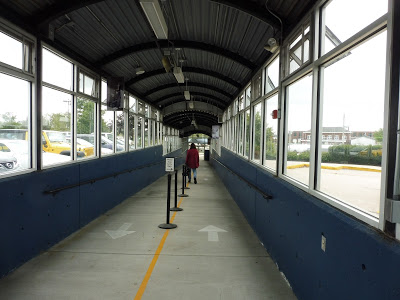 The station's walkway.
The bus boarding area and Amtrak platform are both connected to the waiting area by this glass walkway. It's honestly nothing special, but I just wanted to show it. It's mainly meant for transporting large groups of people to get onto a vehicle, and it does its job well in that regard.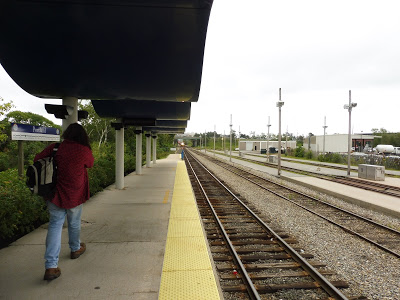 The Amtrak platform.
The Amtrak platform is basically in the same boat as the bus boarding area. It's entirely bare. and is just meant to get people onto the train. Still, it's mostly high-level, and I love what they did with the shelter – it's wavy. It's not much, but it adds to the seaside motif of Portland.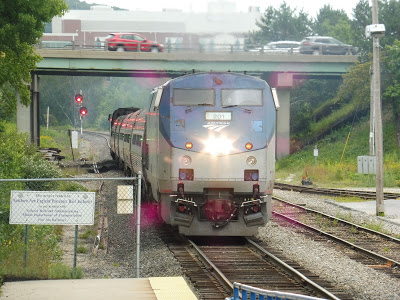 A train coming into the station.
Station: Portland Transportation Center
Ridership: Ridership here for Amtrak has gone down since 2012, unfortunately, but the station still gets an average of 354 riders per day. Considering the Downeaster is five trips per day, that's pretty good – about 70 people per train. As for Concord Coach Lines, they don't seem to release ridership data, but I'm sure they get lots of people on their hourly departures from here.
Pros: There's a bunch to love about this station! It has lots of parking, lots of waiting space, and lots of amenities. I also love how connected it is – one could take the Downeaster up here, then instantly hop on a bus to head further north.
Cons: The station is a bit out of the way from downtown, although the 1 is frequent enough Mondays-Saturdays to ease the distance (Sundays are a different story, though). Other than that, it would be nice to have departure boards in the waiting area, although it's not completely necessary.
Nearby and Noteworthy: Portland is a really cool city, arguably one of the coolest in New England. All of its businesses are frequented and the downtown is busy, and yet it also feels quite laid-back. The seaside atmosphere is great, too.
Final Verdict: 9/10
This is a really good interconnected terminal. Although it's kinda far from downtown, it makes up for it with lots of amenities, parking, and waiting space. Plus, the 1 is usually reliable, and you get a free transfer to it when you're on the Downeaster, anyway. This is how an intermodal hub should be done.
Latest MBTA News: Service Updates