Ahh, Longwood Medical Area: the more convenient, but WAY less tranquil alternative to Longwood Station on the D. Oh wait, the D also has a decent schedule and can be reasonably trusted to be on time. As for the E? Yeah, I know I'm just reviewing the stations here, but I'm still gonna diss the E as much as I like!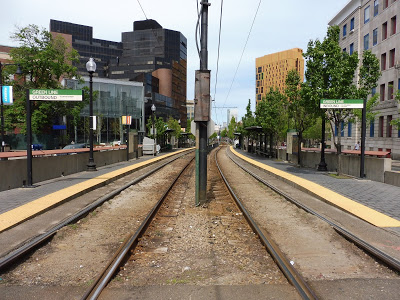 Ooh, nice curve!
Honestly, Longwood is basically a curved version of
Northeastern
on a slight hill. I mean, they both have wide platforms, a few wastebaskets, and two shelters. Yes, Longwood lacks outdoor seating and a ticket validator, but other than that, it's basically identical to Northeastern. Umm…yeah, there really isn't much else to say with this one.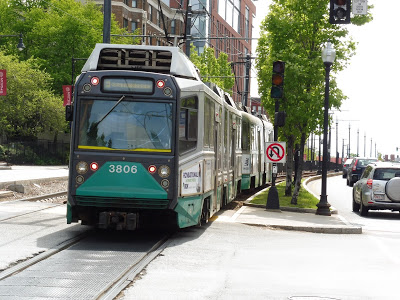 That's such a great-looking right-of-way!
Station: Longwood Medical Area
Ridership:
Let's see here…wait, this is the busiest station on all of the Green Line branches? 3,813 passengers per weekday? Wow! I guess I underestimated this place! It helps that this station gets both hospital workers
and
students, as there are
many
colleges around Longwood Medical Area.
Pros: This is another good E Line in-median station! It has shelters, a wide platform, wastebaskets – basically all of the basic things to be expected at a street stop.
Cons: It does lack outdoor seating and ticket validators, but that's about all that's wrong with this place.
Nearby and Noteworthy: Do you like hospitals? Great! Longwood Medical Area is the place for you! Actually, though, if you don't mind walking, the D is a much better way of getting here. The E is the closest station to colleges like MassArt, though.
Final Verdict: 7/10
Ultimately, I would say this station is just like Northeastern, minus the benches and ticket validator. It does make up for that by being on a rather nice curve, though! Okay, commuters probably don't care about that, but it makes for great pictures.
Latest MBTA News: Service Updates