When you have to go to the Longwood Medical Area, you have two options: take the E to Longwood Medical Area Station, or take the D to Longwood Station. You can either wait for a train that never comes, or you can grab a train that runs pretty frequently. You can either ride on a really slow train that runs on the street, or you can ride a really fast train on its own dedicated right-of-way. And, for the ride back, you can either wait at essentially a pimped up bus shelter, or you can wait at a charming shelter with actual CharlieCard machines. Yup, when going to the Longwood Medical Area, I would definitely choose the D as my mode of transportation.
Of course, if an E happens to arrive first, that works, too. Both stations are about the same distance away from the intersection of Brookline Ave and Longwood Ave – about a seven minute walk. Heading to the D Line station requires a short jaunt over the Muddy River and into Brookline. Situated right next to part of the Emerald Necklace park system, Longwood Station is in a nice, tranquil area, unlike the more urban E Line station.
Although the MBTA website says there's no parking at the station, there is actually a small lot (and I do mean small) right next to the station. I don't believe it's an official MBTA lot, as payment is with parking meters, but it's still a convenient thing to have (especially for a station more or less in the city). Of course, no one was using it when we went there, but…it's still useful. Something else that's useful (and that people actually use) are the CharlieCard machines. It's a standard for D Line stations, but a luxury compared to the stations on the other branches of the Green Line. They are also housed inside a cute little shelter. Yeah, they have the same kind of shelter at almost every other D Line station, but it's still nice to have.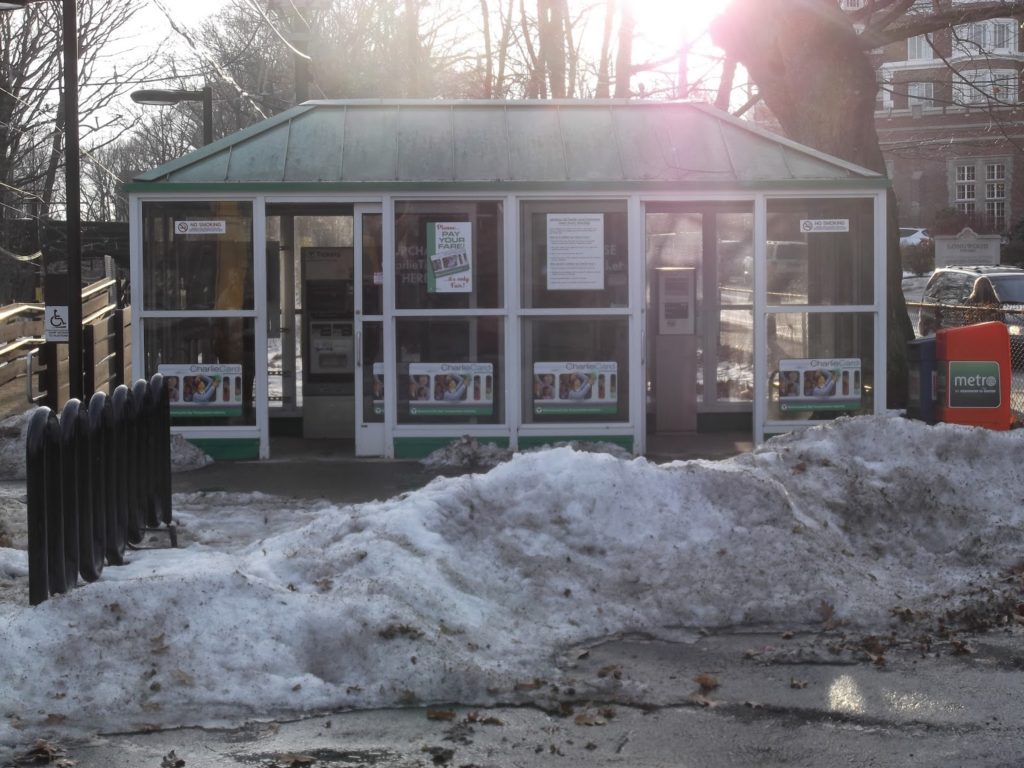 Incidentally, I went to this station a while ago, a few days after a snow storm, it seems (based on the picture)
The actual waiting area is pretty nice, at least if you're going inbound. On the inbound side, there's a charming wooden shelter that seems to do an adequate job of keeping people…sheltered. Unfortunately, the outbound side has no shelter whatsoever, unless you want to wait in the CharlieCard area. People have to go outbound, too! There are also the wheelchair ramps that are completely unnecessary thanks to the newer trains, and there are also clocks. I've always felt that the clocks at suburban (in the case of this station, it at least feels suburban) D Line stations feel out of place, but once the MBTA installs countdown clocks they should be more useful.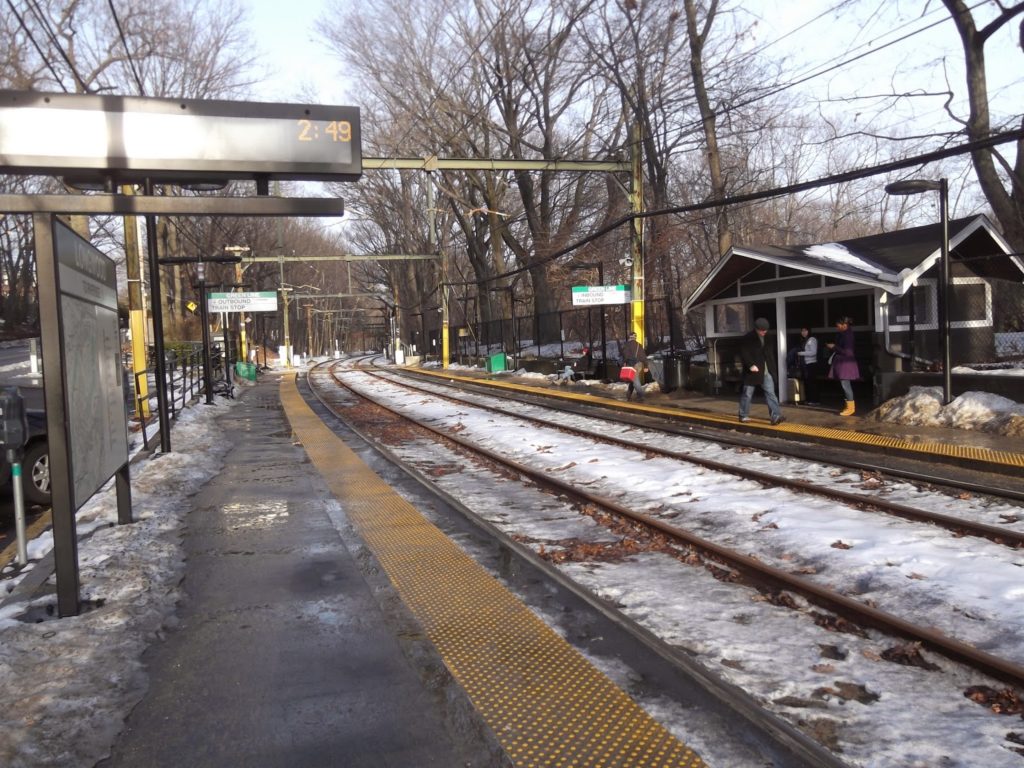 Nice!
Coming back from the LMA, my mother and I found out that Longwood is what I call a "screw you station." It's one of those D Line stations where you have to go on a bridge to get to it (if you're coming back from the LMA), and you see that the train's there as you're going over it and you know you won't make it but you run for it anyway and you miss it and you have to wait for a really long time. We found this out the hard way.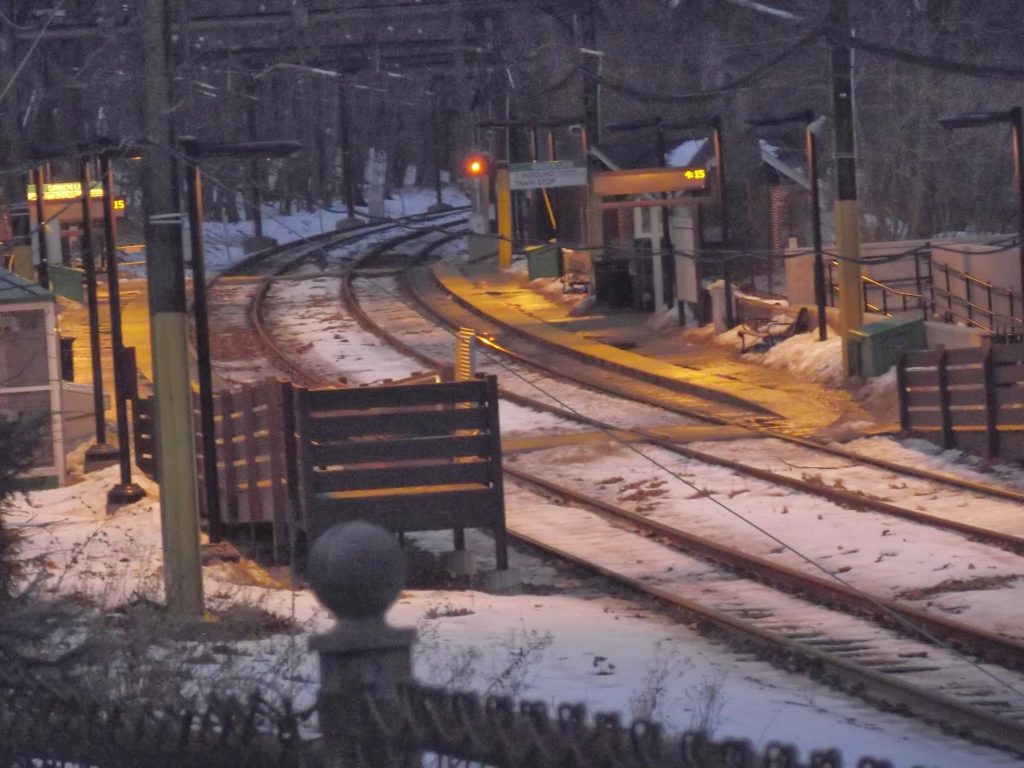 It was much darker when we came back; the train had already left by this point, so I took this fantastic picture.
While we were waiting, I noticed how deserted the station seemed to be. There were people waiting, but like many other Green Line stations, it didn't seem to be very well kept-up. It seemed that someone had shoveled the snow, but the excess was an ugly brown/yellow color. In general, too, it was very slushy and wet, and my shoes got really muddy. I suppose this is bound to happen after a snow storm, but still…
After waiting for a very very long time, our train came. It was insanely crowded. As usual. Ugh, why is Park Street so far away?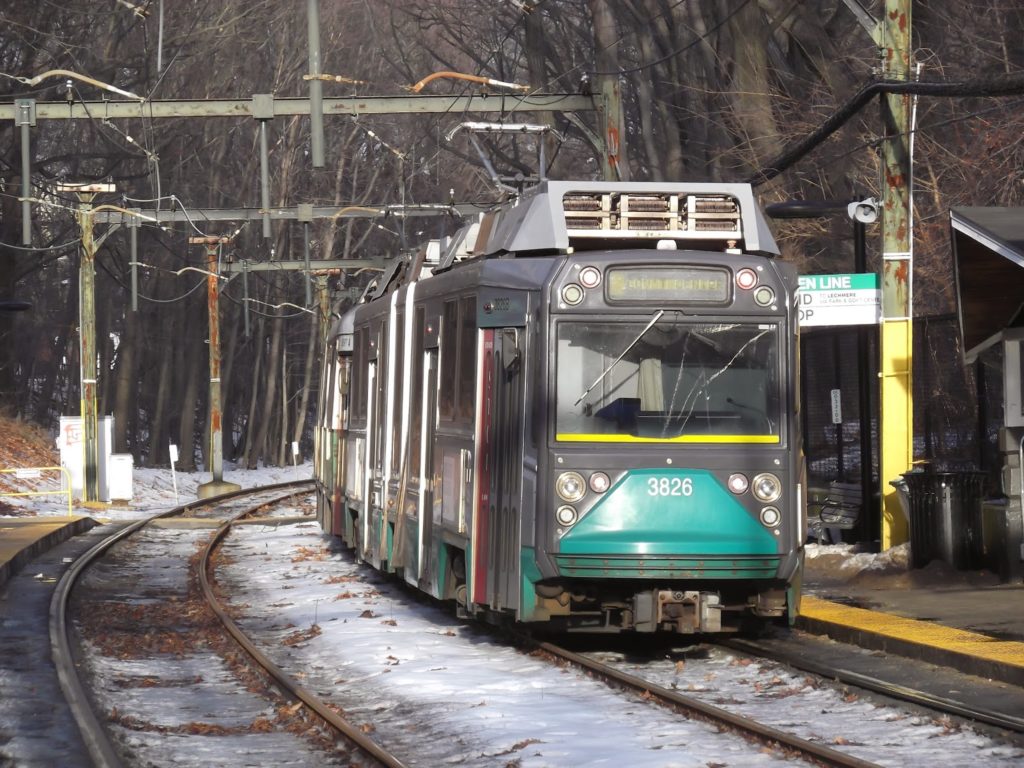 This has to be one of my favorite pictures to ever appear on this blog. There's something about it…
Station: Longwood
Ridership: It was fairly light when we went there. I would assume that most people who come here are going to the LMA, although there are some houses and apartments nearby. But according to the MBTA Blue Book, way more people use the E Line stop over this one. Really, people? Really?
Pros: As a D Line station, it's pretty great. I like how it feels like you're in the woods here, when actually you're just a short jaunt from the LMA. And I really like that wooden shelter on the inbound side, as well as the fact that there are CharlieCard machines here (yes, I know they're at all the other D Line stations, too).
Cons: Of course, it's a "screw you" station, but they can't really help that. However, I feel they should install a shelter on the outbound side of the station, seeing as people were actually heading outbound when we got there. The snow was pretty gross, too, although I'm sure that same situation exists at the other stations along the D.
Nearby and Noteworthy: When I think of the LMA, fun places to visit don't really come to mind. Is there anything noteworthy in the LMA aside from hospitals? Leave a comment!
Final Verdict: 7/10
For a D Line station, not bad. It's a much more comfortable place to wait than the E Line station, with its lovely wooden shelter. On the inbound side. The fact that there's none on the outbound side is pretty annoying. Also, that snow was disgusting. But overall, I would definitely come here over the E.
Latest MBTA News: Service Updates
Some people's CharlieCards have expired, something that not many people knew could happen. Make sure you get a new one… Also, the MBTA plans to install bus countdown clocks to major stations. Although I think this is fantastic news, what about the Green Line?