Alright! The final Alewife review! You know, most of Alewife's buses fall into the same mold: weekday-only routes serving northwestern towns that only get riders during rush hour. Although the 62 doesn't satisfy the weekday-only requirement, the rest basically holds true. This is a long route, so let's get started.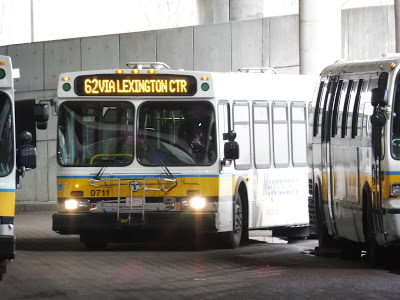 It's hard to get good pictures in the Alewife busway…
Being around 5:00 PM, my trip was a rush hour one, so there was a throng of people who all tried to get onto the bus first. Once everyone was in, we navigated through the dark Alewife busway before reaching daylight, turning onto Alewife Brook Parkway. The road went up onto a bridge over the Alewife facilities, and then we made our way through a dreadfully slow intersection onto Route 2.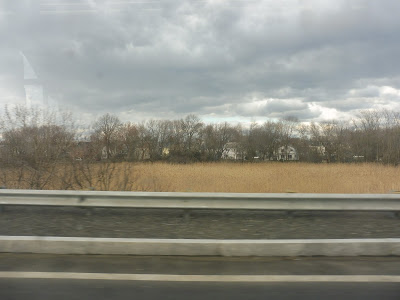 Huh…never noticed that marsh before.
Speeding down the highway, we went past a marsh and a soccer field, while the "Route 2 Westbound Pedestrian Bridge" stop that no one ever uses served the office parks and apartments on the other side of the road. However, as all local buses do, we took the first exit, but no one got off at Lake Street. Thus, we returned to the highway, and no one left at the second exit, either.
Spy Pond, seen from Route 2!
From there, we merged onto the "Route 2 Service Road", which ran parallel to the highway. Rising up on a hill over it, the bus made frequent stops for commuters returning to their houses in the quiet residential areas beyond the highway. Eventually, we turned onto Park Ave, which was entirely residential. Ascending a hill, we passed the Park Circle Water Tower, and then lots of houses as we descended it.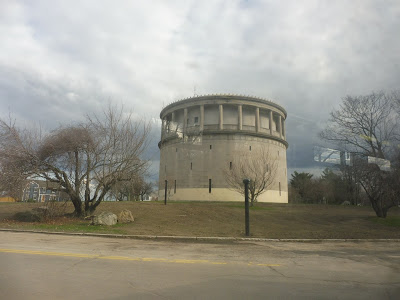 I love that tower!
We soon reached a steep downward slope, and past the traffic waiting for the light to change was Mass Ave. Finally reaching the intersection, we turned onto it and it was lined with businesses. However, the Arlington Heights Busway was very close. We looped around it, picking up a few passengers, and then we returned to Mass Ave, continuing past the 77 and 79's terminus.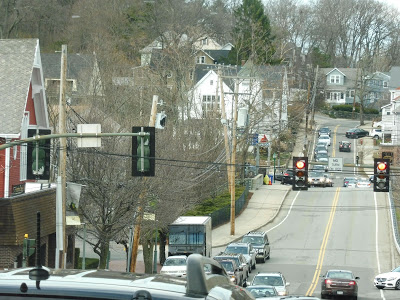 More front view experimentation! You can see how crazy the hills are around here.
There was still a lot of retail along the street, but it was predominantly lined with houses. We entered Lexington along this section, getting joined by the 76 at a small rotary. From there, it was basically all residential, up until the National Heritage Museum. We passed through a park, and after some more houses, we entered Lexington Center.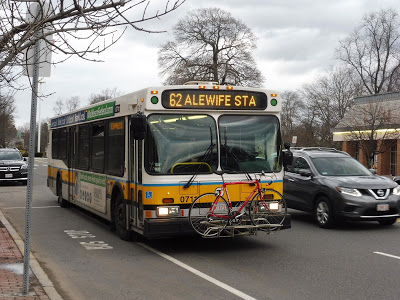 I got off the bus at Lexington Center coming back, but I figured I'd put the picture here.
Ah, how I love Lexington Center. It has such big sidewalks with lots of benches along them, it's leafy, it has a bunch of great small businesses, and its buildings are historic. Not only that, but we passed the wonderful facades of places such as Lexington Town Hall and the Post Office. As we were leaving the downtown, we went by the incredibly important Lexington Battle Green as a final send-off from this great little town.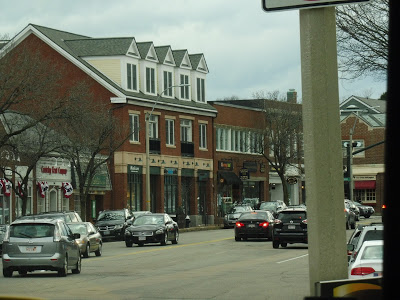 Yes! Good ol' Lexington Center.
Of course, you can't make an omelette without breaking a few eggs. Soon after leaving Lexington Center on Bedford Street (leaving the 76 to stay on Mass Ave), there was an intersection with malls and businesses, all with big parking lots out front. It didn't last long, luckily, and the surroundings soon returned to houses.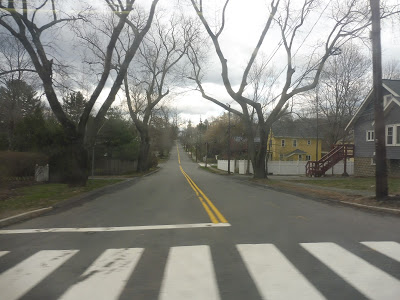 A side street.
The neighborhoods were mostly residential, but we also passed the occasional office or industrial building. We also crossed the Minuteman Bikeway at one point. The road widened soon after that in order to get over I-95, then we went by some typical highway development: an ugly office park and a really gross-looking inn.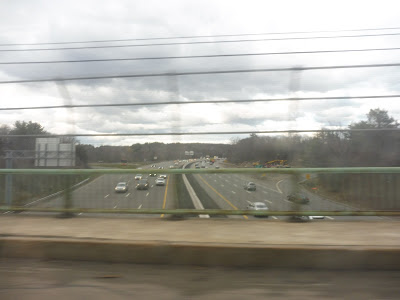 The bridge over the interstate.
The development continued for just a bit longer with pylons, a Boston Sports Club, and a hospital, before returning to houses. The street became Great Road as we entered Bedford, but soon after we passed through another pitty area (fast food restaurants, auto shops, and a huge mall, all with enormous parking lots). We also went over the tiny Shawsheen River along this section.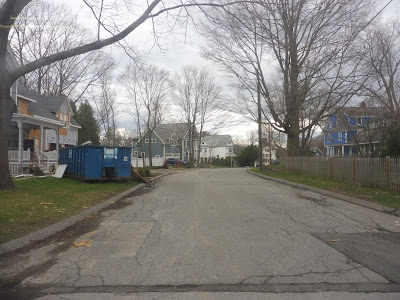 No parking lot pictures, but how about these McMansions?
There were more houses from there, and just before another shopping plaza, we turned onto the narrower Loomis Street. This was in order to serve Depot Square, the terminus of the Minuteman Bikeway. To be honest, it was a mostly industrial area, but it did have an old train next to the historic Bedford Depot.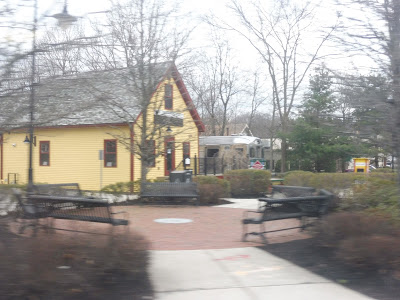 Hey, I tried my best…
It was at Depot Square that we turned onto South Road, a narrow street lined with houses. However, we soon came across some history. The tiny Bedford Center featured a few little businesses, a common, the "Old Town Hall", and the magnificent First Parish In Bedford – a really great-looking old church.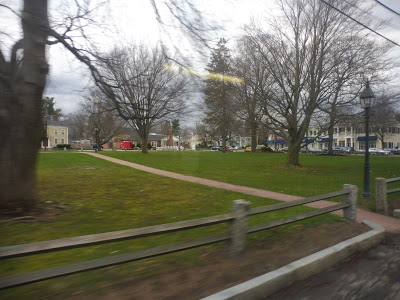 Going past the common in Bedford Center.
We were now on Springs Road, another narrow residential street. The houses went on for a while until the stop names started getting weird – they became "building numbers". Yes, we had entered into the larger-than-expected VA Hospital complex! And…also a golf course. Anyway, we made a loop around Avenue D to get to a simple shelter on Spring Road, with brick buildings in view. It was an interesting place for a terminus, but this was it.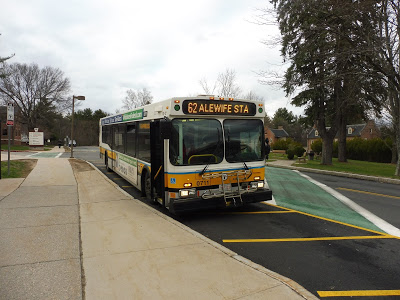 The bus at the hospital.
Route: 62 (Bedford VA Hospital – Alewife Station via Lexington Center and Arlington Heights)
Ridership: This is the second-busiest Alewife route, just below the 350 on weekdays, with 1,644 riders. Of course, as this is an Alewife commuter route, it gets packed during rush hour and is pretty quiet all other times. My ride got 40 people, and it wasn't even the true peak period yet! Also, the Saturday 62/76 combined route gets surprisingly decent ridership for its frequency, with 662 riders.
Pros: The 62 serves so much. This is mainly because of its insane length, cutting right through Bedford, Lexington, and Arlington, and linking them all up to Alewife just on the edge of Cambridge. A bunch of commuters use this route to get to the Red Line, which is why it runs so often during rush hour. Although the headways aren't consistent during that time, there are three trips 10 minutes apart in the morning (among others), and a similarly close schedule in the evening. It's more regular during the day, with constant every hour service – same on the weekends, running every 60-70 minutes.
Cons: The 62 doesn't have much of a night schedule, with only two or three trips after the evening rush – the last one leaves for Alewife a little before 9. Still, it probably doesn't get much ridership past there, so I guess it's okay. I understand the lack of Sunday service, although maybe a cut-back route on those days that runs as far as Lexington could be an interesting experiment.
Nearby and Noteworthy: Basically the town centers are the places worth checking out here: Lexington Center and Bedford Center. The former is definitely worth taking a visit to, especially if you haven't been before.
Final Verdict: 8/10
This is certainly one of the best Alewife routes, both due to its length and the fact that it has Saturday service. The 350 is in a league of its own (honestly, it probably deserves an 8 or even a 9, rather than the 7 I gave it in that review), but I would say the 62 is slightly better than Alewife's other premiere route, the 76. The 62 serves more since it's straighter, and it has a better schedule during rush hour. Overall, this is a pretty darn good route.
Latest MBTA News: Service Updates