This is probably the craziest bus route I've ever taken. I had a free weekday with nothing to do, so I just moseyed on over to Alewife to grab the first bus that came. I was secretly hoping for a 76, and that ended up being the first bus to come! With about 20 people on it, the bus starts out fairly normal, making its way through crowded Alewife Brook Parkway traffic to Route 2. It makes a completely useless stop near the pedestrian walkway over the highway (although once those awful apartments get built near the stop, it might get more ridership), and takes the first exit off of the highway.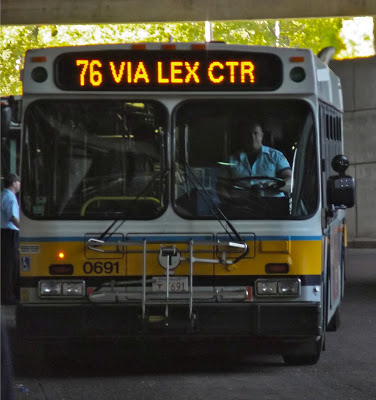 Darn, I hate getting pictures where the destination board says "Via."
Until I rode this bus, I wasn't entirely sure how the "Route 2 buses" worked; I figured they just went along the highway as an express. However, it turns out that they make every exit off of the highway and make stops at each one (except for the 351, which is an express bus). The 76 also has the longest stretch on Route 2 (except, again, for the 351). It makes the long climb up to Park Ave, and then passes through Arlmont Village, a nice residential area.
Getting off of the highway for good at Exit 56, the bus got stuck in traffic in a forested area. The foliage broke at a massive farm with a store and parking lot. Soon after, the bus merges onto Mass Ave and the 62 bus (sort of a cousin to the 76). It runs along the by-now-suburban Mass Ave before coming into Lexington Center, which is a pretty major stop.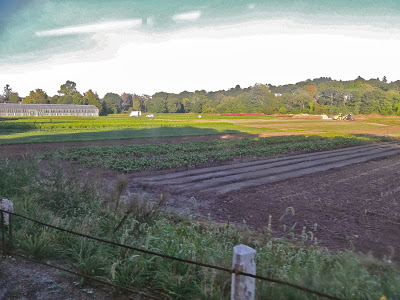 Down on the farm…
Turning off of Mass Ave shortly after Lexington Common, the bus goes by a large athletic facility, as well as Lexington High School. It then turns onto Waltham Street, and again onto Marrett Road (where there is a small plaza with small shops). Passing a couple more plazas and the Lexington Reservoir, the bus crosses over I-95. By now, I'm the only one on the bus, the last person getting out shortly after Lexington Center.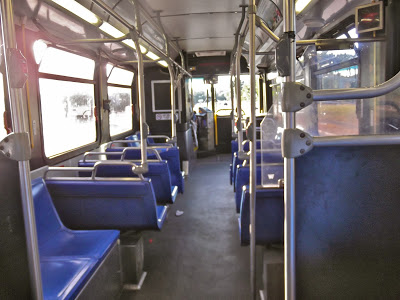 It's just me, the driver, and those pieces of trash on the floor.
After crossing over I-95, it starts getting crazy. This portion is very rural, with entrances to corporate buildings along the road. Marrett Road then turns into North Great Road, and the bus passes by some historical places, such as where Paul Revere got captured on his famous ride. The bus turns onto Hanscom Drive, and along this stretch is the westernmost portion of the MBTA bus system.
It enters Hanscom Field, and makes a loop around the parking lot. The tiny planes are visible beyond a fence. No one got on here, and the bus went back onto Hanscom Drive. Along the way, we had to stop to let a group of turkeys cross the road. From there, the bus turned off of North Great Road onto "Old Massachusetts Avenue," and turned again onto Wood Street into a residential area. There is a clearing in the forest for a path for telephone wires, and then it gets suburban again.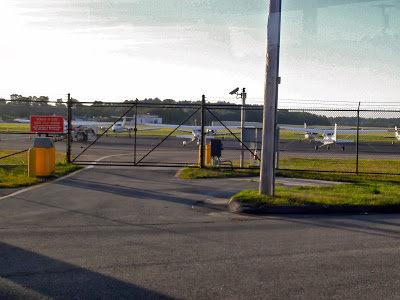 Hanscom Airport.
Coming off of Wood Street, things got very crazy. The bus went through a massive gate, as prompted by a crossing guard, and then got stopped at a security booth. The woman inside asked how many people were on the bus, and the driver responded, "I got one in the back." The security woman then let us through, and the bus entered Lincoln Labs. It was obvious looking out the window that this was a massive complex. There were some fairly modern buildings near the road we were on, and industrial smokestacks could be seen in the distance. The bus made a loop around a parking lot, while I snapped a picture, and then we came to a sheltered bus stop with a few people waiting. There was a large sign on the shelter, that said (from what I can remember):
"THIS IS A RESTRICTED AREA. PEOPLE WHO ENTER WITHOUT PERMISSION FROM THE CAPTAIN…" – Or something like that; I remember the word "captain" being in there – "…WILL BE PROSECUTED BY LAW. NO PHOTOGRAPHY IS ALLOWED. THIS AREA WATCHED BY SECURITY CAMERAS."
Whoops. Guess I'm not publishing the photo I took. There were around five people waiting at the stop who got on the bus. After laying over for a few minutes, we left again, heading back the way we came (with another interruption from turkeys crossing the road). The ride back was pretty much the same as the ride there, until we got close to Alewife Station. There was some pretty heavy traffic on Route 2 near Alewife Station, but luckily MBTA buses take the "Alewife Station" exit, rather than going around via Alewife Brook Parkway. We came into Alewife station and got off the bus to go our separate ways. Although the ride back wasn't that crowded, I looked back and saw a huge crowd of people waiting for the bus back out to Lexington and Bedford.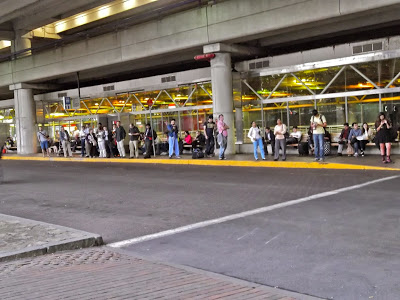 Never seen the Alewife busway so crowded.
Route: 76 (Hanscom/Lincoln Labs – Alewife Station via Lexington Center and Civil Air Terminal)
Ridership: There were about 20 people on the ride to Bedford, and they all got on at Alewife. There was not a single person who got on anywhere else. This also applied to a lesser extent on the way back to Alewife, with most people getting off there, although there were a few that got off in local neighborhoods. The bus was mostly commuters going home on the way there (it was the PM rush). The way back also had commuters though, going home from the Lincoln Labs.
Pros: It's a fantastic ride, just because of the weird places the bus goes to. An airport for tiny planes, a super-secret lab, and two turkey crossings in one ride? Sign me up! Oh, and I suppose it also serves many areas that would otherwise not be served by bus, but that obviously doesn't matter, right?
Cons: The schedule is not the best. It runs every half hour during rush hours, and it runs every hour during the day. On Saturdays, it technically runs, but with a combined 62/76 service that omits part of the 76 route. It doesn't run on Sundays.
Nearby and Noteworthy: I love, love, love Lexington Center. It has a great suburban-center feel, it has a bunch of excellent small businesses, and is just a fun place to be in general.
Final Verdict: 8/10
This was definitely one of my favorite buses I've ever taken. I had so much fun going to the most far-out places (both literally and figuratively). It also serves a lot and seems to get decent ridership. Unfortunately, it has a terrible schedule, so I had to lower the rating slightly, but this was still a very fun ride.
Latest MBTA News: Service Alerts
Nothing much of note has happened, except that the winner of the MBTA map contest has been announced! Created by Mikheil Kvrivishvili, the new map is a major improvement over the old one: