Newton Centre and Newton Highlands are the two D Line stations with old buildings, and thus they're definitely among my favorites. They even both have small villages around them, though Newton Highlands' is smaller. Still, that's certainly not enough to detriment this place, so let's take a look!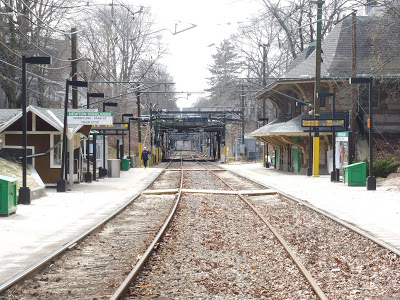 Argh, this station is so nice!
Newton Highlands has a typical D Line platform, including wooden and heated shelters on the inbound side. The station also features benches on both platforms, and a few places where one can cross between the two. In terms of amenities, the outbound side is pretty bare…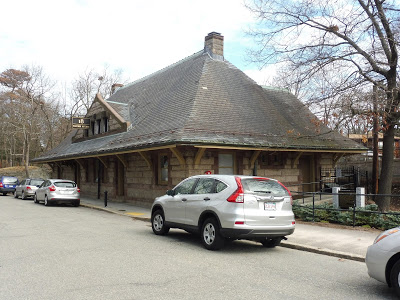 Oh wait!
Right, except for the station building! Now, to be honest, I think the Newton Centre one is better, with its vintage signs and generally more interesting architecture. Plus, that one has a diner in it! The Newton Highlands building is a bit more boring, and it only houses some lame offices. Still, though…an old building is an old building.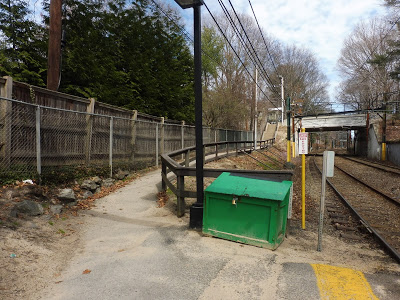 The path to one of the entrances.
One of the station entrances leads to a more residential area. It starts on the outbound platform, and is a path that parallels the tracks for a bit. Eventually, it becomes a staircase that runs up to Hyde Street, within a leafy neighborhood that's entirely houses. This entrance features a T symbol and the station name. A similar entrance can be accessed from Station Ave – this one is a simple path to the outbound side.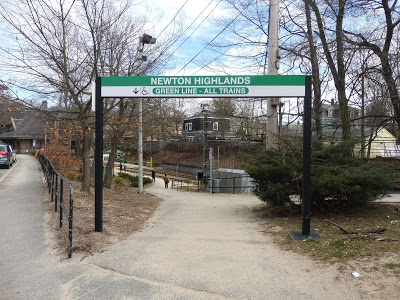 The station's primary entrance.
However, Newton Highlands' main entrance leads right into the village. Once again, it's a path that goes from the outbound platform, this time to the intersection of Lincoln and Walnut Streets. Outside the entrance, there are newspaper boxes, a wastebasket, and a bench – not sure why they're there, but why not?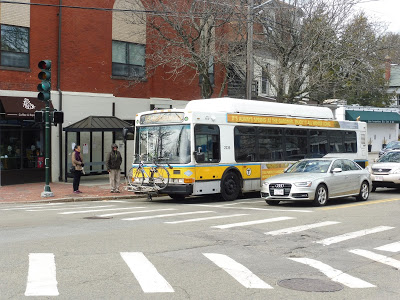 A 59 boarding at the station bus stop.
Newton Highlands has a single bus connection, this being
the 59
. Its southbound stop is a pretty unique shelter, though it is rather small. The northbound side is unfortunately just a sign – at least a bench would be appreciated.
The 52
technically serves Newton Highlands as well, but only five times a day and a few blocks away, so I don't really count it. Still, that's there, too.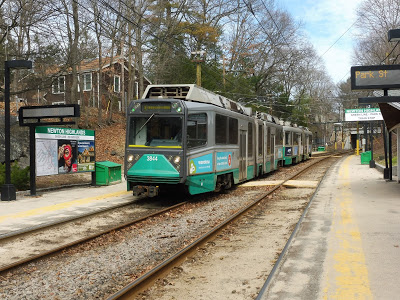 A train coming into the station.
Station: Newton Highlands
Ridership: As expected, Newton Highlands has similar ridership to Newton Center, although slightly less. The former gets 1,627 riders per weekday compared to the latter's 1,891 riders. Still, it's above average for the D, even though the station was very quiet on the Sunday I was there.
Pros: We're back in tranquil-land! Yes, the mostly suburban nature of this station combined with lots of trees and general quietness makes it quite peaceful. The building isn't as wonderful as the one at Newton Centre, but it's still an old building, so I'm not complaining. The station's three entrances go all over the neighborhood, which is another great plus.
Cons: The bus facilities could be a little more robust, although it's the 59 – it can't get that much ridership from here. In addition, the outbound side of the station is barebones, but that's probably just because very few people actually go outbound from here.
Nearby and Noteworthy: Newton Highlands has a lovely "downtown" right next to the station! Particularly along Lincoln Street, there are a bunch of small businesses in very quaint buildings.
Final Verdict: 8/10
I really came to like Newton Highlands. It has to be one of the best balances of tranquility to convenience on the whole D Line, with a downtown located just steps away from the peaceful station. To be perfectly honest, I think the building might be the most disappointing part of Newton Highlands for me, and that building is still great!