I was super excited on the 504, because the trip I was on was timed perfectly to arrive at Watertown a few minutes before the departure of a 59. But it turned out I was looking at the 59's Sunday schedule, and totally missed that bus, as it was actually a Saturday. Now I wanted my revenge, and I sought to take the 59 next chance I got.
.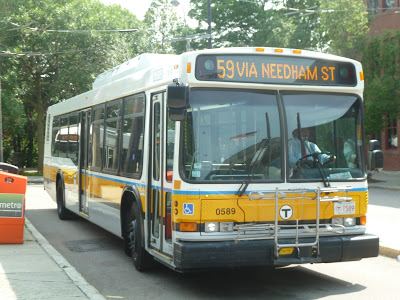 The bus coming into the Watertown Square busway.
The bus was slightly delayed coming into the Watertown Square busway because of some crossing geese. When it arrived, there were a fair amount of people waiting. "Well," I thought, "I guess this route has pretty good ridership." But then they all flocked to a 71, and it ended up being just me, my friend Noah, and a stranger riding the 59.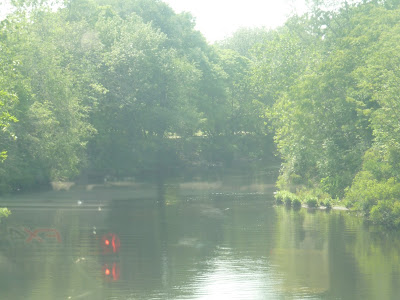 A bad picture of the Charles River.
We looped around south from Watertown Square and crossed over the Charles River. We then turned onto Watertown Street, which was a mixture of houses and businesses. About when we entered Newton, the street became lined with businesses, kind of out of nowhere. And right after that, it became entirely residential.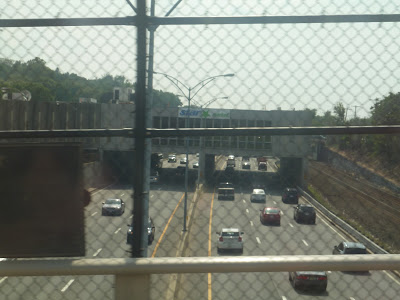 It's a bad picture, but come on, that's pretty cool.
We turned onto Walnut Street, and the retail came back at Newtonville Square. We crossed over the Mass Turnpike, getting a nice view of where it goes
under
a Star Market. After some more businesses, we went by the
massive
Newton North High School. From there, we went by some truly spectacular mansions. Like, this neighborhood was rivalling
the 51
, people!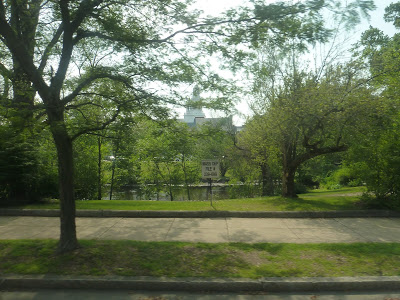 Is that Newton City Hall or a castle hiding in the trees? Honestly, it could go either way.
We went by the massive Newton City Hall. Seriously, it was huge. It had a pond separating it from the main street, for heaven's sake! Might as well be a moat. Anyway, we then passed a cemetery, and came across some businesses at the intersection with Beacon Street. The houses became more normally sized after that, until we reached the retail around Newton Highlands Station.
From here, most trips would turn onto Lincoln Street and go through a more residential neighborhood, but on weekdays certain trips take an alternate route. This bus was one of those trips, so we continued down Walnut Street. Soon after, we turned onto Centre Street, going under Route 9, then it became Winchester Street.
We then turned onto Needham Street, and it was pretty industrial. There were some office parks, as well as businesses with large parking lots. We then turned onto Oak Street, and then Chestnut Street, rejoining the main route. There were some lovely brick businesses here, then we turned onto Elliot Street.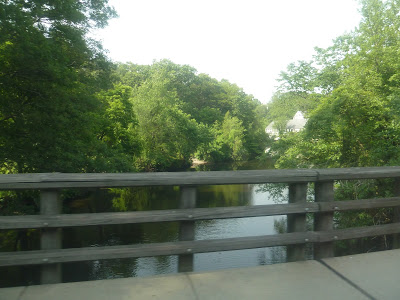 The second Charles River crossing of the review!
We crossed over the Charles again, then went under I-95. We were in Needham, and the street name changed to Central Ave, with houses on both sides. Soon we turned onto Webster Street, then Hillside Ave, then Hunnewell Street. The road crossed over the Commuter Rail tracks, then, at an intersection with very vivid blue crosswalks, we turned onto Highland Ave.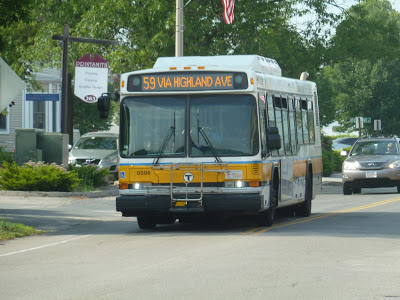 A different 59 heading down Chestnut Street.
We went by Needham Heights Station with businesses on either side of the street. These soon thinned out into houses, but it wasn't long before we came into Needham Center and there was retail once more. It was here that we turned onto Chapel Street, which became Chestnut Street. After going by a hospital and some steadily more depressing businesses, we turned into the Needham Junction parking lot, where a few people were waiting to go the other way.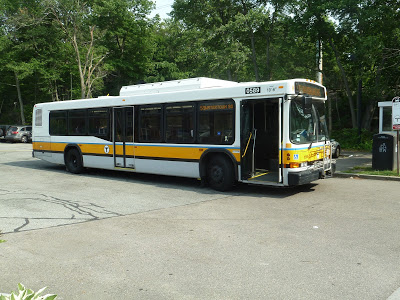 The bus stopped at Needham Junction.
Route: 59 (Needham Junction – Watertown Square via Newtonville)
Ridership: There were about 30 people on my ride. Barely anyone got on at Watertown Square, as I said before, but they fed on as we went along. Then at Newton Highlands Station, almost everyone got off while lots of people got on to continue to Needham. So the route is basically split into two parts. The 59 gets almost 1,500 riders per weekday – that drops considerably to 488 people on Saturdays, and even lower to 271 on Sundays, when it's the 8th worst bus on the system for ridership.
Pros: This is one of the few non-local Newton routes, and it serves a lot. It's also the only MBTA bus route that goes into Needham, and it kind of acts like a local alternative to the Commuter Rail there. The 59's weekday schedule isn't that bad, all things considered – it's every 35 minutes rush hour and every 45 minutes during the day.
Cons: Now, it has to be applauded that the 59 manages to run seven days a week. That said, it runs every 90 minutes on weekends, which is horrible. I suppose it makes sense based on the ridership, however.
Nearby and Noteworthy: This bus went by a surprising amount of businesses, like in Newtonville, Newton Highlands, and the stretch paralleling the Commuter Rail in Needham. Also, I know I said the 51 is a great mansion-gawking bus, but try taking the 59 between Newtonville and Newton Highlands and eat your heart out.
Final Verdict: 7/10
Yeah, the 59's schedule may not be the best. But look at the route – it goes through some pretty suburban areas. I think the fact that it runs seven days a week is great, even though the weekend schedule is atrocious. For what it's worth, the 59 is a pretty good route.