It's another "Center", except this one's spelled the British way! Yes, we're taking a trip on the D Line out to Newton Centre. I had actually come here once before when I was really little, back when there was a Starbucks right in the station building. That Starbucks is gone now, and I have no memories of when I was here before, so this is pretty much a fresh look.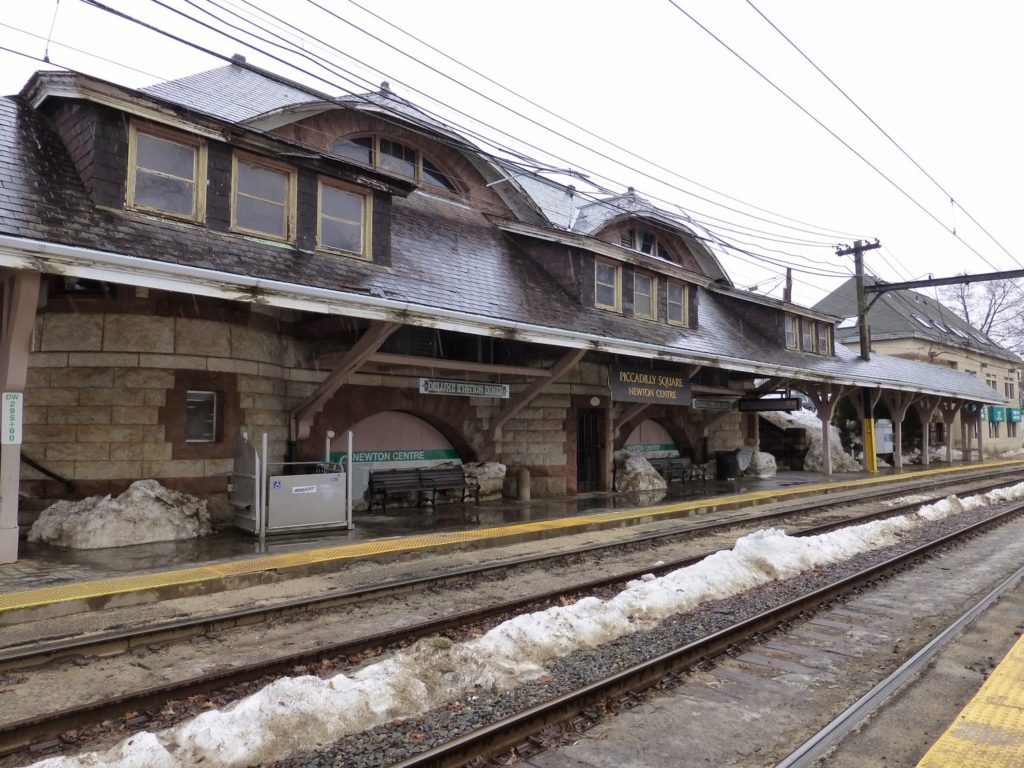 The old station building.
The outbound side of Newton Centre gets the perk of the old station building providing shelter. The building is in the National Register of Historic Places, and it's certainly a beauty. It now houses the Deluxe Station Diner, but I didn't go in. The building even has an old "Piccadilly Square – Newton Centre" sign!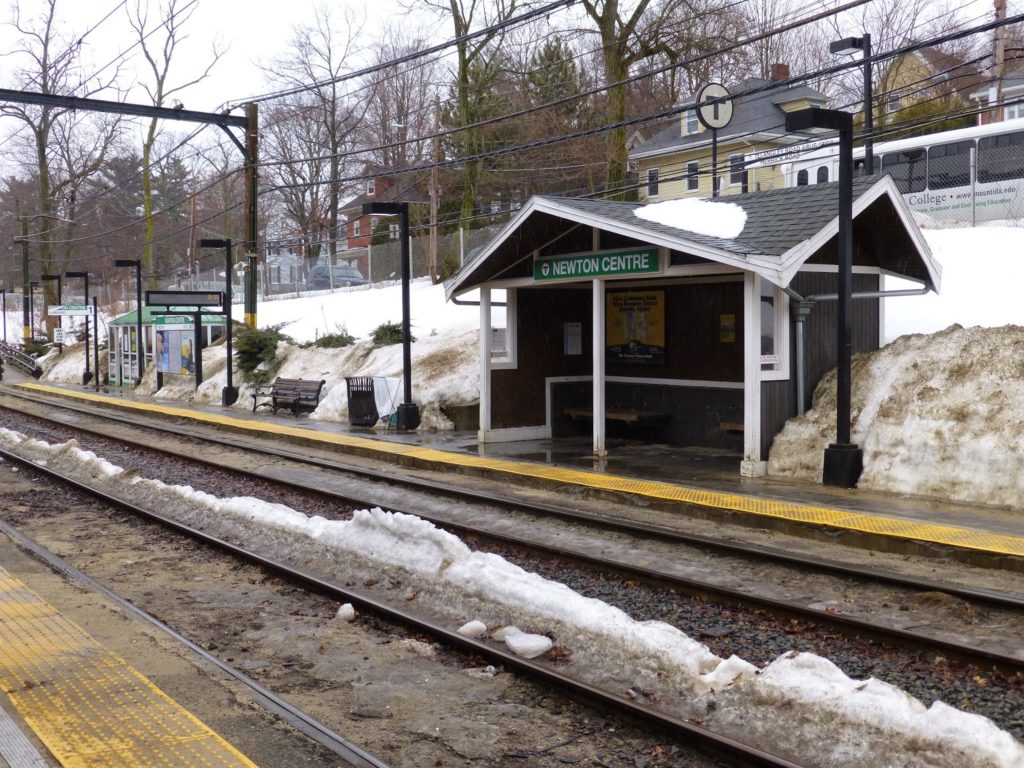 The more boring inbound platform.
The inbound platform is just a typical D Line platform. It has that classic wooden shelter and that classic heated CharlieCard shelter, plus a wheelchair ramp. There's also an entrance from the residential Braeland Ave down to this platform, but I didn't notice it when I was at the station. I do know that the entrance has a T symbol, which is always important yet something that some stations lack.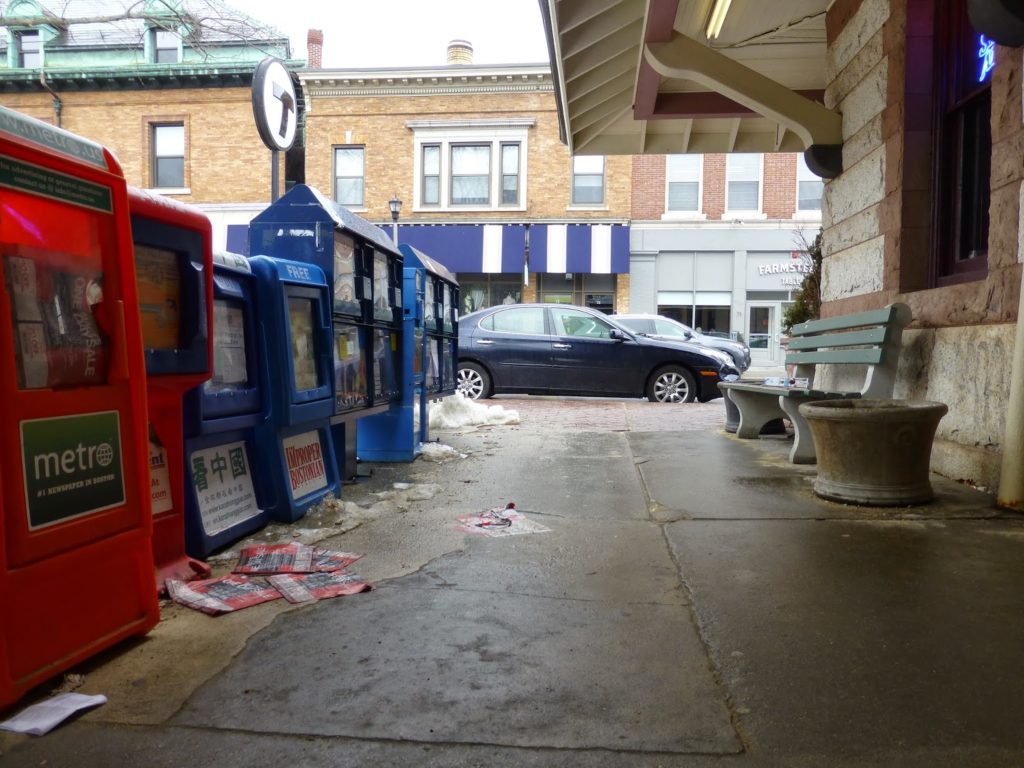 A ground-level view (I was going up the stairs).
The station has quite a few entrances, all things considered. The main one leads to an area with a bunch of newspaper boxes, as well as a bench. Entrances on Herrick Road and Langley Road are just long ramps that lead down to the station. Signage is really good around the station, so it's always easy to find if you're walking around the neighborhood. Unfortunately, this is also a "screw you" station, as I found out when I watched my train leave while I tried to run toward it.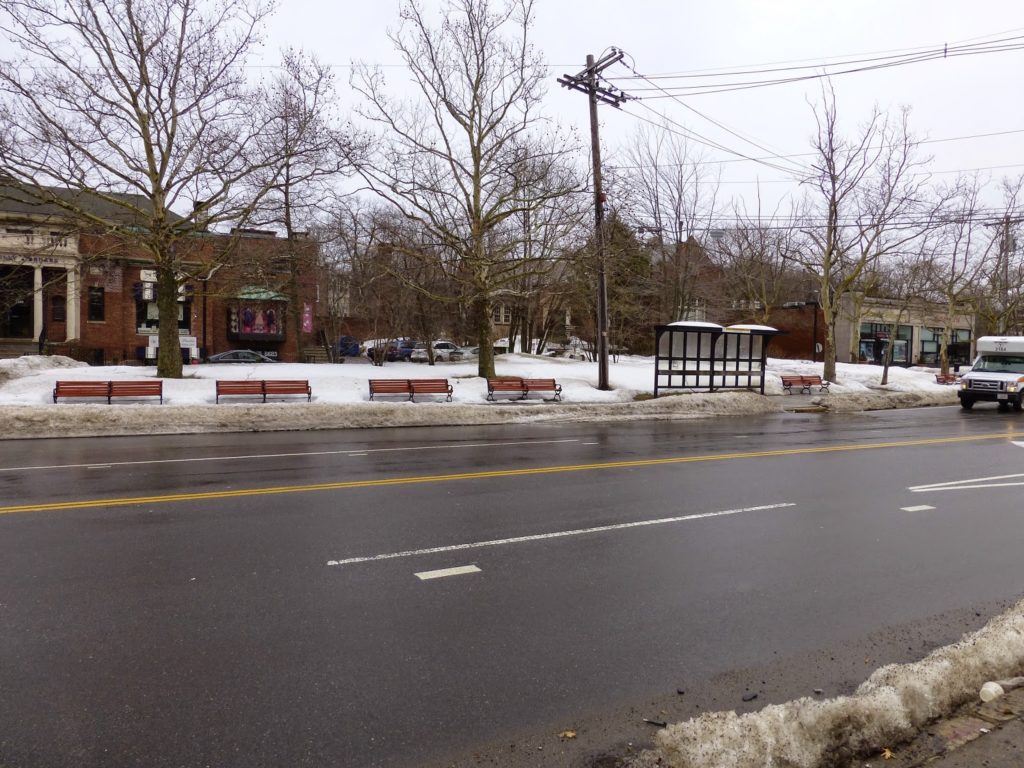 That's a lot of benches…
Newton Centre is only served by one bus route, and that's the extremely limited 52. Still, this is a train connection, so it makes sense to provide shelters. The outbound shelter had lots of litter around it when I was here, but it was fine. The inbound shelter was interesting in that it has five benches lined up next to it! I'm not sure if they're meant for waiting for the bus or if they're just random benches, but this is the 52 we're talking about. The 52! You do not need that many benches for the 52!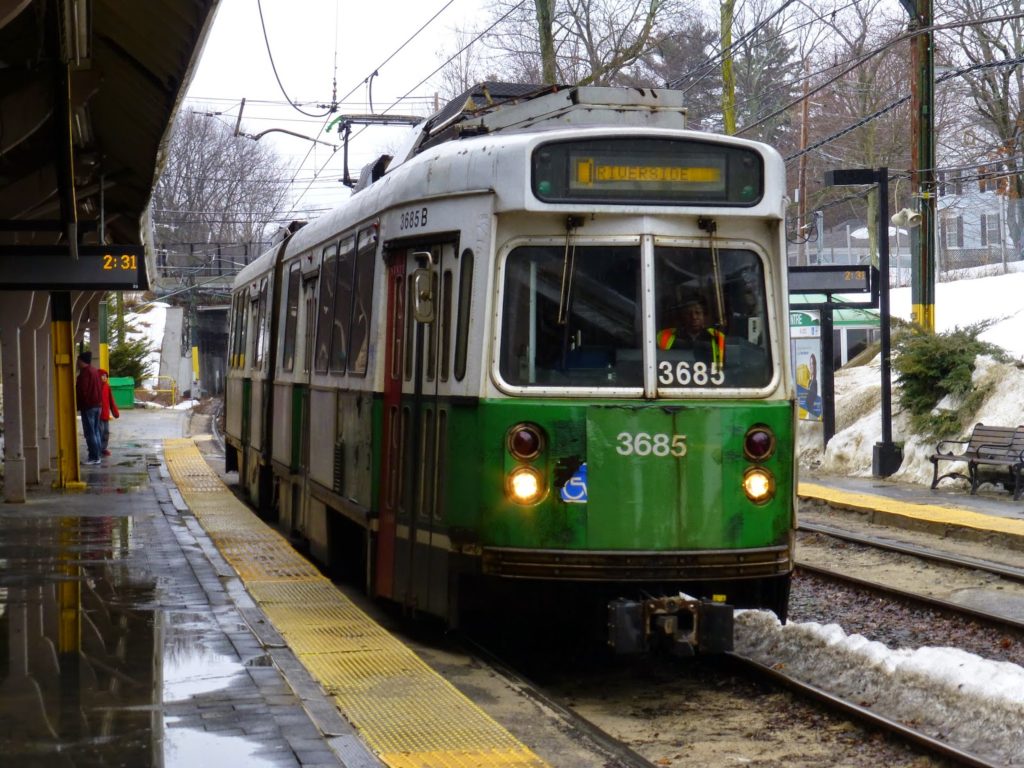 Aww, it's a cute little one-car!
Station: Newton Centre
Ridership: This is the D Line, so don't expect too much. That said, the station gets an average of almost 1,900 riders per day, which is pretty good, considering the line it's on. Most to all of this ridership is probably just local riders from around the area.
Pros: In terms of aesthetics, this is one of the better D Line stations out there. This is mostly due to the awesome old Newton Centre building, which is amazing even if it's on the outbound platform. As for the inbound platform, it still has those classic D Line wooden and heated shelters. Newton Centre has four entrances, so there are plenty of ways to get in.
Cons: One of the most important parts of any D Line station is tranquility, and unfortunately I didn't get a very tranquil feeling waiting for the train here. This was because of a noisy air conditioner outside of the old building that completely ruined any quiet, peaceful feelings this station may have had.
Nearby and Noteworthy: Tucked away in an alley is the Union Street restaurant. I ate there for lunch, and it was pretty good.
Final Verdict: 7/10
It's that typical D Line score. In regards to aesthetics, this station is excellent because of the great old Newton Centre building. Unfortunately, that radiator kind of ruined the tranquility here, and reminded me of the fact that there was civilization nearby. I'm sorry, but I like my D Line stations tranquil. Thus, I'm subtracting the extra point the building would've given the station.
Latest MBTA News: Service Updates