Yes! It's been way too long since I've reviewed a Commuter Rail station with some character! Serving throngs of beachgoers in the summer and hardy commuters in the winter, Gloucester Station is right where the action is (almost) in a beautiful North Shore city. Don't delay, let's take a look!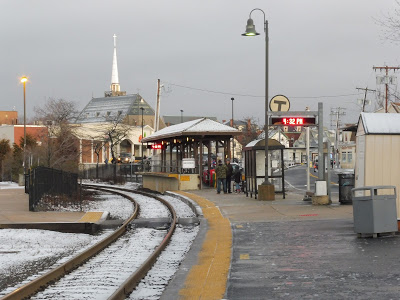 Gosh, this town is beautiful.
The directions I got to this station from a local were pretty lackluster. The way I was told to go involved trespassing through a McDonald's parking lot, sloshing through ankle-deep slush, and finally cutting into the station via its 100-space parking lot. There was also a small plaza on this side with a few bike spaces, a bench for a kiss-and-ride area, and a wastebasket. A level crossing led me across the single track to the platform.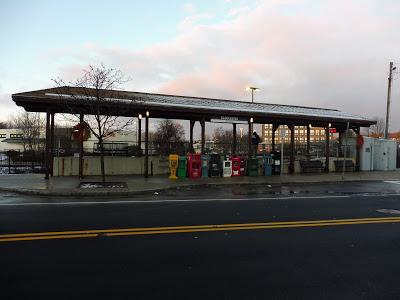 Looking at the station from Railroad Ave.
Honestly, it would've been more efficient for me to have used the entrance from the aptly-named Railroad Ave. This side also has some benches to allow people to wait for pick-ups, as well as a few spaces for taxis. In addition, a multitude of newspaper boxes line the shelter.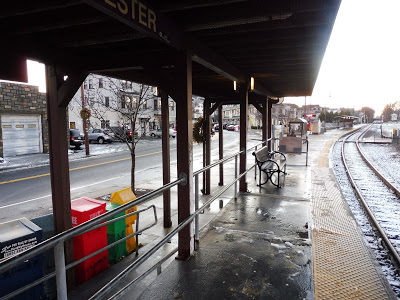 Atop the high-level boarding platform.
Most of the platform is low-level, but there is also a high-level boarding area for those with disabilities. Well, okay, it's for everyone, since you're not allowed to board the train anywhere else barring the morning rush, but you know what I mean. It's a nice wooden shelter with a ramp leading up to it. Alas, there's only one bench, but…I guess people can lean against the metal barrier?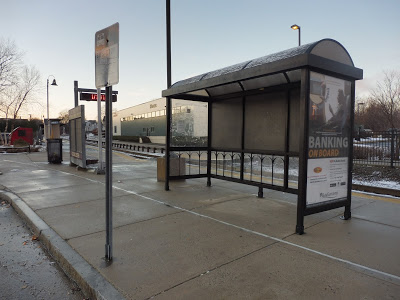 The CATA bus shelter.
Further down the platform, there's an LED screen, a bench, and a wastebasket. Also, the CATA has a shelter here, since a few of its routes serve the station. Although the shelter is benchless, I find it interesting that they could only afford one shelter, since the hub of the whole system in downtown Gloucester doesn't have one! In addition, there's a map over here to let tourists know how to get around town.
Another shelter further down the platform.
Near the station's level crossing on Washington Street, there's another shelter. Like the high-level platform, this one is wooden, but unlike the high-level platform, this one is completely useless. I mean, it has a bench and a few wastebaskets, which is nice, of course, but since everyone has to board at the high-level area, it doesn't matter much. That said, the two are much closer at this station than at others, so the walk from the low shelter to the high one isn't so bad.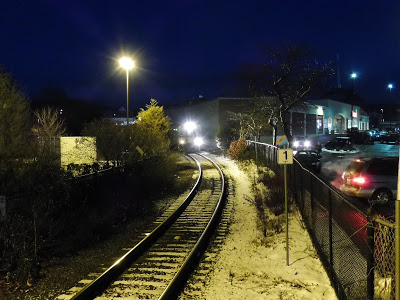 It was significantly darker when the train finally came.
Station: Gloucester
Ridership: It's the busiest station on the Rockport Branch! I mean, it has to be said that past the ridership behemoths of Salem and Beverly, ridership thins out, but still…Gloucester's 590 riders per weekday is pretty good. And of course, I'd imagine that amount gets much higher during the summer.
Pros: As I mentioned, this station is no slacker in the character department. The wooden shelters are great, plus it's accessible! In addition, the station's parking lot is definitely big enough, with a 77% availability rate on weekdays. Bike spaces, a taxi stand, and the CATA shelter round out the amenities.
Cons: Having a map at the station so tourists know where to go is great, but how about signage to the station? And yes, I know there are signs that point in its direction, but I followed one and then the signs just stopped and I got lost…that's all I'm gonna say. Also, I think a second bench on the boarding platform could be nice, since it probably gets crowded during rush hour. Oh, and while we're at it, put a bench under the CATA shelter!
Nearby and Noteworthy: I was only there for a couple hours, but based on that short time, I've decided that I love Gloucester. Seriously, this is such a beautiful seaside town (or city, I guess). With lots of businesses downtown, as well as historical sights and beaches further out, this is a great place to go in the summer. In the winter? Well…it's rather cold. But still beautiful.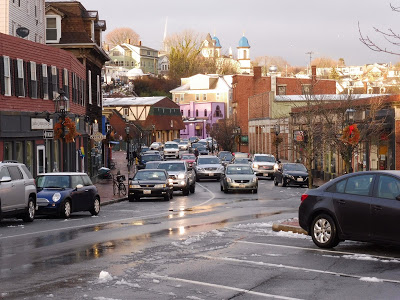 I mean, just look at Main Street!
Final Verdict: 8/10
I might be slightly influenced by Gloucester itself here, but still, this station holds its own. I love its shelters, and it has lots of amenities for all different methods of arriving here. The only main problem I have with the station is the whole signage thing, and I might've just misread one of the signs and got lost. It would be nice to put a few extra benches here, though, especially under the CATA shelter, but other than that, this is a fantastic station in a fantastic town that I heartily recommend you visit.
Latest MBTA News: Service Updates