As you may know, the blog's jurisdiction has expanded to non-MBTA systems, which I will now be doing proper reviews of! And what better way to start doing this than with a review of a Saturday-only express bus from Danvers to Gloucester? Okay, there are probably better ways, but we're looking at CATA's Yellow Line regardless.
The bus arriving at the mall.
I just want to point out that CATA has three routes under the "Yellow Line" umbrella, and they're all completely different. This one runs express from the Liberty Tree and Northshore Malls up to Gloucester, and it has to be noted that it stops at different places than the MBTA routes serving those malls. I have no idea why this is, but it's really annoying, especially since there's no signage for the stops.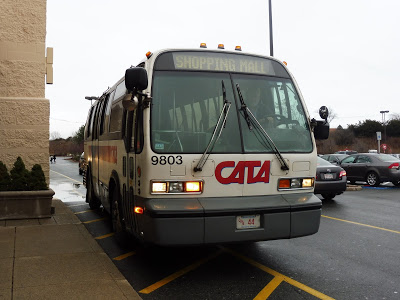 The bus at its unsigned Liberty Tree Mall stop.
I was quite excited to see that the bus was an old one, quite possibly one of CATA's oldest. Based on its number (9803), I would guess it's from 1998, but I'm not sure if CATA numbers its buses like that. Anyway, the inside of the RTS bus was pretty retro, with some interesting designs on the seats. There were strips to request stops, and a vintage-looking sign up front that lit up when the strips were pushed.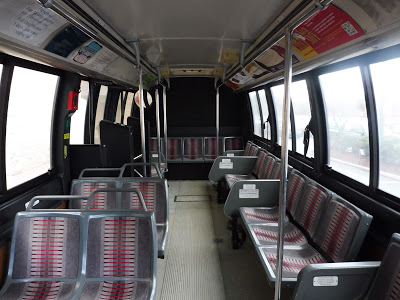 Looking toward the back…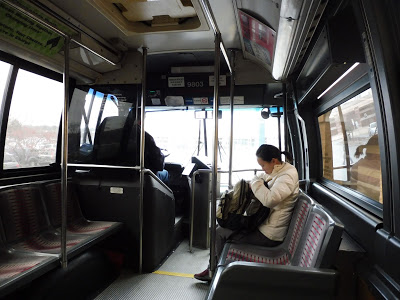 …and toward the front.
We left the Liberty Tree Mall and navigated through the parking lot, passing the MBTA stop for the same mall. We took the more direct route to the Northshore Mall (compared to the 435), which consisted of short sections on Independence Way, Endicott Street, Sylvan Street, and Andover Street. The whole time, the surroundings consisted of mostly parking lots and trashy businesses to go along with them.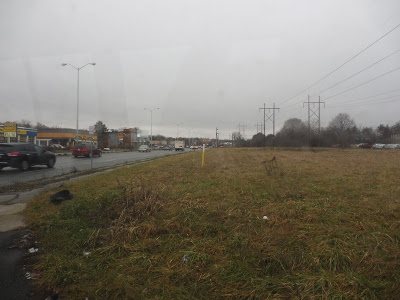 Unfortunately, since it was an old bus, the windows were rather dirty. Don't expect very good pictures.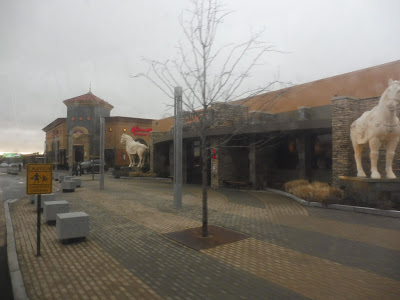 Horses! Okay, that's a nice touch.
The CATA's stop at the Northshore Mall is outside of JCPenney, the complete opposite side of the building from where the MBTA buses stop! And again, there was no signage! Are they trying to make sure no one knows the route exists? Anyway, we left the mall, crossed under Route 128, and turned onto Northshore Road. Eventually, this led to an interchange with the highway, and thus we started the express portion on 128.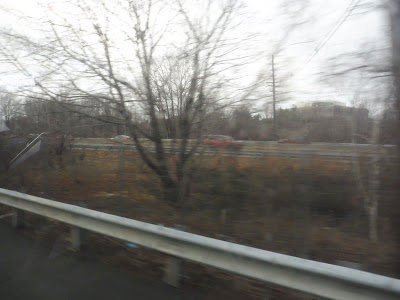 Northshore Road paralleled the highway for a bit, as seen in this totally not-blurry picture.
Now on the highway, we flew by the Northshore Mall again, and the Liberty Tree Mall a few seconds later, via a marsh. From there, houses were often in view, as well as the occasional office building. We whipped past a rest area with a gas station and a few fast food restaurants, but honestly, why would they put a rest area there? Route 128 terminates only about 10 miles away!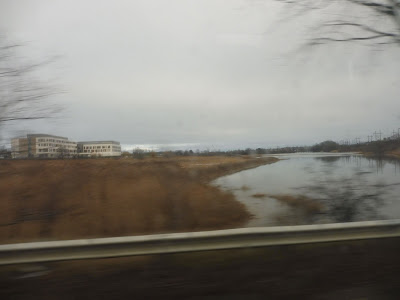 A marsh with an office park in the background.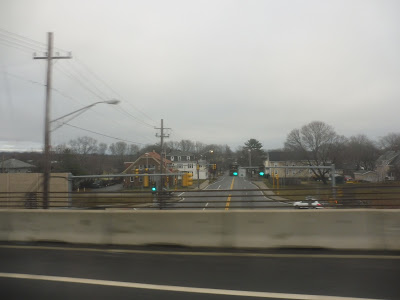 A local street.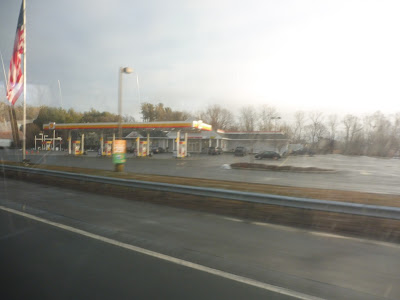 The rest stop.
After the rest stop, the scenery got a lot more boring. It was basically just woods on either side, and for a little while I found myself dozing off, glancing at the town names as we flew by. But once we entered Gloucester, the forest started to get more snowy, and I was wide awake. We were getting closer!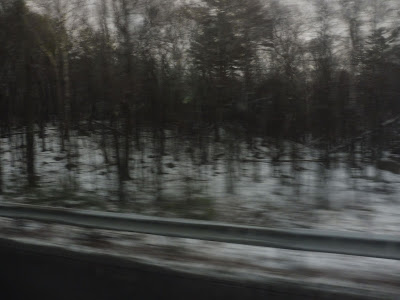 The blurry, snowy woods.
Eventually, the highway went right up alongside a big harbor, offering a lovely view. And then we went up onto a high bridge over the water, which gave an even better view of everything! There were woods for just a little bit longer on the other side, and then we reached a rotary, marking the end of the express portion.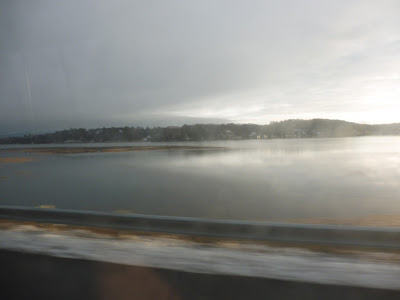 Gosh, imagine how great this view must be when not viewed through a dirty window.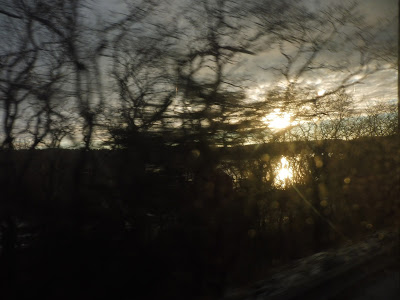 The sunset!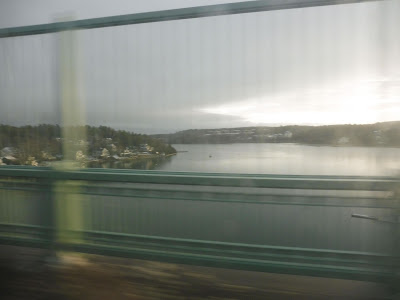 Okay, I'll admit, this would be a hard view to capture even without the dirt, since it's through a fence.
We merged from the rotary onto Washington Street, which was lined with dense houses. Eventually, we reached a level crossing with the Commuter Rail, going by Gloucester Station in the process. After some retail near the station, the houses came back and the street sloped downhill.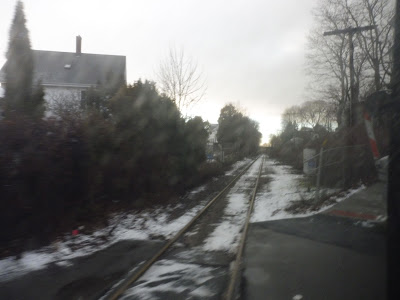 Crossing over the single Commuter Rail track.
The businesses started to seep back in, culminating when we came down to the water. Here, we turned onto Rogers Street, which passed a lot of parking lots on land and boats in the water. To be honest, the "main drag" of Gloucester is Main Street, which is a block away, but the relative griminess of Rogers Street had some charm, too.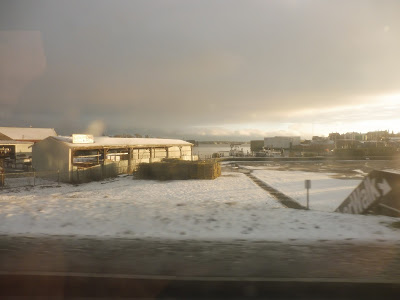 This was the only reasonably non-blurry picture I could get of the Rogers Street scenery.
Eventually, it got a little less dense. We got to a Dunkin' Donuts, and here we turned onto Manuel L. Lewis Street. Now, I wouldn't have mentioned that there was a Dunkin' Donuts were it not for the fact that that is actually the name of the hub of the CATA. And what did the hub look like? A single unsheltered bench. Well, this is a small transit company, after all.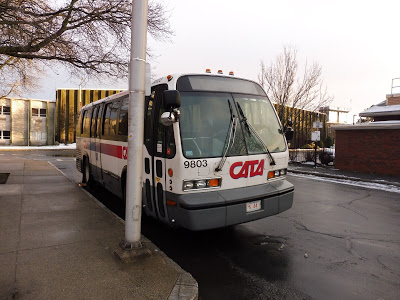 The bus laying over.
Welcome to the grand hub of the CATA!
CATA Route: Yellow Line (Gloucester – Danvers – Peabody)
Ridership: This is the busiest full-year CATA route on Saturdays, with just under 100 riders every week. My ride didn't make it seem like that, though, with a whopping 3 passengers, including me. Perhaps it's because I rode the bus on Martin Luther King Day weekend?
Pros: This bus is fast! Seriously, it only takes half an hour to get from Gloucester to the malls, and 40 minutes to get back. It's a great link for shoppers in Gloucester to get to two gigantic malls with lots of stores for all your material needs. Also, something I'm gonna have to get used to with non-MBTA systems is limited schedules, and this one is no exception. However, it makes sense considering its usage, running every hour and a half, five trips per day. It's not a good schedule per se, but there's not much point in running it more often or on days other than Saturday.
Cons: Unfortunately, the premium speed comes with a premium fare. Well, a premium fare relative to typical CATA fares, which are a dollar. The mall bus will set you back $3 one way and $5 round trip. But honestly, some MBTA express buses cost more than 5 dollars one-way, so that's a decent price. However, a proper problem I have with this route is the lack of signage at the malls! How about letting people know that there's a bus that can take them to Gloucester, should they be coming from there?
Nearby and Noteworthy:
Well, the only reason anyone would use this bus is to get to the malls, and I've already given my
opinions
on them. I could talk about how amazing Gloucester is, but no one would actually
use
this particular route to get there. I have a review of Gloucester Station coming soon, though, so I'll talk about the city then.
Final Verdict: 8/10
Okay, okay, the fact that this service exists gives it major points. I mean, an express from Danvers and Peabody to Gloucester! It's niche, but since it's CATA's busiest Saturday route, clearly it ought to be there. The schedule makes sense, as do the increased fares, so there really isn't much wrong with this route. The only issue with it is the signage (or lack thereof) at the malls, and I think a bit of marketing toward Gloucester shoppers would be great. The best case scenario would be for the route to stop at the same stops as MBTA buses, but I'm not sure if CATA is allowed to do that.