This is a pretty hard route to have a catchy intro for. I mean, the 88 is a very simple bus that just gets its job done. It runs mostly through Somerville, with a brief section in Cambridge as it comes into Lechmere. Um…and that's about it. Let's look at the route in more detail.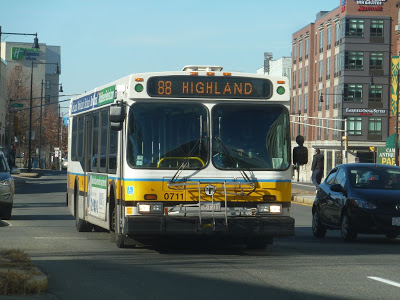 The bus coming toward Lechmere on McGrath Highway.
Heading down McGrath Highway from Lechmere, we went past various hotels and industrial buildings, then passed the Twin City Plaza shopping mall. The road then rose up to cross over the Commuter Rail tracks, and then we exited off the highway as it went onto an elevated section. After we crossed Washington Street, the highway returned to ground level and we turned onto Medford Street, then Highland Ave.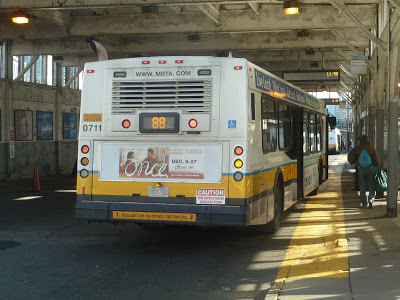 In terms of the route, this picture comes before that first one, but I just like the first one more…
We passed the Somerville High School/City Hall complex, then the surroundings became more residential. The street was lined with houses, as well as a few apartments here and there. At important intersections, there would be occasional businesses blocks, but they were outnumbered by the houses for sure.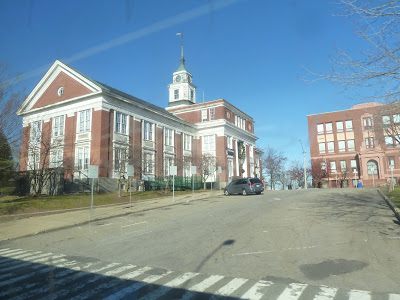 City Hall!
There wasn't too much variety in the surroundings overall, except for a small hospital and a fire station. And we were just about to reach the businesses of Davis Square, but we turned onto Grove Street just before. We then pulled into the Davis Square busway, exchanging a few passengers, and from there we made our way to Holland Street.
Leaving Davis Square behind, the street became lined with dense houses as we passed a field and playground. The retail came back at Teele Square, where we merged onto Broadway. It was a decent mix of houses and businesses until we reached the three huge apartment buildings of Clarendon Hill. Here, we turned into the busway and let the few remaining passengers out.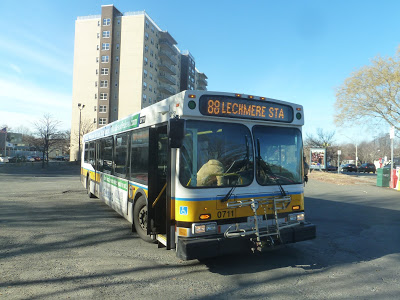 The bus, with one of the apartment buildings behind it.
Route: 88 (Clarendon Hill – Lechmere Station via Highland Ave)
Ridership: On weekdays, this is the busiest "80" route out of Lechmere, with 4,075 average riders. It drops a bit below the 87 on weekends, but the ridership is still high – 2,794 riders on Saturdays and 1,664 on Sundays. My Saturday ride had pretty good ridership, with about 30 people in total.
Pros: This isn't the only bus route on Highland Ave, but it might as well be, since the 90 runs about as frequently as a sack of potatoes. Luckily the 88 can pick up the slack, since its schedule is pretty good: every 16-20 minutes during rush hour, every 20-25 minutes during the day, every 20 minutes on Saturdays, every 30-40 minutes at night, and every 40 minutes on Sundays.
Cons: Honestly, there isn't much. The only real complaint I have is that the night and Sunday schedules aren't that frequent. And the latter could be more efficient, with two buses operating with long layover times at Lechmere.
Nearby and Noteworthy: Davis Square, simple as that. I'm sure there are other fine businesses along the route, but you'll find the highest concentration of good ones in Davis Square.
Final Verdict: 8/10
Well, the three "80s" routes from Lechmere have all gotten consistent 8s, and for good reason, too. They all serve very dense neighborhoods, and they all have pretty decent and efficient schedules. Sunday is the only time when the 88 doesn't run that often, but it has to be said that it's coordinated with the 87 to run every 20 minutes, which is much better. Not enough to raise the score, but much better.
Latest MBTA News: Service Updates
Merry Christmas, everyone! The MBTA is running on a Sunday schedule today, just to let you all know.