The 14 has always struck me as a bit of a weird route. For one thing, its northern terminus is Heath Street, making it the only bus that terminates there (though the 39 goes by that stop, too). For another, the 14's southern terminus is Roslindale, which seems odd. Isn't that an isolated place for the route to end? Well, let's find out.
Night pictures are hard, okay? This is the bus on Corinth Street.
The route starts out next to the Roslindale Village Commuter Rail station, but I got on a stop later on Corinth Street. Since the stop was on a corner, we immediately turned onto Washington Street, then Cummins Highway, leaving the businesses of Roslindale Square behind. The street was mostly residential, but there were a couple of churches and schools, too.
We crossed over the Providence Line tracks, then turned onto Hyde Park Ave right after. The wide street was commercial/industrial for a little while, then it became lined with houses. And just as it started to get industrial again, we turned onto the equally wide American Legion Highway.
We passed a huge shopping plaza, then crossed Cummins Highway a little further north. Interestingly, we were only two blocks from where we had originally turned onto Hyde Park Ave. Continuing past that intersection, there were houses for a bit, then we passed another big shopping plaza.
After a few more businesses, we entered the Boston Nature Center. As the name suggests, the surroundings were basically just woods, and they whizzed by as we sped through without any stops. We crossed over Morton Street on a bridge, then we started get back to civilization. With Franklin Park on one side and apartments on the other, the highway curved east.
We merged onto Blue Hill Ave, joining a few other routes. Passing the Franklin Park Zoo, the street became lined with apartments, but once we reached Grove Hall, the businesses came back. It was here that we turned onto Warren Street, which meandered its way past mostly apartments. However, there was retail again soon enough, as we went by the third shopping plaza on the route, the Mall of Roxbury.
It was mostly residential north of the mall, with the businesses returning once we reached Dudley Station. After pulling into the busway and (surprisingly) not picking anyone up, we started to head down Malcolm X Boulevard. However, instead of going with the many other routes heading for Ruggles, we followed the 41 and turned onto Roxbury Street.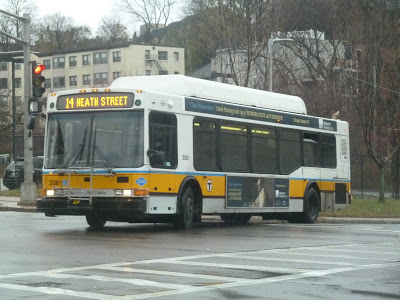 Aw, yeah, a picture from earlier in the day! Too bad it's blurry…
Reaching a bit of retail at John Eliot Square, we followed Centre Street, which was lined with houses. The street started to go downhill and curve west, where we turned onto Columbus Ave, pulling into the Jackson Square busway right after. Returning to Columbus Ave, we headed north again, this time turning onto Heath Street.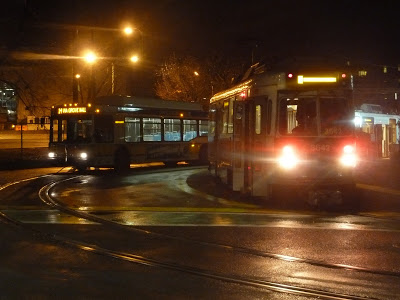 The bus and a Green Line train at the Heath Street Loop.
We went by the infamous Heath Street projects, then around a small little rotary. There were a few more apartments after that, which soon became houses. After a school, we passed some more apartments and the huge V.A. Hospital building. And right after that, the driver let us off, and the bus went around the Heath Street Loop to lay over.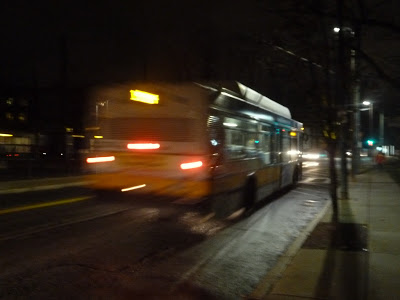 The bus speeding away.
Route: 14 (Roslindale Square – Heath Street via Dudley Station, Grove Hall, and Jackson Square Station)
Ridership: My ride was at 5 o'clock on a Saturday, so you can imagine that it wasn't too busy. In total, there were only about 15 people in total who rode. For a pretty niche route like the 14, though, it gets decent ridership overall: an average of 1,377 riders on weekdays and 1,030 riders on Saturdays.
Pros: This is the only bus to Roslindale that doesn't go up Washington Street to Forest Hills, which is both good and bad. On one hand, the bus is the only direct connection from Roslindale to Blue Hill Ave and Dudley Square, and it's fast. Well, the part on American Legion Highway is, anyway. Once it gets more local, it slows down. Finally, I like how the bus goes a little past Jackson Square to terminate at Heath Street, giving the station its second bus connection.
Cons: Of course, since this is the only Roslindale bus that doesn't go to Forest Hills, its terminus feels kind of isolated. That doesn't matter too much, though, since Washington Street is crowded enough with other routes. No, the real problem is the schedule. The 14 runs a miserable every 40 minutes during rush hour, every 63 minutes during the day (how specific), every 35 minutes on Saturdays, and not at all nights and Sundays.
Nearby and Noteworthy: On the route's independent portion, there are a few shopping plazas, as well as the Boston Nature Center, which looks like a nice park in the middle of the city.
Final Verdict: 5/10
As a route, the 14 is pretty good. It may not serve a lot on its own, but it connects some important parts of Boston and it does it with speed. But the schedule could really be better. Every 40 minutes during rush hour is just ridiculously infrequent, and though the route runs pretty often on Saturdays, the complete lack of Sunday service is a dealbreaker.
Latest MBTA News: Service Updates