My friend Michael and I had just walked from Central Square, Cambridge all the way down to Roslindale. Sitting in an empty pizza joint eating really bad pizza, we silently looked out the window at Washington Street. Night was falling. Finishing the food, we stepped out into the cold rain, trudging past some hearty souls listening to live music at a small park in the village. And then we arrived at our destination: a really boring Commuter Rail station.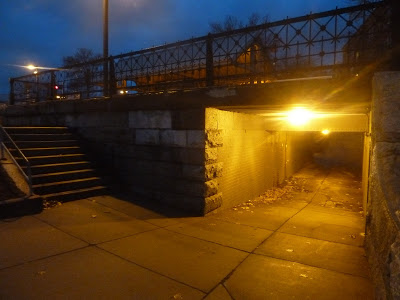 There's no live music here, that's for sure.
Coming from Belgrade Ave, the Commuter Rail station is up on an embankment. In order to get up to it, there's a set of stairs leading up to the single track, where you can cross over to the platform. If you have a disability, you can use the station underpass, which goes under the tracks and comes up on the other side, where the platform is at ground level. As you can see in the picture, however, the underpass is low and dingy, especially at night.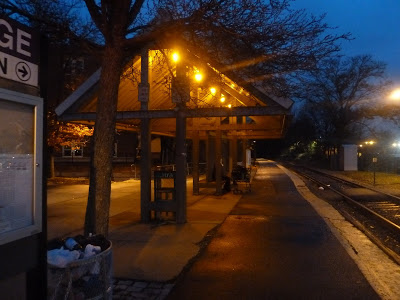 The station shelter.
Roslindale's shelter is a generic Needham Line shelter, and I've talked about how I'm not a fan of the Needham Line's shelters. Like most other stations on the line, Roslindale's shelter is just metal, and has a single bench under it. It also has a lone newspaper box, as well as a wastebasket a little further down the platform.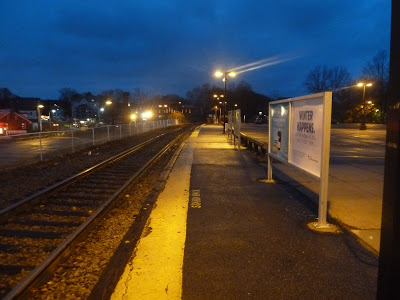 Looking down the platform.
As with any Needham Line stop, the boarding area is waaaaaaaay on the other side of the station! Thus, you get to walk on bare asphalt, passing a bunch of ads along the way, in order to get to your train. Perhaps this is some sort of subliminal messaging on the advertisers' parts?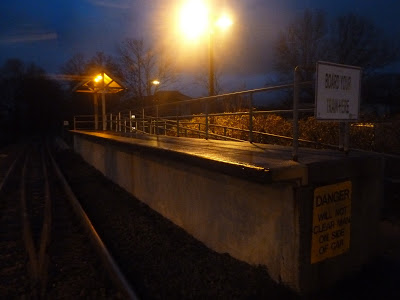 The boarding platform.
You know, I had gotten used to having nice boarding platforms with a few benches to comfortably wait for your train. But nope, this is the Needham Line, where amenities are unheard of! Roslindale's high-level boarding platform is just a tiny shelter, and…yeah, that's it. There's really nothing else to say. Next!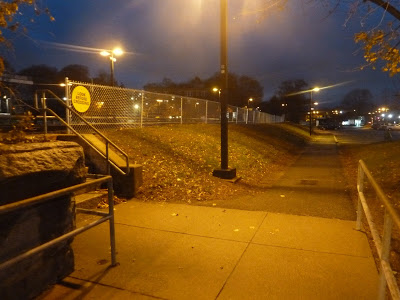 The station's third entrance,
On the western side of the station, there's one more entrance. Two staircases, one for each side of the platform, descend from the station to Robert Street. The stairs are pretty rudimentary, but having an entrance over here is convenient for those coming from the west.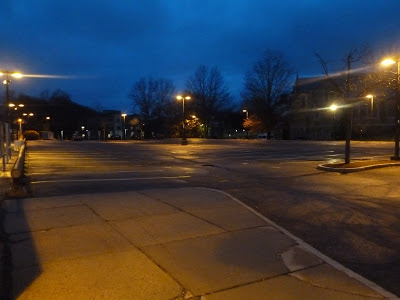 The station's larger parking lot.
There are parking lots on both sides of the station, one to the south, and one to the north. The southern lot is next to Belgrade Ave, and is pretty much right next to Roslindale Square. The northern (and larger) lot is on South Street, right in a residential area. All of the parking amounts to 160 spaces, which are 80% empty on weekdays – better safe than sorry, I guess.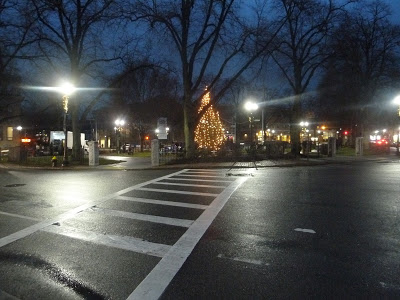 No train pictures this time, so here's Roslindale Square! Hard to believe we're still in Boston.
Station: Roslindale Village
Ridership: This is the fourth-busiest station on the Needham Line, with 423 inbound riders per weekday. I'm honestly surprised that the ridership is so high, considering there are so many buses that go from Roslindale to Forest Hills. If you use the Orange Line to get downtown from there, you save almost four dollars! Of course, the Commuter Rail's more direct, though.
Pros: Well, I literally said this a sentence ago, but the Commuter Rail provides a fast, direct route from here to Boston. In addition, Roslindale has a huge amount of parking, considering that it's in a dense area. Finally, the station is accessible, which is always good.
Cons: It's so boring and bland! I mean, this is the Needham Line, that's nothing new, but still! Aside from the fact that the station is elevated, there's nothing aesthetically pleasing about it. The shelter is boring, the platform is just asphalt, and the boarding platform literally just that – a platform with no benches at all. Yes, I know that's the norm for the Needham Line, but that doesn't make it a good thing.
Nearby and Noteworthy: Roslindale Village has a bunch of restaurants and businesses, as well as the Bay State Model Railroad Museum. Unfortunately, I just missed the Holiday Open House, but mark your calendars for March 5-6, the Spring Open House. If you think you might be interested in visiting the museum, check out my post from way back when about my visit. I was so young back then…
Final Verdict: 4/10
The sad thing about this score is that I really love Roslindale Village. Honestly, it's a very nice place that feels like a suburban downtown, and yet it's right in Boston. But…this station is so bad. It's mostly bare, with the only bench being a million miles away from the boarding platform, and under a really bland shelter. The final blow, though, is the fact that bus service from here to Forest Hills is so frequent. I get that the Commuter Rail is much faster, but if I were here on a Saturday, I wouldn't even consider it. Sorry, Roslindale…but you're in a great little neighborhood, at least.
Latest MBTA News: Service Updates
I would be remiss not to talk about the runaway train this morning. Luckily, no one was hurt, but you can find more info here.