Well, you know I wouldn't have gone to South Attleboro without a trip into Rhode Island, right? There were two buses waiting when my friend and I got here on the train: the 1 and the 35. Both were going to Providence, but the 1 continues further south from there, so we decided to take the 35 so we could say we did the whole route.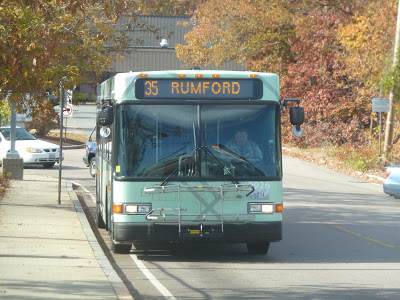 The bus from down the street…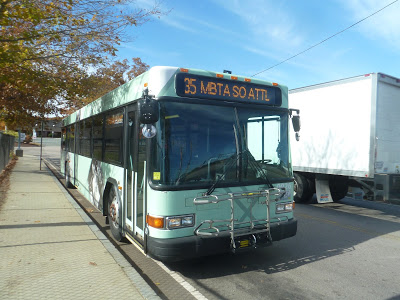 …and closer up.
RIPTA's fare system can seem way more complicated than it is, but the important bit is that it costs two bucks to take the bus, which is a nice even amount. The inside of the vehicle was decked out in an ad, and it looked pretty cool. The presence of pull cords instead of buttons for stop requests was fantastic, and there were automatic announcements for major stops.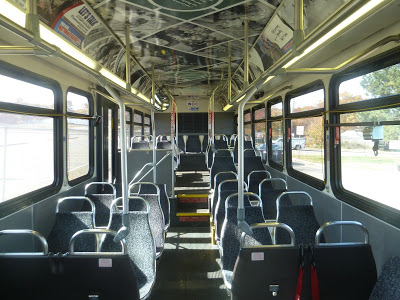 You gotta admit, that's a nice interior.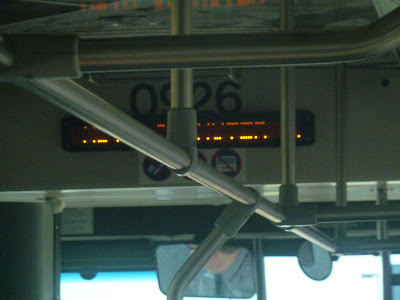 Ahh, these screen pictures never come out right!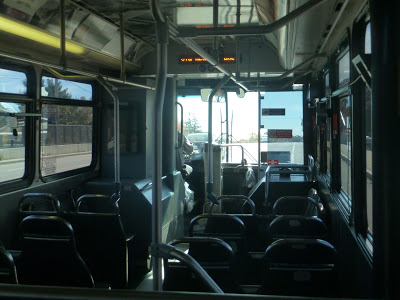 Looking toward the front of the bus.
Leaving the street stop on Collins Street near South Attleboro Station, we turned onto the wide Newport Ave. Almost immediately it rose up to a bridge, going above the parking lot of the station. We then crossed over the Commuter Rail tracks, entering Massachusetts' stately neighbor to the south.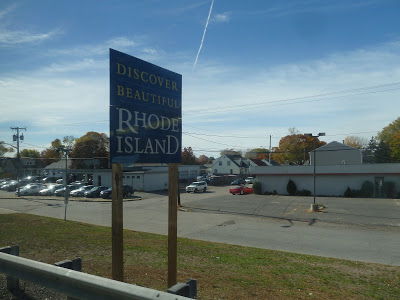 Into the land of the unknown…
Now, I think it's fair to say that much of northern Rhode Island is quite urban and gritty. Honestly, I like that about it for some reason, and it was quite prominent on Newport Ave. Telephone wires criss-crossed the street, which was lined with fast food restaurants and auto shops. Yet for some reason, I was enjoying the neighborhood. Okay, so it was sort of pitty, but…well, maybe I was just excited that I was in another state.
Wow, those are some huge pylons!
As we continued south, the surroundings got pretty consistent. At every intersection with a major street, there were businesses; otherwise, Newport Ave was lined with dense houses. At one point, however, we passed a Hasbro factory, which was interesting. After going by a park, we went under some massive pylons, then we passed a couple of gigantic shopping plazas.
Newport Ave eventually merged into Pawtucket Ave, but we turned onto Wilson Ave right after. This street was much quieter, with lots of trees and more spaced out houses. Strangely, there was no sidewalk, which added to the suburban feel.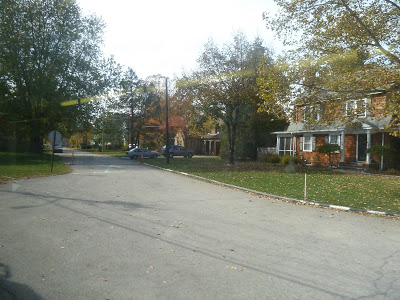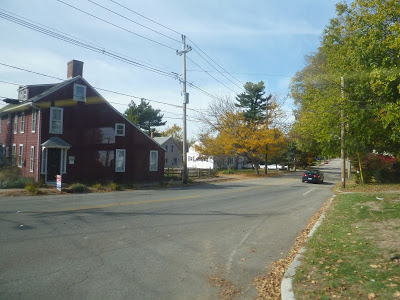 Two residential views.
Eventually, Wilson Ave came to an end, and we turned onto Roger Williams Ave. This street ran alongside a pond, but alas, houses were blocking the view. After going under a single railroad track, we turned onto North Broadway, which was lined with gritty businesses like before.
Oh, look, it's the pond…sort of…?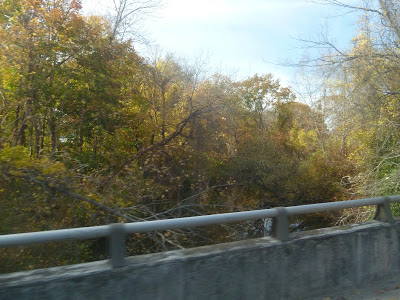 Going over a small river.
We then passed through an interchange with the Henderson Expressway. This was interesting, since the interchange was basically incomplete. From what I can tell, the Expressway was supposed to go beyond this connection with North Broadway, but it never did. The unfinished stubs of the highway were still visible.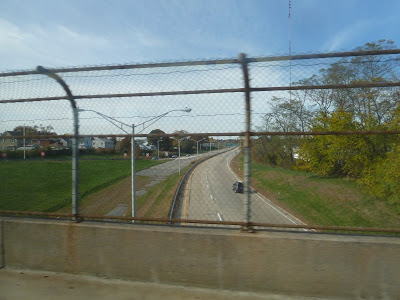 This interchange is fascinating!
North Broadway headed down into an underpass, but we exited off just before, turning onto Waterman Ave. Another gritty street, it curved north to parallel the Seekonk River, becoming Massasoit Ave in the process. We reached another interchange with the Henderson Expressway, heading onto a ramp and joining it. It rose up onto a bridge over the river, offering a nice view, then the highway ended with another unfinished stub (poor Henderson Expressway), and we exited onto South Angell Street.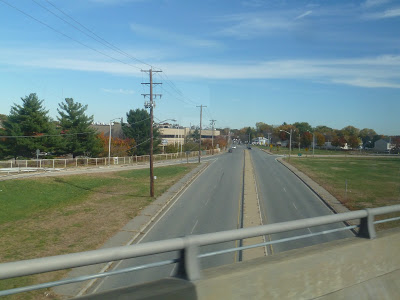 Looking down Massasoit Ave from the bridge.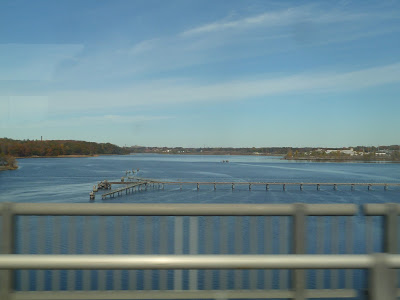 The Seekonk River.
We were in Providence now, as South Angell Street merged into Angell Street proper. And I gotta say, I loved this neighborhood. The one-way street was quite leafy, and history was just oozing out of the houses that lined it. As we continued west, it got denser, culminating in a bunch of small businesses when we turned onto Thayer Street. This is considered to be the "trendy" part of Providence, due to the varied and interesting businesses, and their proximity to nearby Brown University.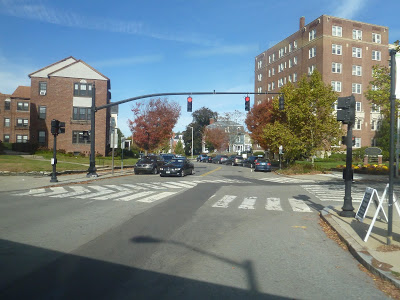 This is where South Angell Street and Angell Street merged.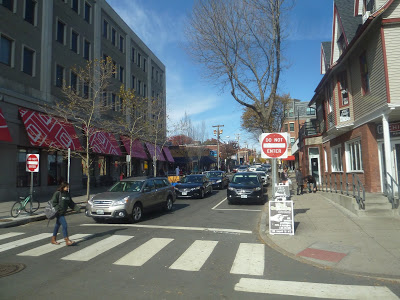 Okay, Thayer Street may look boring in this picture, but it gets a lot more interesting a few blocks away.
We didn't get to experience this neighborhood for long, though, because we arrived at my favorite part of the whole trip: the East Side Trolley Tunnel. Built in 1914, this tunnel was originally built so streetcars didn't have to contend with the steep hill above. It was converted for buses in 1948, and could be considered the first bus rapid transit route in America! I had done my research before the ride, so I was excited.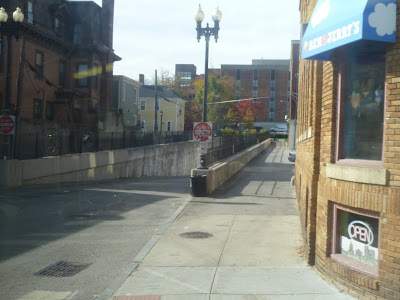 *gasp* The portal!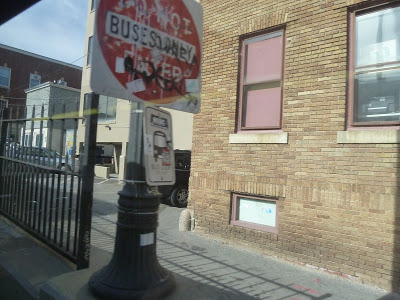 The heavily-graffitied "buses only" sign. Oh, man, I'm so excited. Which might explain the blurriness…
I was surprised at how quickly the bus travelled through the tunnel. It was reminiscent of the Harvard Bus Tunnel, except faster and without any stops. In what seemed like no time at all, we popped out of the tunnel just east of downtown, making a few quick turns onto Steeple Street.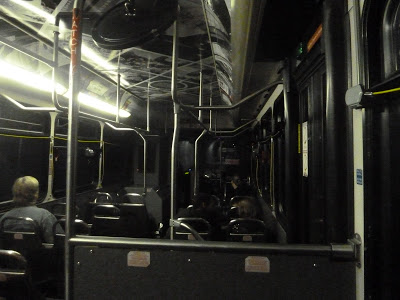 The bus shrouded in darkness.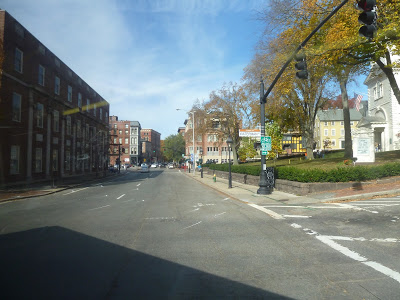 This was right after we came out of the tunnel.
After crossing over the tiny Providence River, we turned onto Memorial Boulevard, now in the Financial District of downtown Providence. We then turned onto Kennedy Plaza, which was in the shadows of the tall buildings that lined it. The narrow street widened into Kennedy Plaza proper, which is the central hub of RIPTA. I'll be covering the transit center in a later post, but there's one more bus to talk about first. See you then!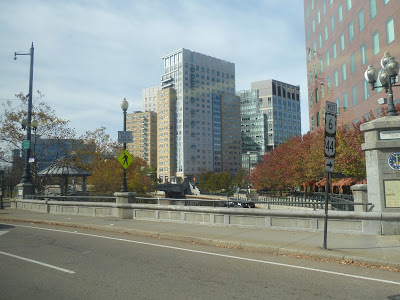 Some apartments in view as we cross the river.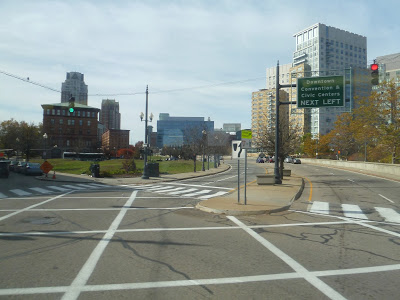 Another view of the city.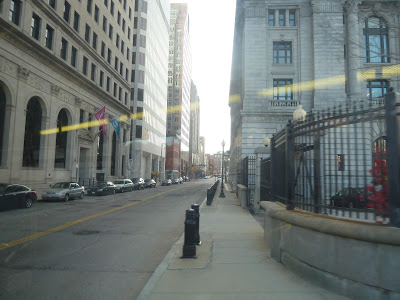 Turning onto Fulton Street.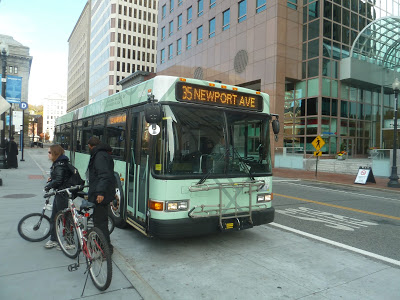 The bus in Providence.