You know, every time I ride the Commuter Rail or Amtrak through Attleboro Station, I always think "Wow, this looks like a really nice downtown!" But South Attleboro? Ehhhhhhh. If you like big malls and decrepit train stations, this is the place for you.
Looking down the platform.
The majority of the platform is simply asphalt. There's a shelter on the inbound side, but it doesn't matter much, since it's quite far from the boarding platform. Speaking of the inbound side, the only way of getting to it is this really horrible footbridge. I mean, two of its staircases have been closed because of rust damage, and the whole thing looks really flimsy and unsafe.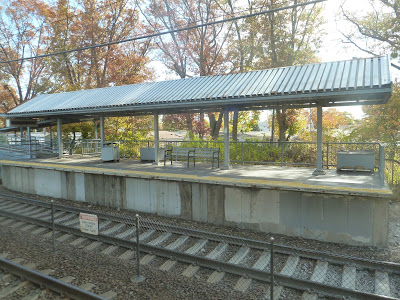 The inbound boarding platform.
The station's boarding platforms are pretty barebones. The inbound side has one bench, while the outbound side has two (for some reason). Also, they both have a single wastebasket. Annoyingly, the outbound side's ramp to the boarding platform comes from outside the station. If you're on the low-level platform, you actually have to leave in order to get up to it. I'm not saying too many people are going to be going outbound from here, but that said, they gave that platform double the benches, so you never know.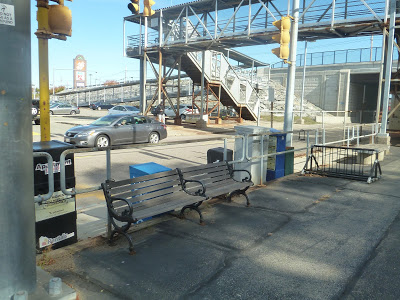 A part of the platform.
As you can see, there was some random paraphernalia along the outbound platform. For one thing, you've got a few newspaper boxes, spread out with no rhyme or reason. There was also a bike rack that was just kind of…sitting there. Unsurprisingly, it was empty.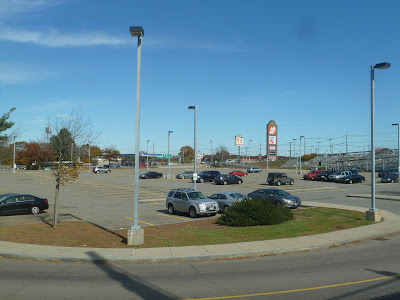 Looking out into the parking lot.
Considering that the area around this station isn't very pedestrian-friendly, it makes sense that it would have a large parking lot. Yet even though it has quite a few spaces (568), the lot can get strained during rush hour. This is because the station gets quite a few commuters from Rhode Island, which is only a few hundred feet away. Plus, there's a highway interchange just north of the stop.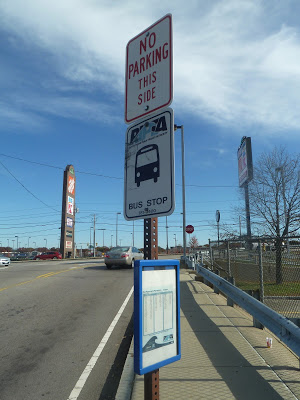 This is about it for bus amenities.
Weirdly, despite being in its service area, the GATRA doesn't actually serve South Attleboro. However, the RIPTA operates two routes that terminate here, both of which go to Providence, taking different routes through Pawtucket. Unfortunately, the stop here is literally just a sign, and it's hard to find since it's on the other side of the parking lot. This station could really use a bus shelter at least.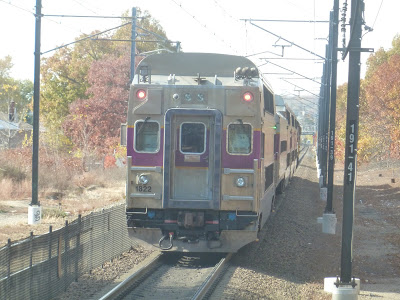 A Commuter Rail train leaving the station.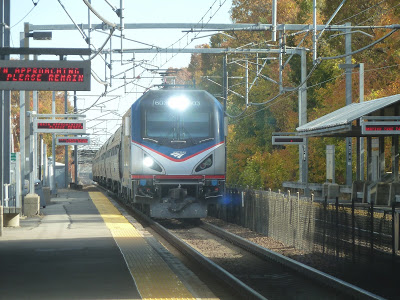 Nothing like a surprise Amtrak train to make your day!
Station: South Attleboro
Ridership: This is the ninth busiest station on the Commuter Rail, with 1,462 inbound riders per weekday. Most of those riders come from the urbanized Pawtucket, Rhode Island, which is a stone's throw away from South Attleboro. The Massachusetts surroundings of the station are actually somewhat rural, but right when you cross that state border, you're in the city.
Pros: This is as close to a Pawtucket Station as we can get right now, and South Attleboro is pretty much in the city, anyway. It has a reasonably large parking lot that seems like it can just barely handle weekday traffic, and for those without cars, the connections here to the RIPTA 1 and 35 buses make for easy transportation to Pawtucket and beyond. Finally, South Attleboro is wheelchair accessible, which is certainly a good thing.
Cons: Ugh, but this station is horrible. The whole thing has a very barebones feel to it, and the footbridge is in terrible condition. Plus, the bus stop here is just a sign. I'm not sure if RIPTA, being a Rhode Island company, is in charge of or even allowed to build a shelter in Massachusetts, but the current stop isn't much. I also wish it had better signage, since it's all the way across the parking lot on a side street.
Nearby and Noteworthy: Aside from a big mall to the east, you're probably gonna have to cross into Rhode Island to find anything of note here. Newport Ave in Pawtucket is lined with businesses, but are they interesting? Honestly, it doesn't seem like it.
Final Verdict: 5/10
I think a proper station in Pawtucket would draw in a lot of riders, but for now, we're stuck with South Attleboro. It performs its basic function as a train station alright, but it's not a very pleasant place. I mean, it all feels so decrepit, especially the stupid footbridge. That piece of rotting metal needs to be fixed at some point,
Latest MBTA News: Service Updates