Uphams Corner Station is directly served by the 15, one of the busiest bus routes on the MBTA. Plus, there are some other routes a few blocks away, at Uphams Corner proper, that get quite a bit of ridership as well. So why do all these buses succeed where the Fairmount Line fails? Oh, right, the Fairmount Line runs every hour. Never mind…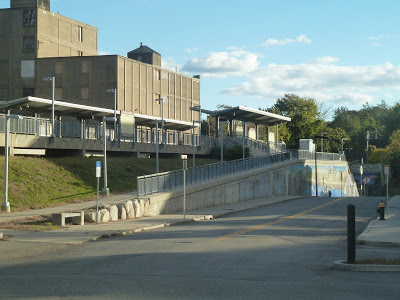 The station viewed from its northern entrance.
The northern entrance to Uphams Corner is from a parking lot. I don't believe it's station parking, but it is a parking lot regardless. Anyway, this side of the station leads to some residential side streets with dense apartments, though it eventually gets industrial as you start to enter the
Newmarket
neighborhood. This northern entrance is where the long ramp is for the outbound side, making Uphams Corner accessible. At the top of the ramp, there's a wastebasket and some bike spaces.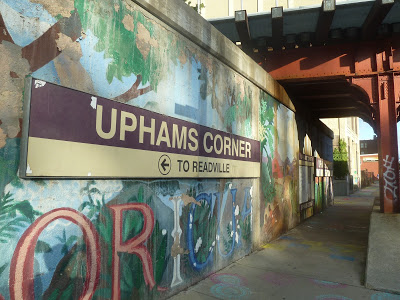 Those station signs are really big!
Meanwhile, the main entrance to the station is on Dudley Street. On the outbound side, there's a staircase to complement the ramp to the north. However, Dudley Street is the only entrance for the inbound platform, so there's just a ramp. Under the train bridge on Dudley Street, there are cool murals on both sides of the road.
Man, those walls are high!
The inbound ramp leads to sort of a…mezzanine area, I guess? It has some very high concrete walls, making the space rather dark. There's also a wastebasket and a bench in case you need a rest from going up the ramp…I guess. From here, the ramp continues, but there's also a staircase that leads directly to the platform! Thanks, Uphams Corner!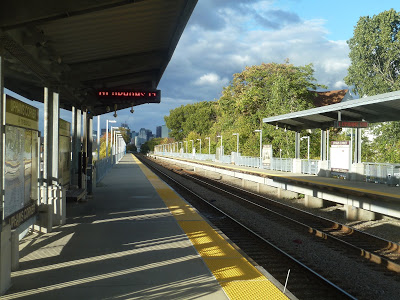 The platform, with Boston in the distance.
Most of Uphams Corner's long platform is unsheltered and unnoteworthy, so I'll skip right to the sheltered parts. Actually…they're not very noteworthy either. The shelters are stark, as is the norm for modern Commuter Rail stations, and they have a few benches to wait at. There are also old photos of the neighborhood at each bench, which is a nice touch.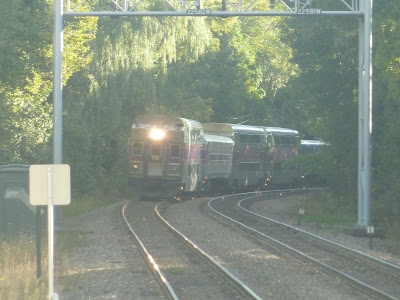 Chug, chug, chug 'round the bend!
Station: Uphams Corner
Ridership: Ridership since 2013 may have increased (I have no idea), but Uphams Corner only got 50 riders per weekday that year. Compare that to the 15 bus, which had almost 6,500 riders per weekday. Fairmount Line? Every hour. 15 bus? Every six minutes. Do the math.
Pros:
The station is fully high level, including ramps that make it accessible. Plus there are staircase alternatives here, unlike at its neighbor to the north,
Newmarket
. The station is right at busy Dudley Street, with Uphams Corner proper in walking distance.
Cons:
Well, it's a bit bland, and the ramp to the inbound platform is kinda dark. Also, apparently Uphams Corner is
popular for heroin users
, since it doesn't have much security. I think the MBTA is working on that, but the station could be unsafe currently.
Nearby and Noteworthy:
Did you know that Boston has a
huge indoor water park
? Did you know that it's right next to Uphams Corner Station? That said, it's probably better to just take the 15 there, but the park is right next to the Fairmount Line station, too.
Final Verdict: 5/10
Okay, I have kind of a dilemma here. As a station, Uphams Corner is alright – a bit generic, but it's accessible and modern (though the heroin thing is a bit of a problem). But then, do I factor in the Fairmount Line itself into this review? Because I think the score would be even lower if I did that. I probably subliminally dropped a point or two because this station is on a low-quality wannabe rapid transit line, but even then, Uphams Corner still isn't anything special.