Although this is an express bus, it gets a surprising amount of local traffic, too. Like its companion, the 554, the 553 serves a college on its independent section (Brandeis University), as well as a Commuter Rail station. So let's take a look at yet another I-90 express bus, this being the first time I've taken one to Boston.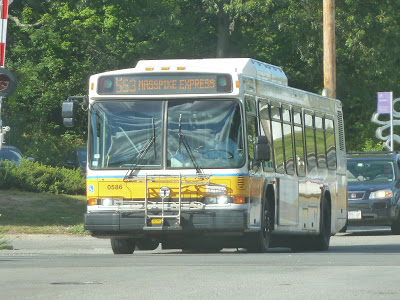 The bus crossing the Commuter Rail tracks.
Heading up South Street, we went by Brandeis/Roberts Station (review coming soon), then passed lots of Brandeis buildings. After going by a school, we turned onto Hope Ave, otherwise known as the leafiest street ever. The street curved around and passed some apartment buildings. We served the Children's Hospital at Waltham, then came back to South Street.
The street mostly consisted of dense houses, with one or two businesses. We then turned onto Main Street, joining
the 70
. This street was lined with businesses all the way to Central Square, Waltham, where we looped around the common. From there, we turned onto Moody Street, crossing over the Charles River.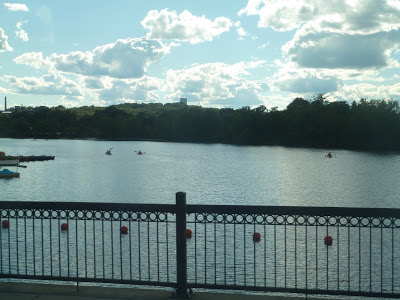 Ooh, I haven't gotten a picture of this side of the river yet!
The street was lined with businesses for a while until it became a mix with houses. Eventually, we turned onto River Street, which was entirely residential. We then turned onto Elm Street, passing a field. Coming up to the Mass Pike and West Newton Station, we turned onto Washington Street. The street was lined with businesses, but it became more industrial later on.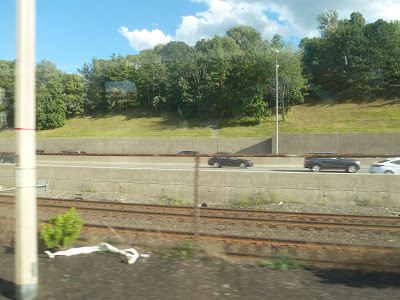 Man, this street is awfully close to the highway, isn't it?
There was a section with houses, then it went back to retail near Newtonville Station. Soon after, we reached Newton Corner, looping around twice – it took awhile. But from there, we merged onto the traffic-free highway, zooming toward Boston.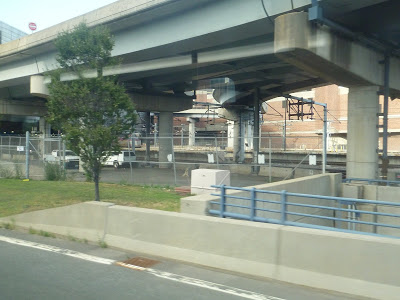 Hey, I can see South Station between the highway pillars!
The surroundings were suburban for awhile before the highway went elevated. From the side of the bus I was on, there was a view of the closed, empty CSX freight yard, as well as B.U. From there, we went by Fenway Park and through the Copley Square tunnel. Just before I-90 went into another tunnel under the Fort Point Channel, the bus left the highway and turned onto Kneeland Street. We then turned onto Lincoln Street, and I got off at the first stop in order to catch the 505.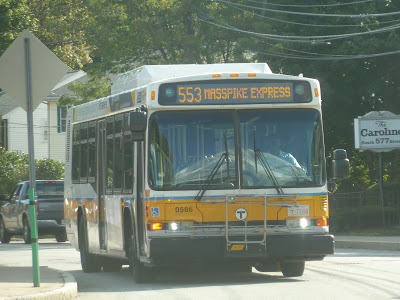 Another one at Roberts. I was too busy running for the 505 to get a picture in Boston.
Route: 553 (Roberts – Downtown Boston via Newton Corner and Central Square, Waltham)
Ridership: There were about 30 people on my ride, 15 of which took it locally. I was very surprised that number would be so high, but I guess local ridership exists here. As for overall ridership, this is the busiest route in the 550 series, with almost 1,000 riders per weekday and 423 per Saturday (yes, it runs on Saturdays).
Pros: It's the one bus that goes to Brandeis, which means it gets student ridership. It also runs express to Boston all day, running every hour. It has night service as an express from downtown and Copley Square to Central Square, Waltham – every half hour. And yes, the 553 even runs on Saturdays. Even though it's just an every 45 minute local route from Roberts to Newton Corner, it's still nice that it exists.
Cons: The night schedule is weird. I don't think an every half hour express just to Central Square at night is really necessary unless it's Friday or Saturday. I think they should just run the whole route, especially since students might be returning to school at night.
Nearby and Noteworthy: Brandeis has a few businesses near it, including a small pizza place. Also, there's Central Square, Waltham and downtown, of course.
Final Verdict: 7/10
Overall, this seems like a good bus that serves a lot. The fact that it has Saturday service is great, even if it's not used too much and is just local. My main problem with the 553 is the night schedule, just because an express to just Central Square doesn't seem called for. Other than that, though, the 553 is a pretty good route.
Latest MBTA News: Service Updates