We're returning to our regularly scheduled MBTA posts with a real beast of a route. Well, technically, it's two routes, with the 70A being a much longer variant of the 70. Really, though, they're both incredibly long – the latter is 10 miles, while the former is 14 miles long. Looks like we have our work cut out for us today.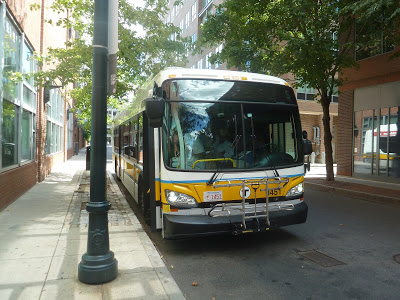 Oh no, the destination board is off!
I actually got on at University Park this time, unlike with the 64. Leaving that stop, we turned onto Sidney Street, then Green Street. Whereas University Park had modern brick buildings, Green Street had older-looking apartments – not that that's a bad thing. At Central Square, there was a mass of people waiting to get on, then we turned onto Western Ave.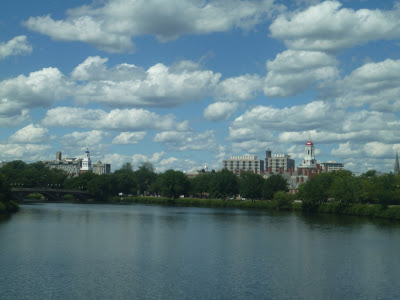 What a beautiful day!
Western Ave was also residential, though there were also a few corner businesses. After crossing Memorial Drive, we went over the Charles River, entering Brighton. This was a very modern-feeling area, with big office buildings and more under construction. There was a view of Harvard Stadium, then the street got a bit more industrial.
Crossing the Charles…again.
It was more leafy when we crossed the Charles River again, entering Watertown. The street was Arsenal Street now, and we passed two malls – across the street from each other! It was industrial from there, with a mixture of car dealerships and offices.
We eventually reached Watertown Square, which is a major bus transfer point. There were lots of businesses here, and Arsenal Street became Main Street. The businesses went on for a little while past the square, now with parking lots, but after that it became residential. The surroundings were mostly dense houses with the occasional business.
As we were passing a park, we entered Waltham. The houses became a little further apart, then we crossed over the Commuter Rail tracks. It was commercial on the other side, with retail lining the road. At Central Square, Waltham, we looped around the common to serve the Commuter Rail station.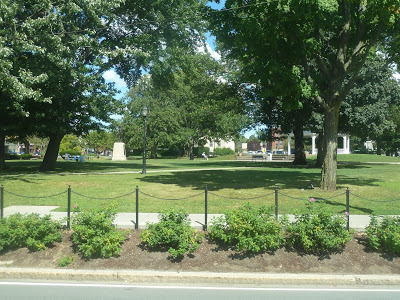 A view of Waltham Common.
The businesses continued past Central Square, and for quite a while. After going by an office park, though, it became houses once more. There were also more office parks and some sort of substation, but they were separated from the road.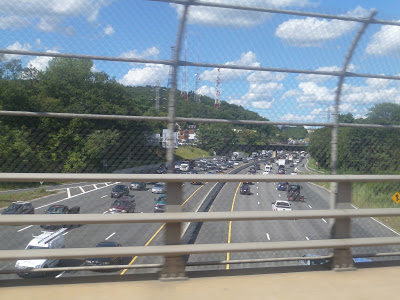 Crossing I-95.
We then turned onto Stow Street, which was entirely residential. From there, we turned onto Tavern Road and then Weston Street. At this point, we entered an interchange of I-95. This is what the bus uses to turn around, and it was pretty weird. We zoomed around a massive loop, avoiding on-ramps to the highway, and returned to Weston Street. Coming back the way we came, we reached the Cedarwood bus shelter, which is very close to the Weston border.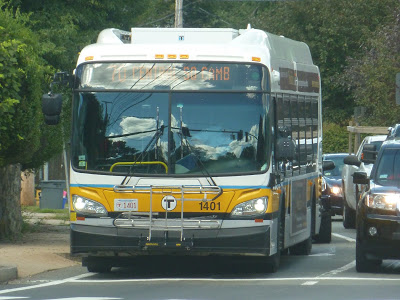 A different bus waiting to make the big loop.
But there's a whole other route to talk about! The 70A follows the 70 from Central Square to Central Square (ha). At Waltham's Central Square, it diverts to make a huge figure-8 loop around the northern part of Waltham. I got on the bus at Waltham's Central Square, so we'll start there.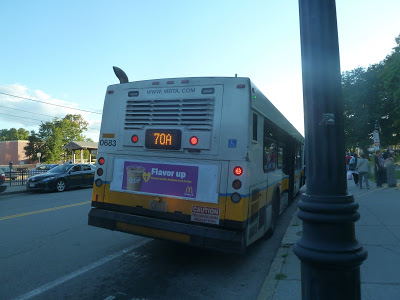 Wait for me! This was later in the day, and I took some other buses between the 70 and the 70A.
Leaving Waltham Common, we made our way to Lexington Street, which was kind of industrial. Turning onto Dale Street, we passed a field, then it got residential. We then turned onto the amazing Bacon Street, which was also houses. It became Lexington Street, but the surroundings didn't change much. We did go by the Waltham High School, which was hidden away in the trees. We also passed a YMCA, apparently, but I didn't notice on the ride.
At a shopping plaza, we turned onto Lake Street, where the houses were more dense. We also went by a park and a few businesses along this section. Lake Street became Lincoln Street, and we passed some big office parks. We turned onto Smith Street, then onto Trapelo Road.
It was residential, at least until we reached Lexington Street. Here there were businesses with big parking lots, and when we turned onto that street, the surroundings became housing complexes. We passed a shopping plaza (the Wal-Lex Shopping Center, being near the border of Waltham and Lexington), then turned onto Lake Street again.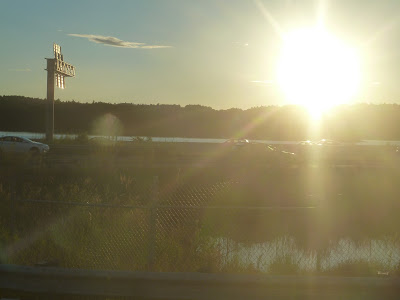 And the sun sets over the highway…
At Silver Hill Lane, which is technically the "terminus" of the 70A, there was another bus laying over. Its riders got onto our bus, then we turned onto Wyman Street. This street was all office parks, probably because it was so close to I-95. We turned onto Totten Pond Road, and after passing a skating rink, it became residential once more. Once we reached Bacon Street, we headed back the way we came.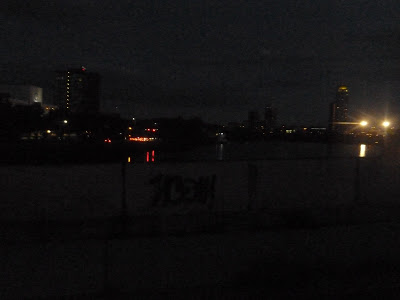 Crossing over the Charles into Cambridge.
As I mentioned, the 70 and 70A are the same from Central Square, Waltham to Cambridge. I would like to point out, however, that inbound and outbound trips take slightly different routes in Cambridge. Going down Western Ave in Brighton, we turned onto Soldier's Field Road, then onto River Street, crossing the Charles on a different bridge. River Street was mostly apartments, with a few businesses dotted in here and there. In Central Square, we turned onto Mass Ave, and I got off at the "rainbow shelter" right in the square.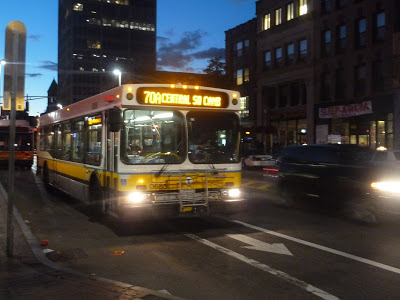 The bus continuing on to University Park.
Routes: 70/70A (Cedarwood, North Waltham, or Central Square, Waltham – University Park via Central Square, Cambridge, Arsenal Street, and Western Ave)
Ridership: These routes go down a very busy corridor, and so they get high ridership. There's no data for the separate routes in the MBTA Blue Book, but combined they get 5,255 riders per weekday, 3,894 per Saturday, and 3,455 per Sunday. On my 70 ride, there was a total of 65 people who rode, most of whom got on at Central (rather than University Park). On the 70A, meanwhile, there were about 15 people who went from Central Square, Waltham to North Waltham, and about 30 coming back to Cambridge.
Pros: These routes serve quite a lot, going straight through large parts of Waltham and Watertown. Also, in terms of general headways, the two routes are pretty good. The 70 runs every 10-15 minutes during rush hour, every 20 minutes during the day, every 35 minutes at night, every 10 minutes on Saturdays (wow), and every 20 minutes on Sundays. The 70A, meanwhile, runs every half hour during rush hour, every hour during the day, and every 35-40 minutes on Saturdays. Considering the relative lack of ridership along the 70A's figure-8, I think no night or Sunday service is okay.
Cons: So although the headways themselves are good, the way they fit together makes no sense. For one thing, the two routes aren't coordinated at all, with some 70A's arriving at Watertown at the same time as 70's. So yeah, the two routes were just kind of slapped together. The 70's Saturday schedule is questionable, too. Trips alternate between terminating at Central Square, Waltham and Cedarwood, which makes sense. However, there is again no coordination between the two. The bad coordination combined with the massive length of these routes leads to some pretty bad bunching.
Nearby and Noteworthy: I don't have anything specific, but these routes serve quite a few business centers. You've got both Central Squares, as well as the Arsenal and Watertown Malls, and Watertown Square.
Final Verdict: 6/10
There's a post on The Amateur Planner about the 70/70A and the problems that plague the routes. For a more detailed look at the cons of these buses, I recommend checking that out. As for me, I can say that the routes aren't coordinated at all, and thus have some pretty bad bunching. However, they do serve a lot, so I can't go too low with that final verdict. That said, the MBTA really needs to work on fixing these routes, because they are most certainly flawed.
Latest MBTA News: Service Updates
The MBTA is finally installing countdown clocks on the underground section of the Green Line! The ones at Kenmore are up and running, with more stations to come.