I never really gave the 64 much thought until I read Jordan King's guest post about it. The route sounded interesting, and I figured I'd have to give it a try at some point in time. Then a few of my friends, with no interest in buses at all, told me I should ride the route. Well, now I had to do it!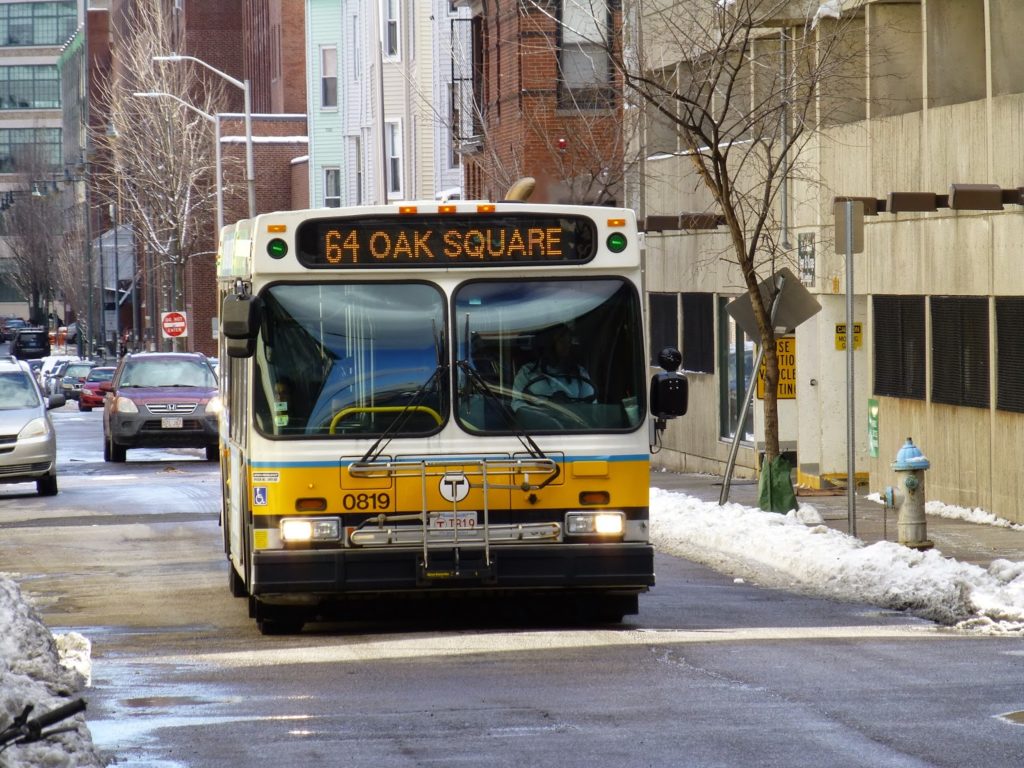 The bus on Green Street in Central Square.
The 64 starts at University Park, a little east of Central Square. We (my friend Jason came along "for moral support" – his quote) didn't get on all the way over there, and like everyone else boarded at the Magazine Street @ Green Street stop. After everyone got on, we headed down Western Ave, going by lots of houses. There were a few apartments and industrial-looking buildings at the intersection with Memorial Drive, then we crossed over the Charles.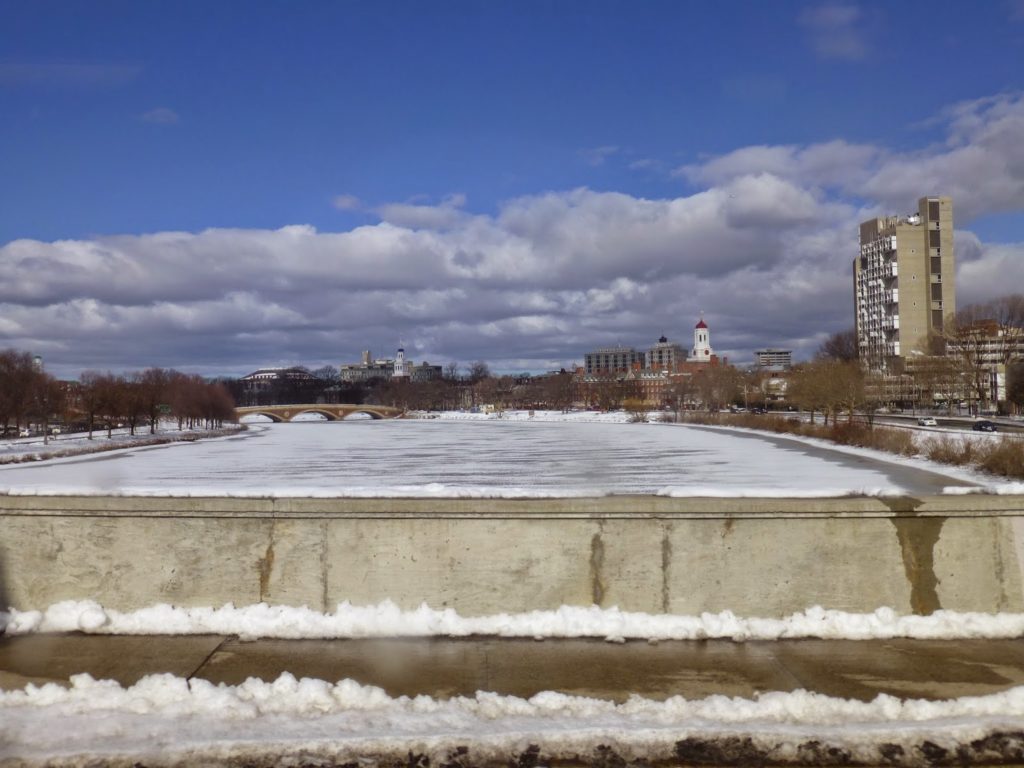 Nice view.
After the bridge, we turned onto a road paralleling Storrow Drive, We then turned onto Cambridge Street, heading over an exit of the Mass Turnpike. There was a view of…really just industrial wasteland. There wasn't even a skyline view on the other side!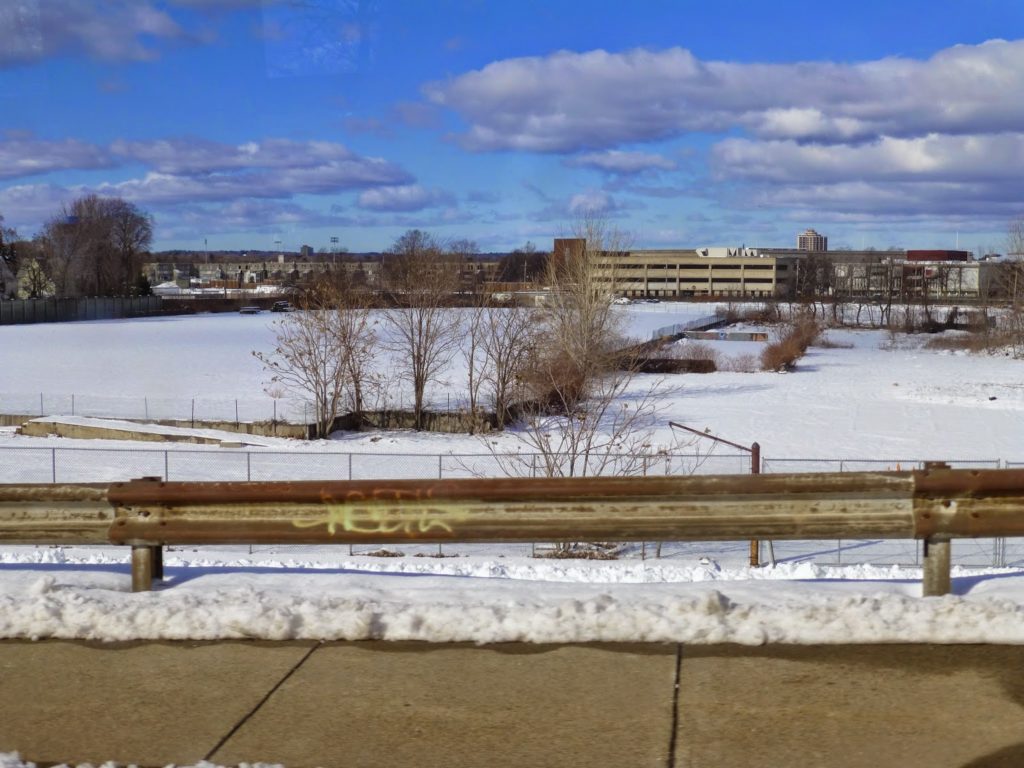 Still, industrial wasteland looks kind of pretty in the snow. Kind of.
There were some apartments on the other side of the bridge, but also a few auto shops and gas stations. We were joined by the 66 as we went over the Mass Pike again, and then after an industrial area, we stopped at Union Square, Allston. Here we went solo again, turning onto North Beacon Street.
The route would normally take a short detour from North Beacon Street via Arthur Street, Guest Street, and Life Street, but there was construction. So, we stayed on North Beacon, which was pretty darn industrial. We went by Market Street, as well as that really cool TV station, and soon after it got more residential.
Crossing under the Turnpike again, we were greeted by some fast food restaurants with huge parking lots. It got more parky, luckily, and there was a nice view of the Charles from North Beacon Street. We soon turned onto Brooks Street, crossing the Pike for the last time, and then the fun part of the route started.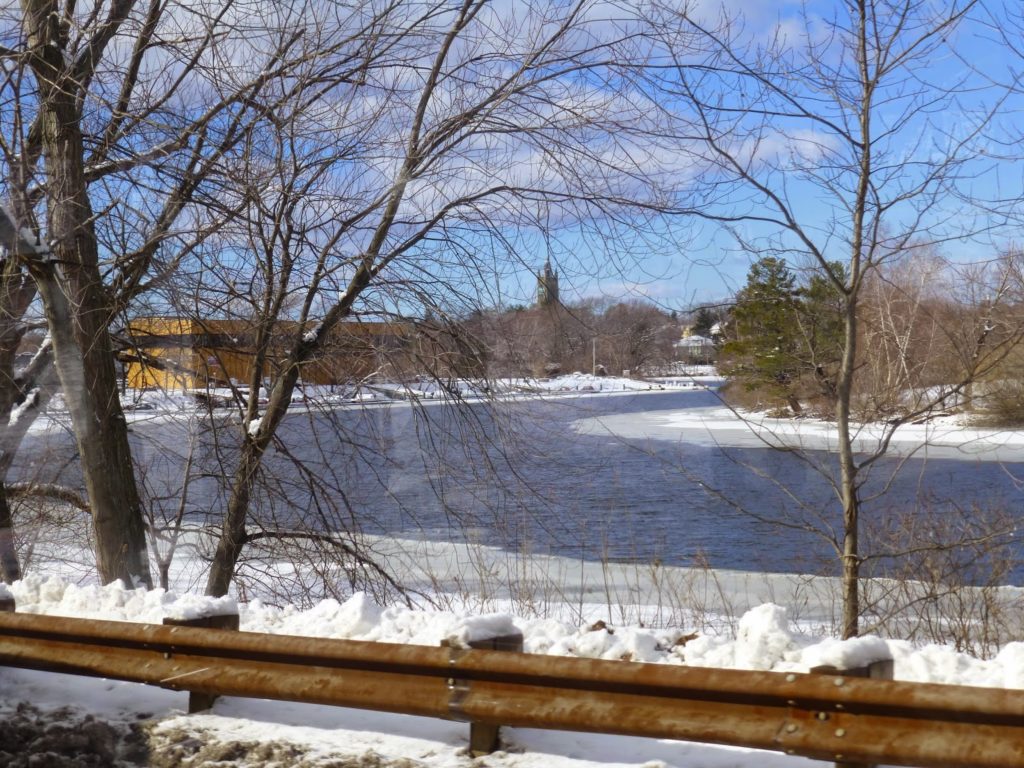 I guess the river wasn't frozen out here.
Unexpectedly, we turned onto Hobart Street, going through a nice-looking residential neighborhood. But this street was tiny, and we could barely fit between the parked cars. I would've loved to have seen a car try to go the other way, but unfortunately the road was quiet. We turned onto Falkland Street, and then the much wider Faneuil Street.
There were a few businesses at Faneuil Square (where the last 64 terminates on weekdays and Saturdays), then more houses. These eventually turned into apartments, and after passing a park, we arrived at Oak Square. The driver kicked us off and the bus looped around to head back to Central Square.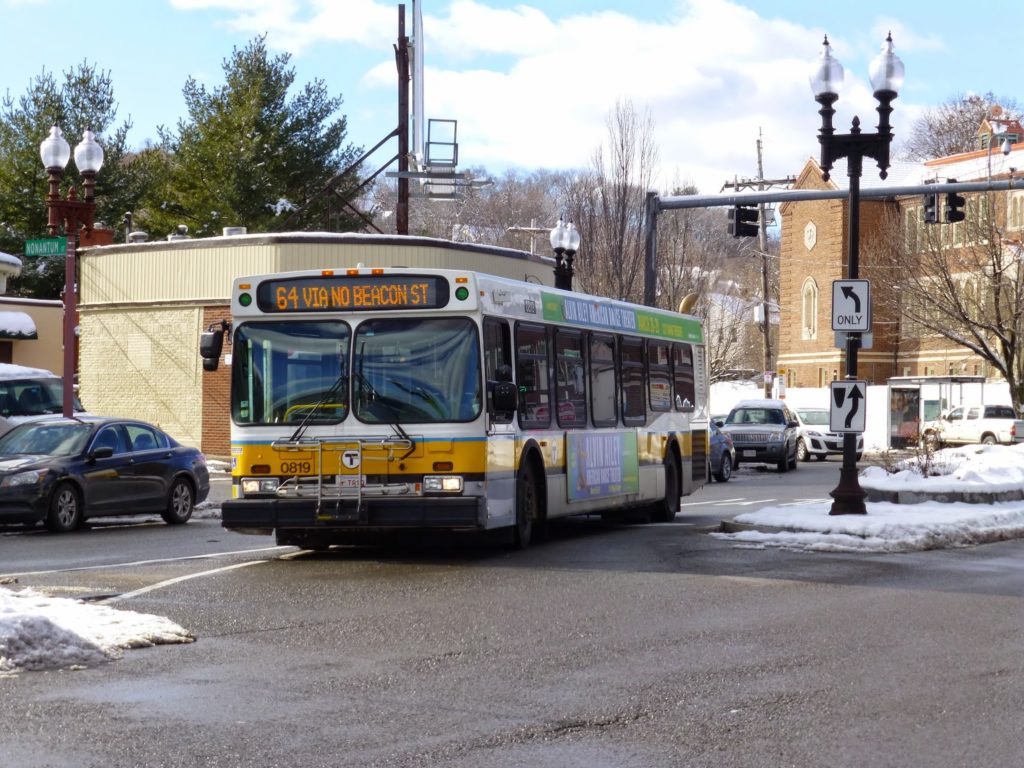 Huh. It says "no Beacon Street," yet I'd swear the route went on Beacon Street!
Route: 64 (Oak Square – University Park, Cambridge or Kendall/MIT via North Beacon Street)
Ridership: On our ride, there were about 25 passengers in total. For a Sunday, that's not bad. There were about 10 people who got on at Central, and the others fed on at various stops. In terms of rankings, it's about halfway down the ridership list at places 70, 77, and 83 for weekdays, Saturdays, and Sundays, respectively.
Pros: This route has a good chunk of northern Brighton all to itself. Also, a person sitting in front of us vouched for the fact that the route provides a speedy link from Central to Union Square, which it does indeed. During rush hour, the 64 is extended to Kendall, presumably for commuters to the area, which is great. The route runs pretty often during that time, too, every 15-20 minutes.
Cons: That's raised to every 35 minutes during the day, and every hour at night and on weekends. The Sunday schedule is particularly brutal as the last trip that day is at 6:35 from Oak Square. Those are horrible service hours! A nitpick is that the University Park routing is annoying, but it's not that bad.
Nearby and Noteworthy: Aside from Oak Square, which seemed nice, the 64 goes by the very first Staples store, in Brighton! I'm gonna be honest, it looked like just a regular Staples, but it's still kinda cool.
Final Verdict: 7/10
This is overall a pretty good route, in that it serves a lot. It also provides a speedy link from northern Brighton and Union Square to Central Square. The schedule is the only real con for this route – every hour on weekends is bad enough, but the service span on Sunday is terrible. Still, for folks in Brighton, it's better than nothing.
Latest MBTA News: Service Updates
The MBTA isn't running today because of the blizzard. Yes, I know I'm really late.